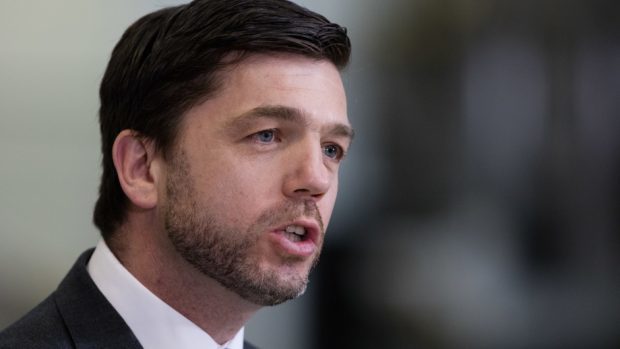 Work and Pensions Secretary Stephen Crabb is to launch a bid to be the next prime minister – on a joint ticket with Business
Secretary Sajid Javid as his number two.
The Inverness-born frontbencher, who previously served as Welsh secretary, revealed his candidacy for the Conservative leadership in an e-mail to Tory MPs.
Scottish Tory Leader Ruth Davidson has previously said she would "find it very hard to vote for anyone else" if he was in the race.
But it is understood she will not publicly back any candidate until the shortlist is whittled down to two by MPs ahead of the postal ballot of the wider party membership.
Mr Crabb, 43, is likely to face former London mayor Boris Johnson and Home Secretary Theresa May in the battle for the top job.
The latter will also reportedly launch her bid today, backed by a number of influential Cabinet ministers, and is understood to have spent yesterday drumming up support among MPs.
An ally of Mrs May said: "In these uncertain times we need someone with experience on the big stage and Theresa has that.
"She has been home secretary for six years which involves some tough negotiations at home and abroad. There are plenty of those to come."
Former Defence Secretary Liam Fox, Education Secretary Nicky Morgan, Health Secretary Jeremy Hunt and Energy Minister Andrea Leadsom, a leading Brexiteer, are also believed to be considering throwing their hats into the ring.
George Osborne ruled himself out of the race yesterday, insisting it was clear he could not provide the unity the party needed as he pointed out his predictions regarding the impact of Brexit on the public finances had begun to be borne out.
He did not come out for a particular candidate, but appeared to hint he could support Mrs May, who backed Remain, but without playing a prominent role in the referendum campaign.
According to a YouGov poll, she is favoured by 31% of Conservative voters against 24% for Mr Johnson.
Meanwhile, Mr Hunt said he was "seriously considering" running as he called for the public to be given a say on Britain's terms for leaving the European Union.
Mr Crabb, MP for Preseli Pembrokeshire since 2005, was raised by his mother on a council estate in Haverfordwest.
He is a Christian and voted against the same sex marriage bill in 2013.