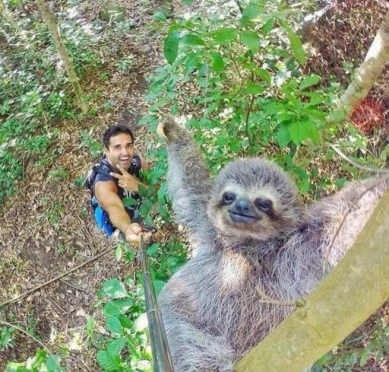 A delighted tourist snapped this incredible picture using a selfie stick while trekking through a forest in South America.
PR Manager Andrew Bloch, from London, took the picture after he came across a sloth while walking through the rain forest – and from the looks of it, the sloth didn't seem to mind at all.
The photo has since been shared hundreds of thousands of times online , including photo platform Imgur and Russian social media site Pikabu.
Alongside the picture he wrote: "I'm totally against the selfie-stick but every now and then an exception comes along."
Commenting on the photo, one social media user described it as "the only reason one should own a selfie stick."
Another poster came up with an ingenious name for the rare pic – a "slofie".
I'm totally against the selfie-stick but every now and then an exception comes along. pic.twitter.com/XdooiAEm9j

— Andrew Bloch (@AndrewBloch) July 4, 2016