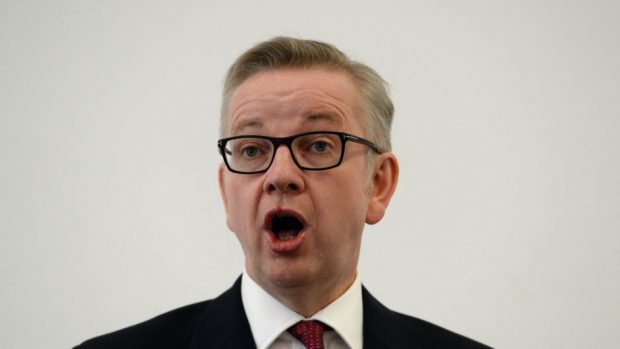 Justice Secretary Michael Gove was knocked out of the Conservative leadership race last night, clearing the way for the UK's second female prime minister.
The Aberdeen-raised Cabinet member was eliminated in the contest to succeed David Cameron after MPs voted for a second time.
He received just 46 votes – fewer than in the first round – compared to Home Secretary Theresa May's 199 and Energy Minister Andrea Leadsom's 84.
The choice between the final two contenders will now be put to the Tory party membership with the winner to be announced in September.
Mr Gove had been due to manage Boris Johnson's campaign but announced his own candidacy hours before the launch, prompting accusations of betrayal, with some Tory MPs claiming he could not be trusted.
It is thought the final nail in his bid's coffin was an e-mail sent by one of his campaign team earlier this week urging MPs to vote tactically to stop Mrs Leadsom making it to the final ticket.
Speaking after the ballot Mr Gove said he was "naturally disappointed", but welcomed the fact the next PM would be a woman.
He said: "Whoever the next prime minister of this country will be, it will be a female prime minister and a female prime minister who has formidable skills.
"I know whichever one of the two wins they will lead this country well."
Conservative Margaret Thatcher is the only woman to have held the office of prime minister in the UK to date.
Yesterday's vote means that, while the UK Labour party has never had a female leader – only acting ones – the Tories are en route to their second female incumbent.
Remainer Mrs May enjoyed a clear advantage among Tories at Westminster, but she will be aware that grassroots Conservatives rejected the MPs' choice in both previous elections conducted under the current system, opting for Iain Duncan Smith and David Cameron over Kenneth Clarke and David Davis.
Meanwhile, Leaver Mrs Leadsom, who has the support of Mr Johnson, is likely to attract votes from Eurosceptic activists who want a "Brexit prime minister" to oversee EU withdrawal negotiations.
Mrs May said the vote showed the Conservative Party could come together, adding: "Under my leadership it will.
"We need strong, proven leadership to negotiate the best deal for Britain as we leave the European Union, to unite our party and our country, and to make Britain a country that works not for a privileged few but for every one of us."
Mr Duncan Smith, who is backing Mrs Leadsom, said she had "real steel" but within the "velvet glove of compassion".