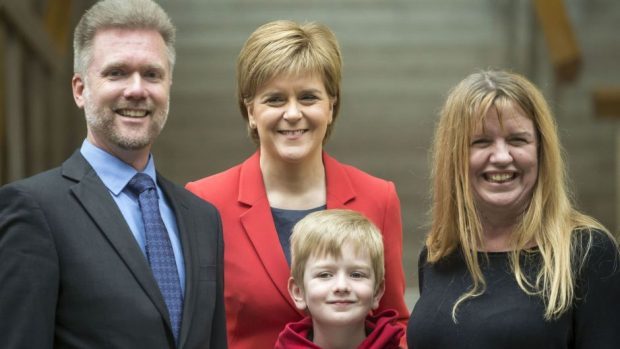 The mother at the centre of a long-running immigration battle has launched a scathing attack on the UK Government.
Kathryn Brain accused Immigration Minister Robert Goodwill of failing to tell the "whole truth" in a letter confirming her family must leave.
It follows an intervention by SNP MP Ian Blackford who likened the Home Office's treatment of the Australians to the Highland Clearances.
Mrs Brain described "many inaccuracies" in Mr Goodwill's correspondence and branded his behaviour "unbecoming" of a minister of the crown.
He argued the Dingwall-based family had "a number of years in which to search and apply for jobs" that would enable them to stay.
But Mrs Brain insists that had she secured the kind of job she now needs to remain during her Scottish history and archaeology degree, she would have breached the terms of her student visa.
She added: "I could not make any such plans or applications until just a few months ago when I completed my studies.
"We are very disappointed that a minister of the crown would make statements which fall so far short of the whole truth."
She criticised his letter as "so far short an honest assessment as to be unbecoming of a minister of the crown".
Mrs Brain's student visa was granted in 2010 and she, her husband Gregg and son Lachlan, whose first language is Gaelic, came to Scotland in 2011.
She had intended to transfer to a two-year post-study work visa upon completion of her degree, but the scheme was scrapped in 2012.
The decision was announced in 2011, three months before the family's arrival, but they were not aware of the change until they were already in Scotland.
They have since been trying to apply for a Tier 2 visa, for people from outside the European Economic Area offered a skilled job in the UK.
The Home Office said no new visa application had been received that would enable the family to remain.
A spokeswoman highlighted the three extensions previously granted, but stressed the process could not be "open-ended".
She advised that "anyone unable to regularise their stay is expected to leave the UK voluntarily".
A government source told the P&J a job offer could provide "sufficient evidence" of this.
And the family has said they still feel "cautiously optimistic" after receiving hope of suitable work from a "major Scottish company".