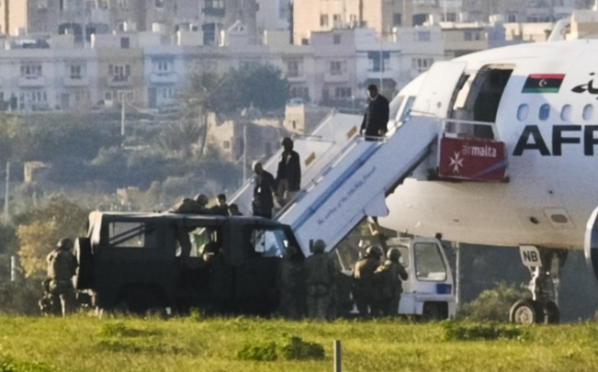 Two men who hijacked a plane from Libya and caused it to land in Malta have surrendered, allowing the 118 passengers and crew on board to leave the aircraft.
So who was involved, what did they want and how did it reach a peaceful conclusion?
How did the hijacking start?
Two Libyan men hijacked an Airbus A320 aeroplane travelling between Sabha and Tripoli, a journey which should take around one hour and fifteen minutes. The flight operated by Afriqiyah Airways and carrying 118 people was instead diverted to Malta International Airport.
According to Malta state television, the hijackers had claimed to have hand grenades. All flights to and from the airport were diverted as emergency services and negotiators arrived at the scene.
What did the hijackers want?
There has been no official word on this, although some images from the scene reportedly show one of the men waving a green flag from the plane, similar to those used by supporters of Libya's former dictator Muammar Gaddafi, who was killed in the Arab Spring uprising in 2011.
Libya is in the midst of a prolonged power struggle between different factions left behind after Gaddafi's death and collapse of his government.
Did it come to a peaceful end?
Malta's Prime Minister Joseph Muscat said the government had refused to negotiate with the hijackers until all passengers and crew were released. The passengers were then released in groups, until eventually the hijackers left the plane with a crew member.
His account tweeted throughout the incident, finally announcing the arrest of the hijackers at 3.44pm local time on Friday.
He stated in a press conference after the incident was over that the passengers who were on board the plane would be transported back to Libya after questioning.
He also announced that the weapons used in the hijacking appear to be replicas.