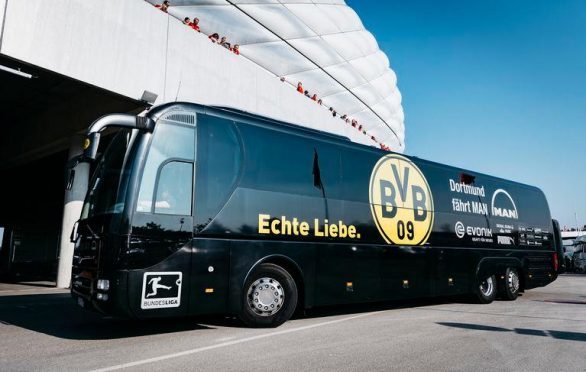 Borussia Dortmund have announced a bomb exploded on their team bus before tonight's Champions League match against Monaco.
The German club said one person was injured.
A statement on the club's Twitter account said: "Bomb explosion on the team bus at the team hotel. Players are safe."
In an initial announcement, Dortmund said: "At the departure of our bus, an incident occurred. One person was injured. More information to follow."
The local police force – Polizei Nordrhein-Westfalen Dortmund – stated on Twitter: "In the area of £Dortmund £Hochsten, an £Explosion has taken place. We have strong forces on the ground. The situation is still unclear."
The incident is believed to have taken place around three kilometres from Dortmund's stadium.
Dortmund said a decision on whether the match would go ahead would be made at 8.30pm local time (7.30pm BST).
Reports in Germany said the injured person was a Dortmund player.
The clubs were preparing for the first leg of their quarter-final tie.
Dortmund said there was "no cause for concern" for those at the stadium, and said the club were in close contact with the emergency services and UEFA, European football's governing body.
Police Dortmund said in a statement: "In the run-up to the Champions League game between BVB (Dortmund) and AS Monaco, there was just after 1900 tonight an explosion close to the BVB team bus."
The statement added: "According to what we currently know, the wheels of the bus (totally or partly) burst and one person was injured.
"It is not yet possible to say exactly what the explosion was or exactly where something exploded."