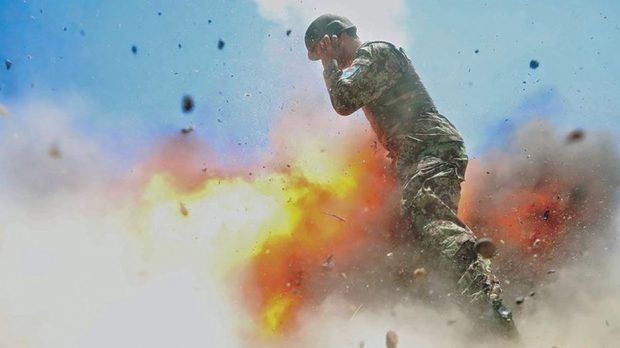 A dramatic image of the final moment of a US war photographer's life before she was killed in an explosion has been released by the American military.
Specialist Hilda Clayton, 22, and four Afghan National Army soldiers died during a training exercise on July 2, 2013, after a mortar tube accidentally exploded.
Her final photograph shows the start of explosion, just milliseconds before it engulfed her and the four soldiers.
The horrific accident took place in the eastern province of Laghman, in Afghanistan.
The dramatic images were recently published in the magazine Military Review, with the permission of the US Armed Forces and Spc Clayton's family.
Following her death, the Georgia visual information specialist has had a photography award named in her honour by the Department of Defence.
To qualify for the Spc Hilda Clayton Combat Camera award, military photographers must pass a five day test of their physical and technical skills.
A statement issued by the US Army said the final photograph of Spc Clayton shows the dangers that many female soldiers are exposed to in combat zones.
The statement read: "Combat camera soldiers are trained to take still and video imagery in any environment.
"Their primary mission is to accompany combat soldiers wherever deployed to document the history of combat operations.
"Clayton's death symbolises how female soldiers are increasingly exposed to hazardous situations in training, and in combat,
on par with their male counterparts."
The US Army also released another photograph taken at the moment of the tragedy, captured by an Afghan who was being trained in photojournalism by Spc Clayton.
The photographer in training was among the dead.
The US Army statement continued: "Clayton's service and sacrifice were recognised during memorial ceremonies at Forward Operating Base Gamberi on July 8, 2013, and at the Defence Information School (DINFOS), Fort Meade, Maryland, on December 13, 2013.
"At Fort Meade, Clayton's name was added to the DINFOS Hall of Heroes."