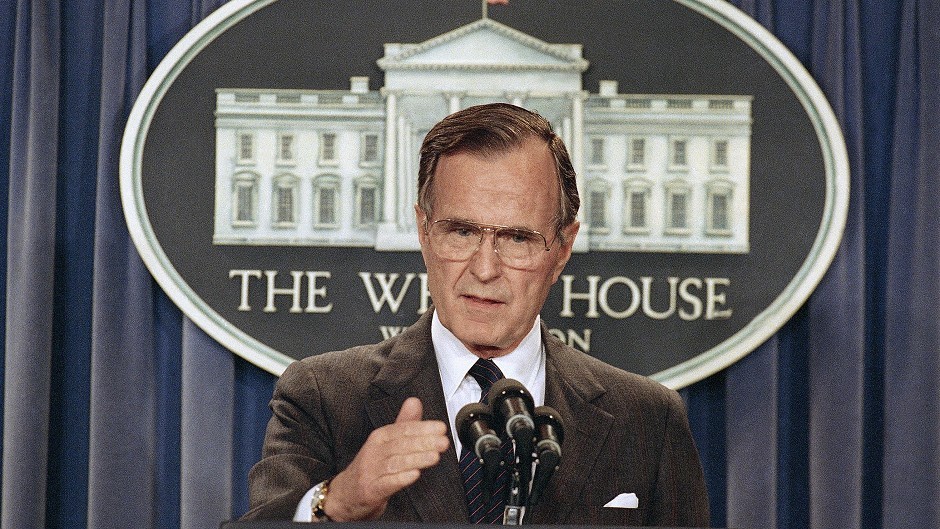 President George HW Bush will be given a state funeral in Washington DC following his death at the weekend.
The man who was the 41st commander in chief and also served in the Second World War, worked in the oil industry, directed the CIA and was vice-president for eight years died at his home in Houston on Saturday.
His best friend and former Secretary of State, James Baker, was with him at the end.
Mr Baker said the last day was "really a very, very gentle and peaceful passing" for the 94-year-old.
President Barack Obama said: "America has lost a patriot and humble servant in George Herbert Walker Bush.
"While our hearts are heavy today, they are also filled with gratitude.
"Not merely for the years he spent as our 41st President, but for the more than 70 years he spent in devoted service to his country he loved – from a decorated Naval aviator who nearly gave his life in World War Two, to commander in chief of our armed forces, with plenty of posts along the way."
His body will be transported on Air Force One to Washington DC.
It will then lie in the Rotunda with his coffin on display for the public viewing until Wednesday morning.
Others who have had the honour include Gerald Ford and Ronald Reagan, and Arizona Senator John McCain earlier this year.
Mr Bush will be buried at the family gravesite in the grounds of his presidential library and museum at Texas A&M University, alongside his wife Barbara, who died in April, and his daughter Robin who died at a young age.
The man who oversaw the end of the Cold War and the reunification of Germany will also be given a state funeral at the National Cathedral in Washington.
Flags will be displayed at half-staff for 30 days as a tribute.
His family have requested that donations be made to the George Bush School of Government and Public Service at Texas A&M University.