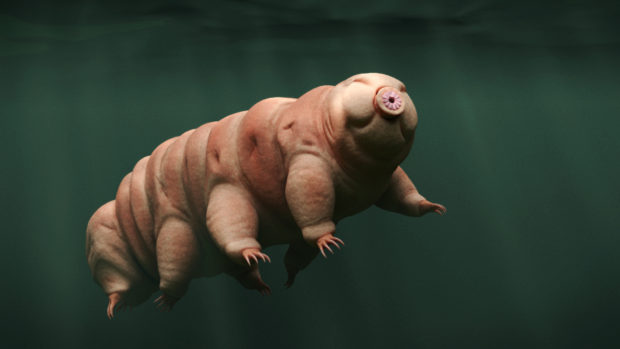 Scientists have revealed they may have accidentally colonised the Moon with scores of "virtually indestructible" micro-monsters.
Tardigrades – which are also known as water bears or moss piglets – are tiny creatures less than 1mm long.
They are thought to be among the hardiest beings on earth, capable of withstanding heat of up to 150C and being frozen at temperatures as low as -272C.
A group of them were sent hurtling through the Solar System earlier this year, but their journey ended abruptly when the spacecraft they were on crash-landed on the Moon.
The Israeli Beresheet probe was expected to be the first private object to land on the lunar surface, but mission controllers lost contact after its engine failed in April.
Launched by the Arch Mission Foundation, the craft was carrying a so-called "backup" of planet Earth – containing 30 million microscopic pages of human knowledge, DNA and a number of dehydrated tardigrades.
And despite being strewn across the surface of the Moon in the crash, scientists are hopeful the unusual creatures could still be brought back to life.
Arch Mission Foundation boss Nova Spivack said: "We believe the chances of survival for the tardigrades… are extremely high."
For the vast majority of Earth beings, life without water is impossible.
But when tardigrades are dried out they retract their limbs, curl into a ball and slow their metabolism to 0.01% of the normal rate – placing themselves into a state of suspended animation.
They are also capable of surviving extreme pressure.
Scientists are hopeful that, if they can be retrieved, they could be revived.
Mr Spivack added: "Tardigrades are ideal to include because they are microscopic, multicellular and one of the most durable forms of life on planet Earth."
Despite their toughness, the prospect of the beings being able to formerly make the Moon their new home is unlikely.
Lukasz Kaczmarek, a tardigrade expert at the Adam Mickiewicz University in Poznan, Poland, said: "They cannot colonise the moon because there is no atmosphere and no liquid water.
"But it could be possible to bring them back to Earth and then add the water.
"They should resurrect."