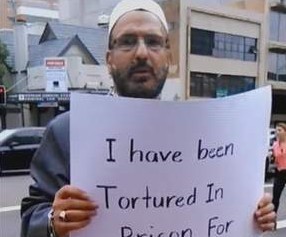 The gunman holding people hostage in a cafe in Sydney has been identified as Iranian refugee Sheikh Man Haron Monis.
The 49-year-old was granted political asylum in Australia but is now on bail for a number of violent offences.
Monis moved to Australia from Iran in 1996 and Channel Nine reporter Airlie Walsh has said that the existing charges against him include accessory to murder and sexual assault.
The siege started on Monday morning in Martin Place in Sydney's financial district. Witnesses saw a man with a gun walk into the Lindt chocolate cafe, where Lindt said there was roughly 10 employees and 30 customers inside.
Police have since said they don't believe the number to be as high as 30 but they have been unable to put an exact figure on the number of hostages.
Central Sydney currently remains on lockdown while negotiations continue with the gunman.
Five hostages escaped earlier today, while Monis has now turned off the lights, making it impossible for police to see inside the cafe.