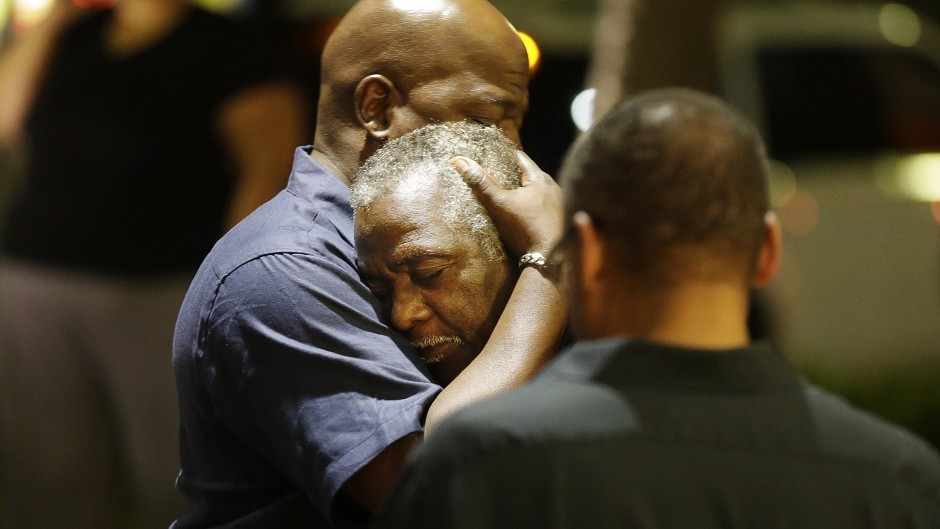 Nine people have been killed after a white man opened fire during a prayer meeting inside a historic black church in the US.
Authorities have described the assault as a hate crime.
The gunman was still at large.
The shooting took place at the Emanuel AME Church in Charleston, South Carolina.
Police chief Greg Mullen said there were survivors, but would not say how many, or how many were inside at the time of the shooting.
He also refused to confirm whether the pastor, state senator Clementa Pinckney, was one of the victims.
Mr Mullen described the suspect as a white man in his early 20s. He said he believed it was a hate crime, but would not elaborate.
"The only reason that someone could walk into a church and shoot people praying is out of hate," said Charleston mayor Joseph Riley.
"It is the most dastardly act that one could possibly imagine, and we will bring that person to justice. This is one hateful person."
As police and the city's mayor updated the media, a group of pastors huddled together praying in a circle across the street.
Police moved journalists back away from the site due to what they called an "imminent" threat. They did not release any details.
The campaign of Republican US presidential hopeful Jeb Bush sent out an email saying that due to the shooting, he had cancelled an event planned in the city today.
Emmanuel is a historic African-American church that traces its roots to 1816, when several churches split from Charleston's Methodist Episcopal church.
One of its founders, Denmark Vesey, tried to organise a slave revolt in 1822.
He was caught, and white landowners had his church burned in revenge. Parishioners worshipped underground until after the Civil War.