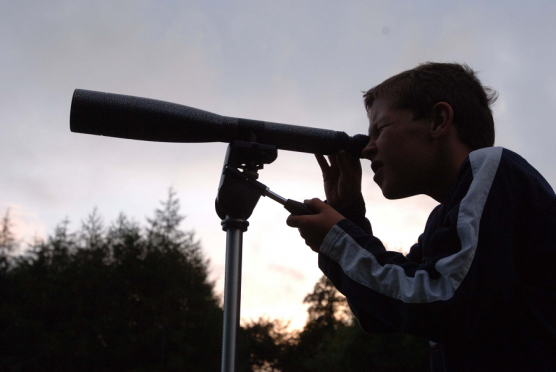 A rare alignment of five planets will be visible in the early morning skies above Scotland this month in a celestial event which has not been witnessed by astronomers in more than a decade.
Mercury, Venus, Mars, Jupiter and Saturn will all be observable to the naked eye every morning just before sunrise from today until February 5, where the best view of the astronomical formation will be available.
Stargazers will be able to clearly spot the five planets arranged in a straight line against the early morning sky as the previous night's stars disappear and the planets appear brighter.
In October last year four planets appeared in alignment at once, however the last time all five of these planets appeared together was in 2005.
Sam Lindsay, of the Royal Astronomical Society, said the best way for sky-watchers to see the spectacle would be to ensure they were awake before dawn, and have a clear view to the east just before the sun comes over the horizon.
Dr Lindsay said: "You get one form or another of an alignment happening fairly frequently, every few months or so in different configurations, but this is the first time I've heard of five planets all being aligned at once in a long time.
"At the moment you can see the other four. Mercury is usually the most difficult to spot, but now it's joining the party.
"It'll happen just before sunrise, but the good thing is because it's winter it'll be a relatively late sunrise, especially the further north you go in Scotland.
"The best places to watch would be somewhere with a clear view of the horizon to the east, because Mercury and Venus are very close to the sun, and when they're very visible in the sky they're very close to where the sun rises, whereas Saturn and Jupiter tend to be higher up in the sky, out of the way of the sun.
"In those twilight hours you don't really see many stars, so if you look directly above you by that point, the sky is getting a big brighter and a bit bluer.
"There's nothing about the planets that will look particularly different from stars, but you'll notice that there's not that many of them and suddenly there will be different ones popping up like white speckles in the sky – that's how you'll know they're not stars.
"These events last for a while, they'll move subtly out of alignment, but they will remain in this alignment for a few weeks.
"And you won't need any binoculars or anything, they'll appear as bright stars in the sky, it'll be really beautiful."