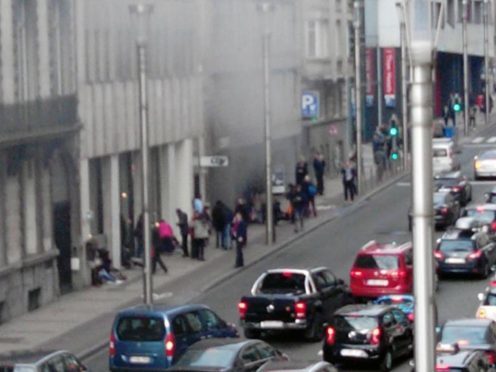 Several people are feared dead and many injured after suspected terrorist bomb attacks in Brussels.
The Belgian capital's airport was rocked by a double blast with reports of up to 10 dead and many more injured. (Click here for more) 
Another blast was reported by local media at a Metro station in the city, close to European Union buildings.
Eyewitnesses have reported being evacuated after the station filled with smoke.
Photos posted to social media show people running out of the station and into the street.
The suspected terror attack came as Brussels was on the highest level of alert following the arrest of Paris atrocity suspect Salah Abdeslam in the city last week.
Prime Minister David Cameron has said he is "shocked and concerned by the events in Brussels", adding: "We will do everything we can to help."
An Associated Press reporter saw several people with facial injuries following an explosion in a Brussels metro station near the European Union headquarters.
At least two people were seen being moved on stretchers.
Alexandre Brans, 32, who was wiping blood from his face, said: "The metro was leaving Maelbeek station when there was a really loud explosion. It was panic everywhere. There were a lot of people in the metro."
A witness at Maelbeek station told Belgian broadcaster RTBF: "We left Maelbeek station towards the centre at around 9.07, 9.10, when we felt an explosion which appeared to come from the front of the train.
"The lights went off, there was panic given what happened at Brussels airport.
"The doors of the train were forced open to get off the train. There was a lot of smoke. We left via Maelbeek station. The glass doors were blown out. The explosion must have been violent."