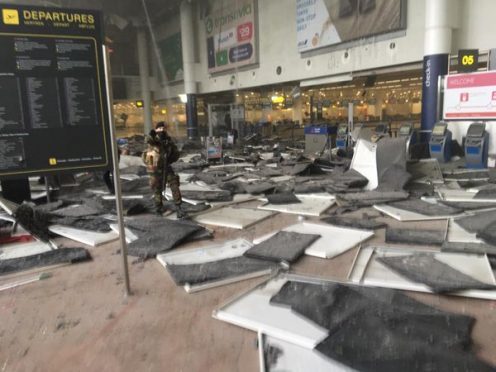 Authorities in Belgium have confirmed that an undetonated bomb was discovered at the airport where terrorists struck this morning.
Zaventem Airport, in the Belgian capital, was targeted in the attack, a suicide bomber struck first near the American Airlines desk at the airport, with local media reporting that shots were fired amid shouting in Arabic. A US official claimed a suitcase bomb was also detonated.
About an hour later, another bomb exploded on a rush-hour subway train near the European Union headquarters. Terrified passengers had to evacuate through darkened tunnels to safety.
Authorities have now confirmed that an unexploded suicide belt was discovered in the airport and has now been destroyed.
At least 34 people have been killed and nearly 200 injured as terrorists inflicted a new outrage on a European capital.
The atrocities, condemned as "blind, violent and cowardly" by Belgian prime minister Charles Michel, came after the arrest last week of terror mastermind Salah Abdeslam, who plotted November's massacre in the French capital.
The terror group Islamic State (IS) has claimed responsibility for the attacks.
Security was being stepped up at major transport hubs around the continent, with British police forces boosting numbers at "key locations" including ports, airports and the rail network.
French prime minister Manuel Valls said: "We are at war. In Europe we have been subjected to acts of war for several months."