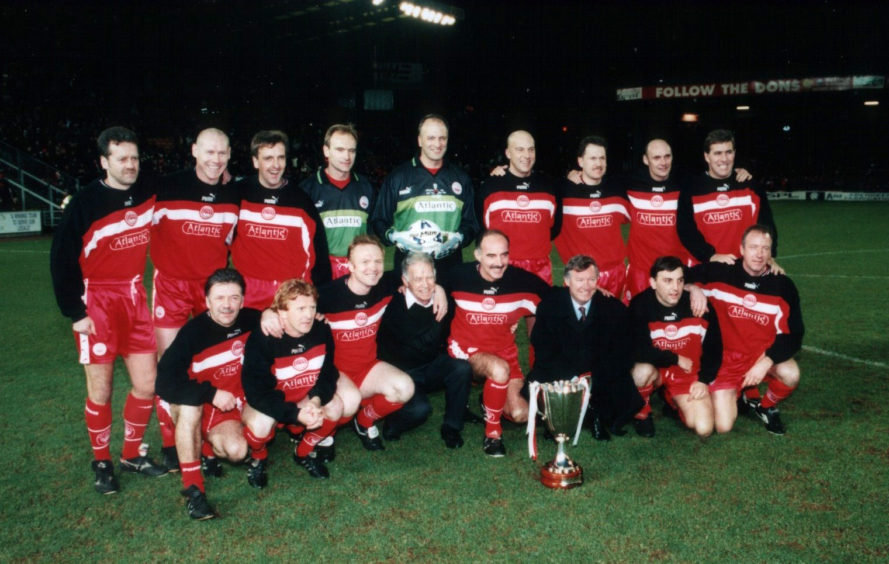 It was the night that Red Devils and giant behemoths joined forces at Pittodrie in honour of an Aberdeen legend.
But when Alex Ferguson brought David Beckham and Paul Scholes, Peter Schmeichel and Phil Neville, Ryan Giggs, Andy Cole and Ole Gunnar Solskjaer to the Granite City in 1999, it wasn't the usual testimonial fluff, but a rich homage to Dons legend Teddy Scott, who had been in with the bricks at Pittodrie for the previous 45 years.
First trophy
In bare statistical terms, Paul Hegarty ended up collecting his first and only piece of silverware after just six matches in charge of Aberdeen when they defeated Manchester United 7-6 on penalties to lift the Teddy Scott Memorial Trophy.
But, more importantly, the occasion gave Fergie and his band of superstars the opportunity to regale the sell-out crowd with the sort of pyrotechnics which brought the supporters to their feet as the contest developed.
The relegation play-off victory against Dunfermline in May 1995 had been the last time that such a massive crowd had filled the ground, but the response was fitting for Scott, who was such a great servant to the club and wore more hats than Audrey Hepburn during his time with the north-east organisation.
Ferguson played his part in making it a night to remember by fielding his strongest available side, but it was two of the lesser-known talents – Ronny Johnsen for United and Mike Newell for Aberdeen – who scored in normal time.
Both sides subsequently had chances to win the entertaining friendly, but Schmeichel was superb in stopping Robbie Winters, while Solskjaer hit a shot against a post.
That meant penalties to decide the match, and it was United youngster John Curtis who was the only failure when Derek Stillie pulled off a fine save to seal matters.
It was a night of nostalgia with Pittodrie packed an hour before kick-off as the Aberdeen fans turned out to celebrate the most famous team in the club's history.
Only John McMaster, Eric Black, and Jim Leighton were missing while the Gothenburg Greats took centre stage with Ferguson emerging with the testimonial recipient and a replica of the European Cup Winners' Cup from 1983.
One journalist wrote later: "That may have been 16 years ago, but in the bounce game that followed against the current youth team, Gordon Strachan still looked capable of playing, Mark McGhee conned the kids to shoot against a post, while Doug Rougvie must have loosened an opponent's teeth with a challenge.
"The supporters lapped it up, but appropriately the biggest cheer of the night was saved for Teddy Scott when he was introduced to both sets of players just before kick-off in the main event."
Aberdeen: Stillie, Perry, Dow, Mayer, Inglis, Whyte, Hart, Jess, Winters, Kiryakov, Rowson.
Substitutes – Newell, Smith, Gillies, Buchan, Anderson, Young, Good, Wyness, Esson.
Manchester United: Schmeichel, Phil Neville, Irwin, May, Johnsen, Butt, Beckham, Scholes, Cole, Solskjaer, Giggs.
Substitutes – Yorke, Greening, Blomqvist, Mulryne, Berg, Curtis, Brown, van der Gouw.
---
Life and times of a Dons legend
Teddy Scott brought down the curtain on a distinguished career when he retired in 2003 after serving the club for an astonishing 49 years.
This redoubtable little coiled spring of endless activity was, at various stages, the Dons' trainer, coach and eventually kit man, serving under more than a dozen Aberdeen managers during his decades of service at Pittodrie.
Love affair
The youngster first came to prominence as a centre-half for Aberdeen Junior club Sunnybank after starting his love affair with football at Ellon Secondary.
His career continued with Caley Thistle under-18s before he moved to Sunnybank.
The Heathryfold club were blazing a trail in tandem with the Dons in 1954.
While Aberdeen were making their way to the Scottish Cup Final at Hampden, Sunnybank were creating their own piece of history by going all the way in the Junior Cup, defeating Lochee Harp 2-1 in the final.
They became the first side from the north to win the national trophy and it was that run that brought Scott to the attention of the Dons.
He signed for Aberdeen in March 1954 and made his first appearance in the red shirt of Aberdeen in the public trial match at Pittodrie in August.
Serious competition
It was unfortunate for him that he was up against some serious competition for a place in the Aberdeen side.
Regular centre-half Alec Young was regarded as the best in the country while Jim Clunie was emerging from the reserve side.
It was because of this fierce competition that Scott's playing career with the Dons never really got out of the starting blocks.
During the latter part of the 1956-57 season, he was loaned to Brechin City and moved on to Elgin City in the Highland League.
Yet, after just after one season at Borough Briggs, he returned to Pittodrie to take up a training role under manager Dave Shaw.
That situation altered somewhat when Tommy Pearson took over as manager and Shaw reverted to his previous trainer position.
That left Scott in sole charge of the reserve team and began an incredible association with the club. For many years, he coached and nurtured generations of young Dons players and was always available to offer a word in their ear.
Latterly, Teddy was in charge of the kit room and enjoyed the kind of iconic status at Aberdeen which is normally reserved for the players.
Teddy Scott, born on this day in 1929.

Some man. pic.twitter.com/Yamo6s6hUo

— Here We Go! – The Aberdeen FC Podcast (@AFCHereWeGo) March 22, 2020
When he died in 2012, aged 83, the scale of the tributes testified to the affection in which this wonderful character was held by all and sundry.
As Aberdeen FC said: "During nearly 50 years at the club, everybody loved him."
Ferguson was at the funeral at Ellon Parish Church, along with Willie Miller, Joe Harper and John Hewitt, and Aberdeen chairman Stewart Milne.
---
Sir Alex Ferguson's personal tribute to the legendary Teddy Scott
"Teddy Scott was a fantastic man and anything that Aberdeen achieved during my time at the club, he was an integral part of all that, there is no question.
"He played a massive role in running the club.
"He ran the reserves, he did all the washing of the kit, he was responsible for all the attitudes and discipline of the young players that were coming through and I think every one of them will owe him a great deal of gratitude for that.
"He created pride and discipline in them all, which was a great starting point before they got to me.
"He was a great confidant and servant to me and the club, he was a really amazing man.
"As far as his relationship with myself and the part he played in my time at Aberdeen, he had a huge effect on me and that meant a lot to me and the family. All the Ferguson family recognised what a role he played in my early days at AFC.
"First of all, he helped me settle in the club and supported me all the way through, so the whole Ferguson family would like to send our sympathy to his family, Jean, Gary, Kay and Shirley.
"Teddy and his family were great to us and we'll never forget that. He was an amazing man, every Friday afternoon he would have the tea ready for Archie Knox and I in the boot room and before he left he would say: 'Oh by the way, I am taking the team up to some forgotten town in the north of Scotland somewhere on Sunday!'
"Some of the places were not even on the map. I would say: 'Good grief, Teddy, where is that?'
"He would reply: 'It's no far, only 70 miles away!'
"He was unbelievable.
"He was a fantastic servant to Aberdeen, there is no question about that but I don't think that any tribute will be overstated, that was how much he meant to Aberdeen Football Club and the people up there."
---
Teddy's all-time greatest Dons team
Teddy Scott witnessed hundreds of players during his multi-faceted role at Pittodrie.
And his decades with the Dons provided him with a unique perspective on the various qualities which these performers brought to their Aberdeen careers.
In the 1990s, he sat down and analysed the merits of all the candidates as the prelude to selecting his best-ever team during his time with the club and this duly appeared in the official match programme.
He surprised some people by selecting so many personnel from the 1950s team which won the Scottish championship for the first time – but, as his previous gaffers would have readily admitted, Teddy knew his football and his views were worth recording.
This was the long-serving trainer's team of the decades as it appeared in the club programme and the rationale behind his choices.
Theo Snelders (1988-96)
"He works harder to be the best than any other keeper I've seen.
"Apart from his brilliance, he's an innovator, constantly trying out new ideas.
"For instance, after the defeat last week at Parkhead, he was in doing a circuit on the multi-gym.
"You don't see too many players giving up their Sunday morning to do that, but the man is a perfectionist."
Stewart McKimmie (1983-97)
"I remember Alex Ferguson saying if he'd has two footballers at full-back he would have had some team.
"That's why I put Stewart ahead of Stuart Kennedy and Jimmy Mitchell.
"He has more football ability than the others. My only complaint is that he doesn't score often enough."
Alex McLeish (1978-94) and Willie Miller (1973-90)
"You cannot split them up.
"They made it as a pair and they will be remembered for their partnership.
"Willie came into the team first and it the most complete footballer in my years with the club.
"They were the foundations for the club's greatest success and were as near perfect a combination as you could with."
Jim Hermison (1966-75)
"Left-back has always been a problem position.
"Chic McLelland was a solid defender lacking pace, Doug Rougvie was a character in his own right who did a more than useful job.
"But Hermit is my pick.
"He had pace, control and the passing game to bring his forwards into the game. His temperament was slightly suspect on occasions."
Jack Allister (1952-58)
"Had everything required for the modern game. He was as hard as nails yet had a lovely touch.
"He was ever so accurate with his passing and could score as well."
Archie Glen (1948-60)
"A great leader and a great player. Similar to Jacky in some aspects, like tackling and had good distribution.
"He instinctively knew where to go to fill the gaps and ease the pressure. I remember him at Hampden doing George Young's work as well as his own."
Gordon Strachan (1977-84)
"He'd be well looked after between these two.
"Give him a free role and he'd get the results. His flair brought out the best in lesser players and he particularly helped Kennedy and McKimmie in their development.
"A world-class act who was never really given the credit he deserved in his own country and indeed Aberdeen."
Graham Leggat (1953-58)
"He had the lot. His speed off the mark caused problems for any defender but that apart, he was also a very good player. He was precise with his crosses and knew when to get in the on the end of one himself."
Joe Harper (1969-72, 1976-81)
"I have never seen anyone score goals like he did. And he could do it with either foot and from any distance. He was a natural who was loved by the fans."
Jackie Hather (1952-59)
"A flying machine. All he needed was the ball in front of him and someone had a problem catching him. He, too, could get goals and that's a combination you don't see too often nowadays."
Substitutes – Henning Boel (1969-72)
"A quality defender who could perform equally well in any of the back four positions."
Mark McGhee (1979-84)
"He was capable of fulfilling the same role in any of the forward positions."
What do you think of Teddy's team?
Let Neil know at nostalgia@pressandjournal.co.uk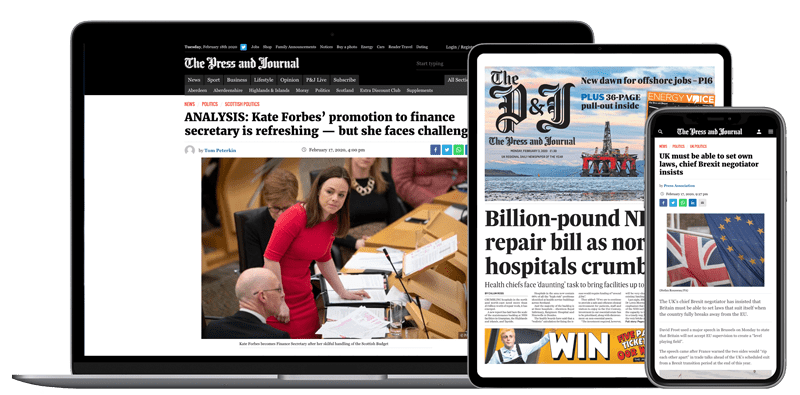 Help support quality local journalism … become a digital subscriber to The Press and Journal
For as little as £5.99 a month you can access all of our content, including Premium articles.
Subscribe