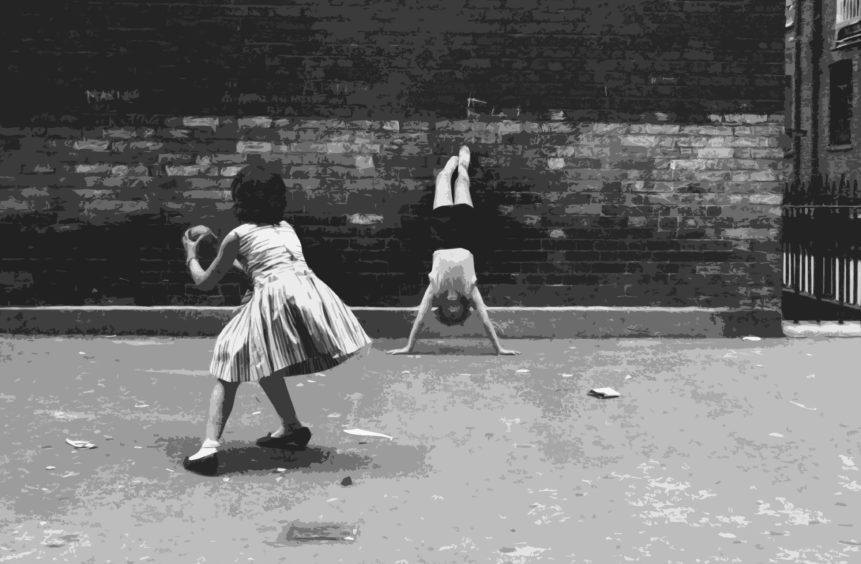 Were we in normal times, kids across the north-east would be by now asking that age-old question… "what is there to do during the school holidays?"
Actually, I seem to remember filling my summers with quite a lot – from games of kick the can that went on forever to near-death experiences.
The latter came courtesy of a guider a mate and I were playing with. (For clarity, a guider is what we Edinburgh urchins called a cartie, as the n-easters would have it).
Anyway, this was a plain affair, a bit of board with pram wheels attached, and you guided it with a bit of rope attached to the rudimentary axle at the front.
I was lying on this thing being pushed at great speed along the street when I over-steered, it jammed and went hurtling out into the busy road.
I rolled off just as it went under the wheels of a number one bus. I can still vividly remember the shocked look on the old wifie's face as she stared down at me through the window from the passenger seat.
Even as the guider was being crunched and crushed in a horrific cacophony of splintering wood, my mate and I reacted in the time-honoured tradition of all 10-year-olds. We legged it.
It wasn't until a few years later
that I realised just how close I came
to being a tragic newspaper headline."
Safely behind a hedge, we keeked out to watch the driver and conductor pulling shards of wood and bent pram wheels from the undercarriage of the bus, while scanning around to see if they could spot the daft laddies responsible.
It took a while for my heart to stop racing, but only because I thought we were in trouble. It wasn't until a few years later I realised just how close I came to being a tragic newspaper headline.
Guiders apart, we always seemed to find plenty to keep ourselves out of mischief, for the most part.
In those days, you went out to play in the morning and simply ranged. Everybody did. Your world was bound only by the distance you could walk or run
You'd meet up with your mates and kick a ball around (badly in my case), playing "shapes" off a wall, like squash but with a football.
If you got bored of that, then it was over to "best man falls". Oh the joy of selecting the means of your death – "hand grenade" – then acting out your gruesome fate as elaborately as possible. For the record, the hand grenade option allowed for cartwheels and backflips and was always done slo-mo.
Sometimes you were a bit more hands on with your flights of action fantasy. Anyone else remember untwisting the wire from fences to get out the staves of wood as makeshift swords? Robin Hood had nothing on us. Mind you, I don't seem to remember either Errol Flynn or Basil Rathbone dropping their swords and going "ooyah, ooyah" while trying to pick splinters out of their hand.
During summer holidays a passion for something would flare up for a few days, sometimes weeks, then die away again.
We had one of those phases with kick the can.  It seemed like every day for an entire summer every kid that lived in the area congregated for this massive exercise in hide and seek on steroids.
The thrill of trying to find a place you wouldn't be found, the disappointment when you were spotted, named and forced to sit on the grass beside the eponymous can. The adrenaline rush when someone who hadn't been caught came running out of nowhere to kick the can and set us all free again. It was like The Great Escape… but without motorbikes.
The downside was the fury of your mum when you got home, clarty and stinking, then her going off her head when you told her you had been hiding in a dustbin in someone's garden. I mean, what's the problem? They did it in The Beano.
And I'm still not convinced there was any need for Dettol in that bath.
Still, I learned my lesson from that. On the day the scaffies let us ride on the back of the rubbish lorry on their bin run round our streets I didn't tell mum anything about it. Or health and safety officials, come to that.
Occasionally I would get press-ganged in to girly games by my sisters and their mates, usually if they needed someone to help caw the skipping rope.
Mind you, peevers is fun until your mates see you. But what on earth was elastics all about?
The best antidote to all that singing and skipping was joining in a good going collie-buckie fight. If you didn't go home with a torn jumper you weren't doing it right.
The pretend rough and tumble quite often led to a proper punch up – within strict rules of course.
You needed a circle of other kids all chanting "fight, fight, fight" until the two combatants grappled, threw the odd punch at each other until someone was pinned down and surrendered. Bursting into tears meant you lost by default.
Then you stood up, shook hands, wiped off any blood from your nose and got on with the day.
Where, you might ask, were the play parks in all of this, those safe havens of carefree fun?
That usually resulted in a
skid across the gravel and
picking bits of grit out your
scabby knees a few days later."
That would be the swings with seats made out of solid, heavy oak, attached to a rusting frame by thick chains that weighed a ton, all sitting over gravel. The most fun to be had with these death traps was to stand on them, beam them as high as you could then jump off to see if you could make them go right over the top of the frame.
That usually resulted in a skid across the gravel and picking bits of grit out your scabby knees a few days later.
So, no to the council swings. Far safer was the Tarzan rope over the burn. You needed to make the Tarzan noise as you swung out over the jagged rocks and deep water and back, egged on by your mates. And shame on you if you ended up dangling over the burn on a motionless length of rope.
Our summers seemed to last forever back then, days of roaming, playing, fighting, exploring and, almost miraculously, reaching the end of them with little more than bumps, scrapes, grazes and memories. Good ones – even the guider.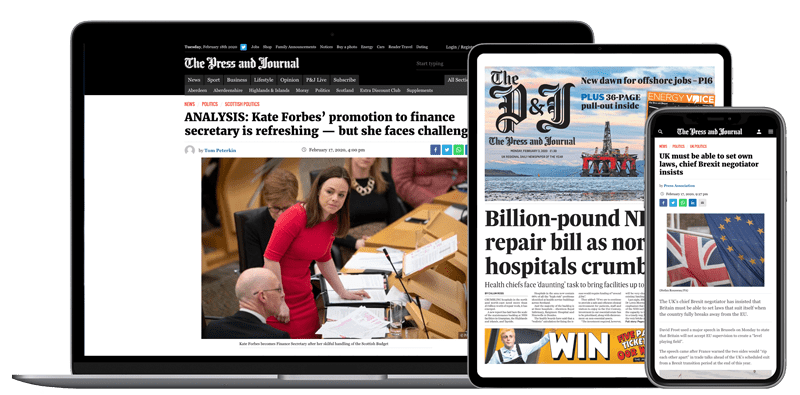 Help support quality local journalism … become a digital subscriber to The Press and Journal
For as little as £5.99 a month you can access all of our content, including Premium articles.
Subscribe