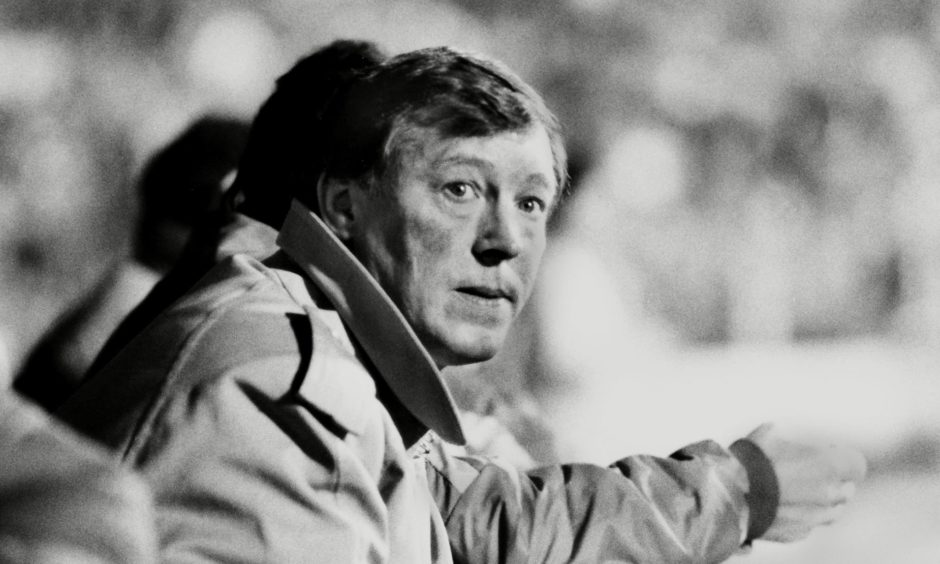 It has never been a place for the faint-hearted or those who are uncomfortable with the sound of rat-a-tat industrial-strength language.
But while the football dugout might be a setting where tension and taut nerves often conspire to transform normally sensible people into the Incredible Hulk – with added profanities – it has provided sportswriters and broadcasters with a rich seam of anecdotes.
The Scottish circuit has been replete with tough-as-teak characters whose antics have attracted the wrath of officialdom, but the dugout is also a source for banter, for bonhomie, and blistering humour… such as when the late Partick Thistle manager John Lambie was told by the medics that one of his players was concussed and didn't know who he was.
"Well tell him he's effing Pele, then," came the response from Lambie, a redoubtable customer who was never afraid to turn a kerfuffle into a full-blooded row.
As one of Scotland's most intelligent broadcasters and columnists for the Press and Journal, you might imagine that Richard Gordon would have a good take on the often visceral scenes which he and his colleagues have witnessed during their careers behind the mike.
And, in the current Covid-induced fan-free stadium environment, it is hardly surprising that TV coverage of matches invariably contains repeated apologies from the commentators about the language being employed by participants, both on and off the pitch.
Richard has already gathered a miscellany of visceral accounts from many leading players which he has assembled in Tales from the Dugout; and while it's probably not for those of a sensitive disposition, the book is often a hilarious illustration of the madness and mayhem which occasionally erupts like Vesuvius when football explodes.
Gothenburg Great Neil Simpson was among the luminaries who shone for Aberdeen under Sir Alex Ferguson in the 1980s and once managed to avoid getting into trouble with an official.
But only just. As he recalled: "Back then, the Dons players were well known for swarming around the referee to try to put pressure on him. It was a deliberate tactic, but the SFA obviously got wise to it and brought in a rule that any player charging towards the ref would immediately get booked.
"On the first game of the season, the match official came into the dressing room beforehand and reminded us that he would have no option but to issue a yellow card if it happened.
"Five minutes gone, there was a bad tackle on Gordon Strachan and I instinctively sprinted to the ref, but just as I reached him, I remembered the directive.
"So I put on the brakes and in my poshest, politest voice asked him: 'Excuse me sir, I would like to enquire as to what action you might be considering taking in the wake of that robust challenge by my opponent'.
"[Dons team mate] Mark McGhee was standing nearby and he said: 'What the eff was all that about?' But the referee just laughed and I never got booked."
Not everybody was as phlegmatic as Simpson when the going got tough. On the contrary, although Aberdeen have attracted many high-quality managers and coaching staff, there have been afternoons where everything that could go wrong did go wrong.
Jim Leighton, a Scotland and Aberdeen goalkeeping legend, witnessed one such scene.
He said: "Our management duo of Craig Brown and Archie Knox could be quite an entertainment in the dugout, with Archie in particular likely to go off on one at any moment.
"We'd been going through a pretty rough time, results hadn't been great and, on this afternoon in particular, the team had been struggling.
"Archie was getting more and more heated-up and eventually he snapped. 'That's it, I've had enough, I'm making an effing sub.'
"He picked who was going on and called over the kit man, Jim Warrener, who started to get the board ready.
"Jim asked him which number was coming off and Archie replied: 'Any effing one you want! I don't care, it's up to you, just make sure you get one of them off'.
In such scenarios, it was best to light the touch paper from a very safe distance. Because some of Scotland's greatest managers have possessed volcanic tempers.
But even the fieriest ones normally stay for the duration of a match.
However, former Aberdeen star John McMaster revealed one instance where that didn't happen.
He added: "We were over in Germany for pre-season training and it was really tough, a nightmare 17 days, and Alex Ferguson and Archie Knox had been working us really hard.
"We finished the trip off with a round-robin tournament, played a couple of German amateur teams and then a Romanian side in the final. It was roasting. It must have been 80 to 90 degrees and we were knackered after all this.
"At half-time, we were losing 3-1 and Fergie slaughtered us, then sent us back out making it crystal clear that he expected an improvement in the second half.
"But early on, they scored again and I saw Fergie waving his hand towards the pitch, then he and Archie just walked away. He'd had enough and couldn't believe how bad we were, so he decided just to leave us to it and the pair of them went off and had a beer."
Some of the stories in Richard's book have an instant visceral impact, others have a slower-burning development. But there is something wonderful about the tale which former Aberdeen boss Alex Smith tells of one encounter with Rangers counterpart Graeme Souness.
He recalled: "You have arguments with the other dugouts all the time, and although these people can often be among your best friends in the game, that is forgotten about during the 90 minutes.
"We were playing Rangers in November 1989, a Wednesday night at Pittodrie, and it had been a tough match. Graeme and I were at each other constantly from our dugouts and his mood wasn't helped when Hans Gillhaus scored a last-minute winner from David Robertson's cross.
"The move had started after we got a free kick, but the ball had rolled five yards forward and Jim Bett took it from there. Graeme had seen all this happen and he was going crazy that the goal had been allowed to stand.
"Afterwards, I was in the long corridor under the main stand and I came face-to-face with Graeme. We nodded, exchanged a few words, and came to the first of a series of swing doors.
"He held it open to let me through. By the time we got to the next one, he was in front of me, so he had to hold the door for me again.
"This happened all the way down the length of the stand until we got to the doors nearest the dressing rooms and he was there first again.
"So he turned to me and said: 'You've just beaten me with a last-minute goal, from a free kick which was taken from the wrong place. If I have to open another effing door for you, I'm going to boot your a**e the length of this corridor'."
Smith, a genial character away from the dugout also features in other scrapes, including the time where he bawled, "Balance, balance, balance" at his players… shortly before toppling down a set of stairs at Muirton Park, the former home of St Johnstone.
Worse was to follow. As he said: "I landed on the floor of the boiler room. It wasn't cemented, it was just dirt, and I was wearing one of those Columbo-style raincoats and a red shirt and tie and I was absolutely filthy.
"I got myself tidied up as best I could and I walked into the dressing room and shouted: 'You lot. Every week, every effing week in my team talks, what do I talk about? What's the most important thing? Retaining your effing balance…!'
"Of course, I had just fallen down a flight of stairs, so the whole place erupted and, despite myself, I started laughing as well and it carried on for the whole half-time.
"I never said a word about tactics or the plan for the second half, but they went out and they were brilliant and we won 3-1.
"It was the best team talk I ever gave."
Tales from the Dugout is publicised by Black and White.