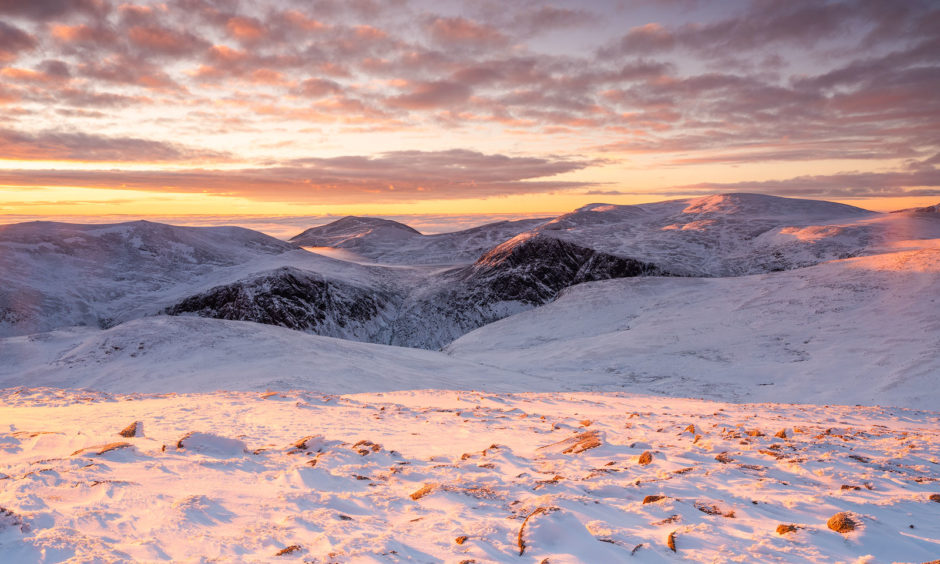 He is the local Highland pharmacist, who became one of the most famous figures in the history of Scottish mountain rescue.
And even now, a decade after he retired as the leader of the Cairngorm MRT, John Allen is still convinced of the myriad health benefits, both in physical and mental terms, of people walking and climbing in the country's high places.
It's a long time since he moved to Strathspey with his wife, Anne, and their two young children, to manage community pharmacies in Kingussie and Newtonmore.
And it's almost 50 years since the Cairngorm Plateau Disaster in 1971, which claimed the lives of five teenagers and one of their teachers, who were on an eight-strong navigational expedition in a remote area of the mountains when tragedy struck.
That was one of the compelling reasons why Allen has poured his heart and soul into both encouraging and educating the many visitors who love the rugged outdoors and, although he was involved in more than a thousand rescues during 35 years of service to the CMRT, he remains as much in love with his country's mountains, bens and glens as he has ever been.
As he told the Press and Journal, his passion burns strong in the middle of a lockdown. Indeed, maybe even more so because we are in the middle of a lockdown.
He said: "When I was a pharmacist in Kingussie, I was asked in 1994 to write an article for the Pharmaceutical Society of Great Britain's professional magazine about my experiences in mountain rescue.
"I stated then and still believe that, from a clinical and personal perspective, the leisure activity of a good day out 'on the hill' provided a much greater feeling of well-being and euphoria than I could hope to achieve by the use of any of the drugs in my dispensary.
"In the current Covid pandemic and the ongoing and increasing narrative on mental health, it is my view that exercise and exposure to the outdoor environment is of vital importance to the physical and mental health of the nation.
"That is provided that sensible planning and safety precautions are applied."
Trauma
Mr Allen speaks from decades of witnessing at close quarters the vagaries and fluctuations which can occur in his native land, where, as he remarked: "It's not unknown for the Scottish hills to experience more than one season's weather in a single 24-hour period."
This has led to him having to deal with trauma and tristesse on a regular basis.
And yet, undaunted, he and the men and women who have followed in his footsteps across the North of Scotland are always prepared to respond to emergency calls at any time of day or night.
There was no denying the scale of the catastrophe which engulfed a group of young people in the Cairngorm Plateau almost half a century ago.
Mr Allen vividly recalls the circumstances in which two parties of children from Ainslie Park School in Edinburgh set out with their leaders from Lagganlia Outdoor Centre in Kingussie, on a journey from which many of them would not return.
As he relates in his book Cairngorm John: "One of the parties consisted of six 15-year-old children with two instructors, Cathy Davidson and Sheila Sutherland, who were not much older. Making a relatively late start, they drove to the high car park on Cairngorm and took the chairlift close to the top of the Cairngorm Plateau.
"Intent on reaching the Curran Bothy near Ben MacDhui, they had a long distance on the plateau to traverse, in what soon became nightmare conditions so bad that they failed to reach their destination.
"Their companion party did reach the Curran and must have spent an anxious time, waiting and hoping that their friends would appear.
"When the weather relented sufficiently, this other party returned to Lagganlia and, finding their friends overdue, raised the alarm.
"By this time, the missing party had been outside for two nights and a day.
"The Cairngorm, Glenmore Lodge, RAF and Braemar Rescue Teams were called out, as was Grampian Police, but the conditions made the search almost impossible.
"The group was eventually located from above when a helicopter crew was at last able to take advantage of a break in the weather. Cathy Davidson and one of the boys had set out from where the rest of the party were now buried in snow.
"Cathy was soon reduced to crawling on her hands and knees and it was her bright orange jacket which caught the crew's attention. By the time the rescuers reached her, she was barely able to speak, but she managed to point the way to her charges."
Saved
At least their lives were saved, but there was no escape for the others in what had become an increasingly desperate situation.
Mr Allen continued: "Sometimes, the bravest decision is to turn back, to leave the adventure for another day, and write off the time and expense of reaching the tipping point.
"On this day, the group continued, eventually becoming disorientated and misplaced. Demoralisation, exhaustion and hypothermia, naturally followed.
"On the hill or later in hospital, Sheila Sutherland and five children died. It was the worst disaster in Scottish mountaineering history.
"An inquiry was instigated into what became known as the Cairngorm Plateau Disaster that had a profound effect on outdoor activities in the UK."
Mr Allen has been involved in many other rescues with more auspicious outcomes. But he and his colleagues have also attempted to save climbers who have taken every conceivable precaution and yet still perished on the slopes.
With nature, there are no cast-iron guarantees.
Reckless
They have also encountered groups who recklessly wandered into the wilderness without doing any research on what might await them, in addition to being hopelessly ill-equipped and without even the most basic tools of survival.
Mr Allen's team was once confronted with a situation where more than 30 youngsters – and just one teacher – from a faith school in London found themselves in difficulties and were actually rude to the people who had risked their own lives to protect them.
Faced with such provocation, as Mr Allen later admitted, it was difficult to remain sanguine or bite your lip. But despite all these considerations, his philosophy has not changed.
He doesn't pretend to have all the answers.
Yet he is convinced that, for as long as there are mountains, the benefits will outweigh the perils for those who want to visit them.
Mr Allen said: "No rescuer ever rushes to judgment, far less blame. Everyone involved knows that, under different circumstances, in different times, it could have been them.
"There is always a back story, a combination of circumstances, history, decisions made by others, and character.
"That is true of the mountain itself, whose story goes back into geological time, of the casualties and the strings of decision and coincidence that bring them to grief, and it is true of the rescuers as well."
The Cairngorms are a photographer's paradise and an adventurer's playground. John Allen has fallen in love with the place and that shines through in his reminiscences.
But his message is very clear: Always be prepared for whatever the mountains – and the Scottish climate – can fling at you. And especially in winter.
Cairngorm John: A Life in Mountain Rescue is published by Sandstone Press.
---
Cairngorm John's top tips for enjoying Scotland's high places
Weather Forecast: "This has greatly improved in recent years and there are some good sites which are useful for outdoor enthusiasts. Forecasting 48 hours ahead is readily available and fairly accurate.
"Scottish weather is very changeable and it is not unknown for the hills to experience more than one season's weather in any 24-hour period.
"The inexperienced person should be aware that, as you climb higher, the temperature will drop and, as the wind increases, the wind chill becomes a major issue."
Navigation: "Good skills are essential and this includes navigating in mist, rain or snow.
"If you are unsure of your skill level and the forecast is poor, be prepared to change your plans. If you have started out on a trip and the weather deteriorates, be ready to turn back. There is no shame in retreating and, indeed, this is a sign of good management.
"Good navigators will always carry a paper Ordnance Survey map and Silva-type compass."
Emergency Shelter and Equipment: "Some form of lightweight emergency shelter is a useful addition to the rucksack. Like a life raft on a yacht, you hope you never need to use it, but someday, it could save your life.
"If you are hill walking in winter, it is essential that an ice axe is carried and that you are also practiced in its use in correcting a stumble or a slip on ice."
Communications: "Mountaineering Scotland already broadcast, lecture, write and generally try to spread the message that smartphones have their limitations in hill navigation.
"And one of the major changes affecting mountain rescue in the last 10 years is an increasing reliance on the mobile phone.
"To quote my colleague Heather Morning: 'They have taken over our lives, but they do give a false sense of security.
"They are an awesome tool of the trade with high functionality, but this has to be underpinned by the correct use of a map and compass.'
"It seems that growing numbers of inexperienced walkers are using their phones for navigation without knowing the rudimentary principles of navigation.
"The question is: How do you persuade the modern generation, who rely so closely on their phones for communication that, if you go into the hills, you must also learn old-fashioned, but life-saving techniques. Phones will only help you so much.
"Battery power is a disadvantage. A signal is not always available in remote areas. Direct sunlight on the screen reduces visibility. They are awkward to use when wearing gloves.
"And there is the fact that phone maps do not give the bigger picture of what is around you. Which is very important when the light fades quickly."
Further information is available from www.mountaineering.scot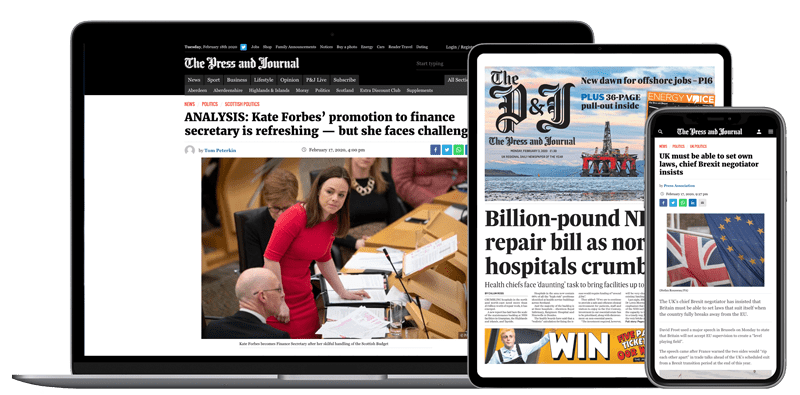 Help support quality local journalism … become a digital subscriber to The Press and Journal
For as little as £5.99 a month you can access all of our content, including Premium articles.
Subscribe