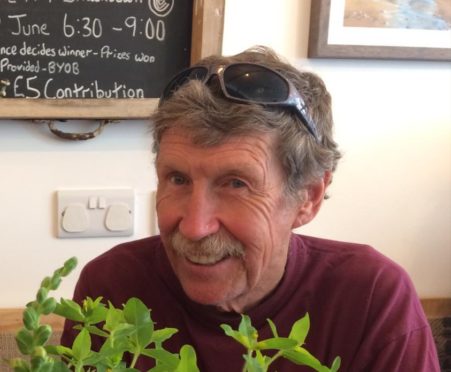 Tributes have been paid to an internationally acclaimed mountaineering expert from a Loch Ness-side village who died last week.
Dave Cuthbertson, from Dores, and best known as "Smiler", was taken to Raigmore Hospital with pneumonia before doctors discovered he had been living for months with lung cancer.
The experienced hill walker had been climbing some the country's most popular routes – unaware of his illness – just two weeks prior to his death on Thursday, May 2.
The 70-year-old, a father of four, first found his love for the sport while growing up in Wombourne near Wolverhampton in England, with his younger brother Peter, 65, after joining the local youth club.
In the years that followed, particularly during the 1970s, his wife Clare said he was "all over the place in Wales" before taking to the Alps.
For many years, he spent the summer months trekking in the Alps, before returning home to his wife of 28 years in the winter.
The family moved from North Wales in late 1996, raising their children Robyn, 27, and Laurie, 25 in the Scottish Highlands.
Mrs Cuthbertson paid tribute to her husband's devotion to family and his "optimism and enthusiasm for life."
She said: "He did anything for his family. He would move anywhere so we were happy. I think he sacrificed himself through various moves.
"He was always very optimistic. He was always determined to see something through. If someone said it couldn't be done, he would work out a way of doing it."
Looking back on her husband's successful career, she said it was becoming an international guide that made him most proud.
She said: "His professionalism, his pride; and what amazed him most was becoming an international mountaineering guide, he loved it. He gave it everything. He gave his clients everything; he would talk to them for hours about their progress and achieving their goals in a safe manner."
Mr Cuthbertson was also nominated president of the Climbers' Club, promoting his enthusiasm and dedication to the sport.
Following news of his passing, members of the club have paid tribute to their former president who they say will be "sorely missed" by all who knew him.
They said: "Smiler was a very good climber, a unique character, and an outstanding member of the Climbers' Club and a past president. He will be sorely missed.
"We offer condolences to Clare, his family, friends and all that knew him."
His funeral and burial will take place at Dores Church on Tuesday from 12.30pm followed by a wake at the Dores Inn. A climber's memorial will also be held in North Wales in the coming months.