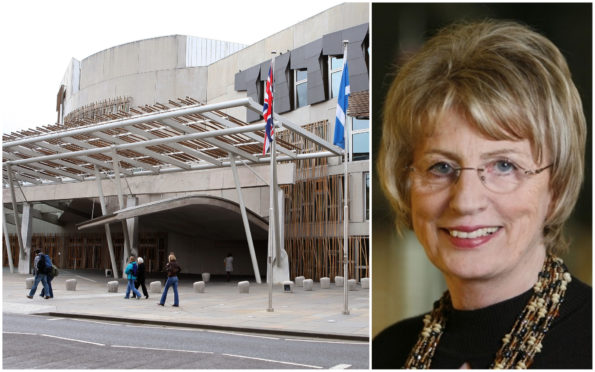 Trish Godman, who has died aged 79, was among the very first group of MSPs to be elected to the Scottish Parliament, using her position to act as a "great fighter" for her constituents.
Elected to represent West Renfrewshire with a majority of more than 2,000 in 1999, the Scottish Labour politician held off the opposition until her retirement in 2011.
She also spent eight years helping to keep the peace in the Holyrood chambers as a deputy presiding officer.
Born in Govan, Ms Godman left school at 15 and took a job as a waitress, while also raising three sons as a single mother.
She trained as a social worker, entering a career working with people in the east of Glasgow who were suffering from drug and alcohol problems.
Ms Godman used this experience during her time as an MSP, most notably when she called for new legislation to criminalise the purchase of sex in 2009.
At the time, she said her proposed amendments would be "a simple but devastatingly effecting means of challenging demand for prostitution".
She added: "Every shred of evidence indicates that prostitution is inherently harmful."
On behalf of the Scottish Labour Party, I extend our condolences on the sad news of the death of former Scottish Labour MSP and deputy Presiding Officer Trish Godman.

— Richard Leonard (@LabourRichard) July 21, 2019
Two years later, Ms Godman was one of three people associated with Celtic Football Club to be sent home-made letter bombs.
Along with club manager Neil Lennon and his QC Paul McBride, an explosive substance contained in a plastic bottle was delivered to her constituency office in Bridge of Weir.
It is thought she was targeted after wearing a Celtic top to the last day of parliament as a "dare for charity" a few days before.
Two men were later convicted and jailed for five years following the attempted attack.
Ms Godman retired from politics in 2011, looking forward to spending more time growing plants and vegetables in her garden.
Last night Scottish Labour announced that she had died aged 79.
Sorry to hear the news of the passing of Trish Godman. I knew her when she was a local constituency MSP and always found her to be a decent and kind public servant.

— Derek Mackay MSP (@DerekMackaySNP) July 21, 2019
Party leader leader Richard Leonard tweeted: "On behalf of the Scottish Labour Party, I extend our condolences on the sad news of the death of former MSP and deputy presiding officer Trish Godman.
"Determined and principled, Trish was a great fighter for her constituents and for the Labour Party.
"Our thoughts are with her family during this sad time."
Tricia Marwick, the Scottish Parliament's presiding officer from 2011-2016, wrote on social media: "Such sad news.
"My condolences to her family and friends."
Deputy leader of the Scottish Conservatives, Jackson Carlaw, said: "Trish Godman was a politician who led with determination on key issues including much improved-investment in bespoke wheelchair availability.
"My very best wishes to her friends, family and former colleagues."