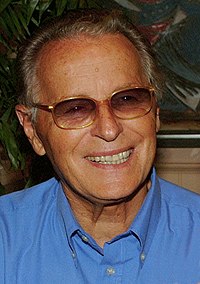 Famed Italian costume designer Piero Tosi, who earned five Oscar nominations during a decades-long career in the film industry, has died aged 92.
Having worked in showbiz for more than 50 years, Tosi established himself as one of the greatest of his craft contributing to titles including Death In Venice, The Leopard and The Damned.
He grew up in Florence and studied at the Florence Academy of Fine Arts before breaking into the industry as a costume assistant for a stage production of Le Chandelier.
It was through this line of work he met stage and film director Luchino Visconti, who then hired him to help with his 1949 take on Shakespearean tragedy Troilus and Cressida.
Five years later, after moving to Rome, his works made their debut on the big screen with Visconti's film Senso.
From there, Tosi only became more widely-renowned and continued his professional relationship with Visconti.
After working on The Leopard together in 1963, Tosi earned his first Oscar nomination for costume design.
He followed this up with another nomination for Death In Venice, having again worked with Visconti but this time creating nearly 700 period costumes for the film.
In the years which followed, Tosi gained Oscar nominations for his work on Ludwig in 1973, La Cage Aux Folles in 1978 and Franco Zeffirelli's La Traviata in 1983.
While he left each of these ceremonies empty-handed, he was given a Bafta for his work on the latter of the three.
La Traviata also led him to sparking a friendship with the famed Italian director, and the pair worked together on his 1993 film Sparrow.
While they did not collaborate further, they remained close for many years after.
Tosi was presented with an honorary Oscar in 2013 – becoming the first costume designer to ever be given the award.
As well as this, he also amassed two David di Donatello best costume design awards, two Baftas and a special 50th anniversary award from the Italian Academy.
It was The Franco Zeffirelli International Centre for the Performing Arts – created to promote cinema and culture to the next generation – that broke the news of Tosi's death via Facebook on Saturday.
A tribute to the costume designer read: "Piero Tosi left us today, a life-long friend of the Maestro (Zeffirelli) and his collaborator since the beginning of his career.
"He will be buried in Franco Zeffirelli's family tomb, next to the Maestro and Anna Anni, his friends from his time at The Art Institute of Florence."