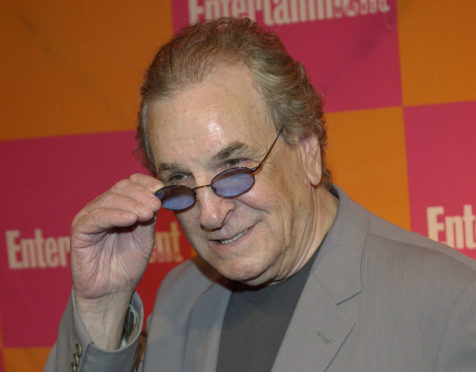 He enchanted audiences with his "tough guy" acting, starring in films including Moonstruck and Spike Lee's Do The Right Thing.
And Danny Aiello's character Tony Rosato is frequently remembered for uttering the famous line "Michael Corleone says hello" in The Godfather Part II.
During a career spanning more than 40 years, the actor starred in dozens of films and Broadway plays, earning accolades – including an Oscar nomination – in the process.
He was born in 1933 and grew up in the south Bronx with his five siblings and mother.
At the age of nine, he was working in a grocery store, shining shoes, selling newspapers and loading trucks to help his family get by.
After lying about his age to enlist in the army, he also worked as a nightclub bouncer and bus driver before turning his attention to acting.
Aiello broke into the industry in his mid-30s, firstly with a small part in the Robert De Niro baseball film Bang The Drum Slowly in 1973.
This was followed up with his aforementioned roles in The Godfather Part II, and playing a number of similar characters in titles such as Fingers and Defiance.
As he continued acting, the parts he was offered began to grow in stature.
Aiello received third billing in Woody Allen's 1985 romantic comedy The Purple Rose of Cairo, playing alongside Mia Farrow and Jeff Daniels.
Two years later, he was cast in Moonstruck with Cher and Nicholas Cage, and his work as Johnny Cammareri truly offered him his big break.
In 1989, he landed the part of Sal in Do The Right Thing, which led him to an Oscar and Golden Globe nomination, and a number of critics' choice prizes.
Aiello continued acting until 2017 – for a long time averaging three films per year – with titles including Hudson Hawk, Leon: The Professional and Lucky Number Slevin.
Away from the dramatic roles, he also played Madonna's father in her controversial 1990 music video for Papa Don't Preach.
Off-screen altogether, Aiello gathered a number of Broadway theatre credits. Most recently, he appeared in the Off Broadway show The Showmaker in 2011.
His family confirmed he died in hospital on Thursday from an infection.
His Moonstruck co-star Cher paid tribute by tweeting: "Danny was a great actor, but a genius comedic actor. We laughed so much making Moonstruck.
"It was one of the happiest times in my life and he was a part of that happy time."