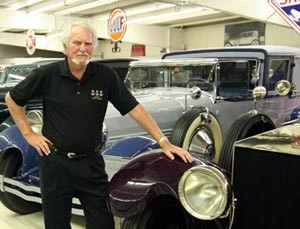 His books didn't always translate into successful films.
Indeed, during the shooting of one of cinematic history's most famous flops, Raise the Titanic, Sir Lew Grade remarked it would have been "cheaper to lower the Atlantic".
But when his words were allowed to breathe and his elaborate plots wove and wended their way into readers' imaginations, Clive Cussler, who has died aged 88, was one of the most successful authors of the 20th century.
The creator and co-writer of more than 80 books, including Sahara – another tarnished Hollywood fiasco – and a series of works starring his hero Dirk Pitt, Mr Cussler sold more than 100 million books around the world and was published in more than 40 languages, while topping the New York Times bestseller list 17 times in a row.
Born in Illinois in 1931, he served in the US air force during the Korean war and moved into copywriting and advertising after the conflict, becoming an award-winning producer of radio and television commercials.
But, soon enough, he began writing novels and The Mediterranean Caper, his first book starring his most famous creation, Dirk Pitt – a marine engineer and government agent – was published in 1973 to a positive response from many readers around the world.
Blessed with a vivid imagination, Mr Cussler devised bold storylines where Abraham Lincoln was kidnapped instead of assassinated, and his work was beautifully crafted Boy's Own stuff, which was lapped up by the public.
In the early 2000s, he agreed to work with co-authors at the request of his US publisher Simon and Schuster, in order to publish more frequently.
Some critics questioned the move, but Mr Cussler replied he didn't care and explained in typically pithy style that he had never considered himself the new Dickens.
He said: "I entertain my readers. I get up in the morning and I start typing – and I want it to be easy to read. I'm not writing exotic literature. I like snappy dialogue and short descriptions and lots of action."
An enthusiastic underwater explorer, he also helped discover more than 60 shipwreck sites with his organisation the National Underwater and Marine Agency, which was named after the fictional agency that employs Pitt.
The organisation's finds included the RMS Carpathia, one of the first ships to come to the aid of Titanic survivors and the HL Hunley, the first submarine to successfully sink an enemy vessel, from the American civil war.