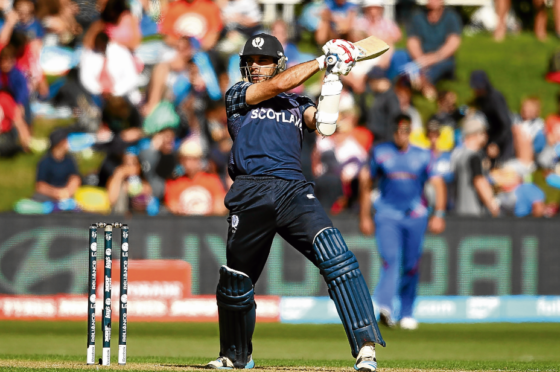 The BBC Sports Personality of the Year has always been a curious beast whose relevance has declined in recent times.
But that doesn't excuse the shortlist of contenders which the corporation has just revealed for its "Greatest Sporting Moment of 2018" – a roster which doesn't include Scotland's cricketers recording a historic and nerve-shredding win over England in Edinburgh during the summer.
The candidates which the BBC has unveiled are: England's gold medal in netball at the Commonwealth Games; England's penalty shoot-out win over Colombia at the World Cup; Alastair Cook's century at The Oval  in his final Test; Tiger Woods' first victory in five years at the Tour Championship; and Tyson Fury's fightback to draw with Deontay Wilder in a much-hyped boxing bout last weekend.
No place, therefore, for Kyle Coetzer and his Scottish teammates who took on the world No 1 ranked England – who are favourites for next year's World Cup – and broke a string of records and thrilled a capacity crowd on a day when David met Goliath and walked away with the spoils and the acclaim of international cricket.
The BBC hasn't even chosen the best English Test achievement of 2018 – the moment when Jimmy Anderson took his 500th wicket against the West Indies at Lord's – but some of the other choices defy belief.
Are we really meant to applaud a penalty shoot-out which took England through, not to the final or even the trophy itself, but to the quarter-finals? And, given how Woods failed to lift any of the Majors and flopped at the Ryder Cup, was his triumph in Atlanta really that important? No, it wasn't.
Then, of course, there's the not-so-little matter of Fury's drugs ban and his litany of offensive statements earlier in his career.
Contrast and compare with the positivity and passion of Scots such as Calum MacLeod who struck a marvellous unbeaten 140; or Coetzer and Matt Cross who smashed the England attack all over the Grange in the first 15 overs.
It was as joyous as Safyaan Sharif's response to trapping Mark Wood lbw which sealed the Scots' maiden win over their opponents by just six runs.
Malcolm Cannon, the chief executive of Cricket Scotland, hasn't been slow out of the blocks in criticising the Beeb's actions. He said yesterday: "Seriously, this is disgraceful" and he was correct.
In parlance that aficionados of the sport will understand, perhaps it is time to boycott the competition.