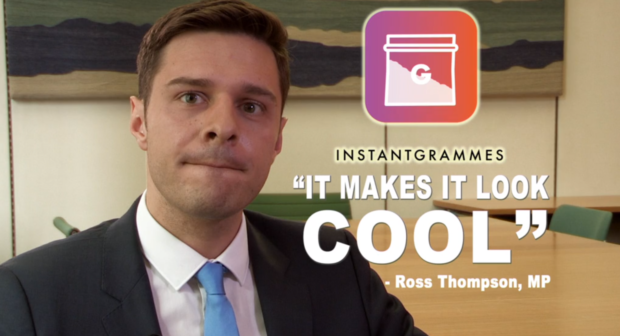 I have to hold my hands up and say that I was duped, 100%, by the team behind a 'prank' TV show about drug misuse on Channel 4.
As reported in the Press and Journal yesterday, the 'Ministry of Justice' film crew fooled me – as well as former Cabinet Minister Ian Duncan Smith – into thinking that they were genuine.
For any readers who are unaware or who have not seen the video, a TV production company asked me to take part in a programme about drug misuse.
The interview was arranged through my parliamentary office – as is standard practice.
During the course of the meeting, I was shown a fake video presentation, in which I was told that a new smartphone app had been developed to deliver drugs.
The video also included footage of a "cocaine factory" in Colombia. I reacted in a way that many people might – I was shocked and I said so.
I also made observations about the way in which the smartphone app was presented – to make it appear 'cool' to young people.
It is now clear that the whole thing was a scam – along very similar lines to the 'Brass Eye' satirical show in the late 1990s, on which various politicians and celebrities were conned into believing that a brand new drug was on the market.
Obviously, this all makes me feel very foolish.
I take my role as a member of parliament very seriously, and we all like to think that we would not fall victim to this type of ruse, no matter how plausible the team's credentials appear to be.
But I think there is a danger here of missing a more important point.
Yes, I was taken in, but my response came from a genuine place. I care about this subject passionately.
Illegal drugs are a scourge on our society.
These substances wreak havoc on the lives of families across the north and north-east of Scotland and particularly in my constituency of Aberdeen South.
I have sat in surgeries and listened to desperate stories from people looking for help for their sons and daughters caught up in the spiral of addiction.
One woman recently lost her 32-year-old sister – a woman who left behind three children.
Her message was simple – 'get these drugs off the street by preventing the supply in the first place'.
The reality is that this is a battle that we are currently losing.
Scotland's drugs-death rate is now two-and-a-half times higher than the UK average, and significantly worse than anywhere else in the EU.
I don't think we are tough enough on drugs in this country, and I make no apologies for that stance.
Our courts should be handing down punitive sentences on those who deal drugs and criminals who spread the poison that ruins the lives of so many.
However, tough action against dealers does not mean neglecting users.
We need to provide effective treatment for those recovering from an addiction. We must treat those who have addictions and ensure support for their families and loved ones.
I know the devastation that drugs can cause to individuals, families and communities.
I served on the board of the Aberdeen City Alcohol and Drugs Partnership, which brings together organisations involved in tackling drugs from policing to social care, from housing to health.
We looked at the effectiveness of drugs strategies and worked to improve drugs services in Aberdeen. We ensured that the views of service users, carers and members of the public were fully considered in the development of those strategies.
From my time on the board, it could not be clearer to me that by taking a soft-touch approach to drugs policy, the SNP government is losing the fight.
Current policy on policing and justice has led to a weakness in enforcement and sentencing.
To compound this, funding to alcohol and drugs partnerships across the country has been cut, affecting the services available to support people into recovery.
We need a new drugs strategy. One that has more emphasis and focus on recovery, one that provides the support, advice and relationship of trust needed to help people to manage their situation, to prevent harmful drug use and help them beat their habit.
If we are not prepared to properly fund these programmes, investigate innovative treatments or provide more support to vulnerable drug users, then we set ourselves up for failure.
Of course, I did not get the opportunity to say any of that during my 'interview' on the Channel 4 programme.
I can take some reassurance from the fact that I am not the first, nor am I likely to be the last politician to be conned in this way.
In fact, I have discovered today that Tony Blair, Jeremy Corbyn and David Cameron are among the other politicians targeted by these very same filmmakers.
I will be a lot more careful in future.
However, I hope that this sorry episode does not detract from the very important debate that needs to happen around drug abuse in this country.
---
Ross Thomson is the Scottish Conservative Member of Parliament for Aberdeen South