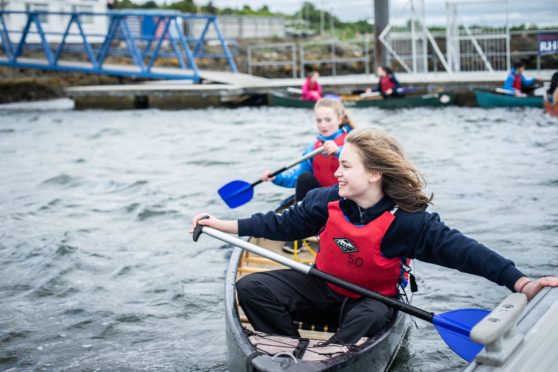 Scotland's education secretary recently admitted that a "culture of fear" is responsible for generating "pointless tasks" that create an excessive workload for teachers who are waiting, in anticipation, for a visit from the inspectorate.
This same notion can easily be extended to the accessibility of taking the class outdoors, with a whole host of risk assessments, paper work and consent forms building barriers and knocking the confidence of teachers who just wanted to take a class outside the school gate.
In the North of Scotland, there are endless possibilities of the types of activities that schools can arrange so that our young people are given the chance to embrace the benefits of living in Scotland. It shouldn't be a case of a day trip at the weekend or a getaway during the school break, the outdoor environment, in which we're incredibly luckily to be surrounded by, should be embedded deep within our curriculum so we're learning from it and enjoying it.
Unless you have access to a beautiful and natural outdoor space surrounding your school, and a lot of it, to experience the real outdoors in an adventurous way, you'll need to plan in advance to make that happen. And actually, the easiest part will be booking the minibus.
The level of paperwork and bureaucracy that stands in the way could take weeks, and when you're working with the Scottish climate, it's all about luck for a weather permitting class trip. This puts a lot of teachers off and makes the whole experience more daunting.
One way around this is a local consent form that covers a range of locations filled out at the start of the year, giving annual permission for a range of class trips.
I truly believe that outdoor education is one of the core experiences any child should be given regularly, with mental health benefits associated with being outdoors. The same applies for teachers who work best when inspired, with unlimited inspiration found outside the four walls of classroom.
Whether they are on an adventure up Ben Nevis, canoeing on Loch Lomond or completing the Great Glen Cycle Route, we see our pupils come to life during all types of outdoor pursuits and in turn, we see how the skills they have taken on translate into their performance in class.
It's also important to consider what we mean by outdoor learning, and in its broadest sense, it does what it says on the tin – pupils learn outside. Maybe the music class will go out and listen to birds singing before going back to write music or pupils will go orienteering during the PE hour, but it's also vital that we focus on adventurous learning.
Adventurous learning gives young people the chance to progress independently in an outdoor environment and develop the technical abilities, competence and confidence that is needed when tackling the next hurdle.
We need to teach children to overcome difficulties and master the skills to make the challenge possible, to face uncertainty and not always succeed, and take ownership of having the skills to be able to manage the situation with an understanding of when you can take risk and when you can't.
What we often find, is that adventure instilled within the school environment focuses on giving young people confidence by working through challenges where they will be successful, and we always, without a doubt, want them to succeed. However, it's vital that we teach children how to navigate challenges with the space to fail every now and again.
Many of our pupils are avid sailors, and many love to climb – skills that they've been taught within the school curriculum from Junior School onwards. For a lot of our pupils, a passion for outdoor pursuits is ignited in school, and becomes something they master in their own time off the school premises. While of course, there are health and safety precautions in place, there is room to fail independently in a safe way that allows them to problem solve and trial new moves to create their own way of doing things.
If we're encouraging young people to embrace a sense of adventure from early on, giving them the skills they need to go out and explore Scotland, we can help promote all of the wonders that are on our doorstep from an early age and look to inspire adventure throughout their lives. You only need to google 'adventure activities in the North of Scotland' to find a whole host of outdoor pursuits that challenge the body and mind, developing lifelong skills.
If we can take away some of the admin shaped barriers that sit between a classroom and the beach or the woods or wherever it is that adds context and engaging material for the lesson, maybe we can encourage more teachers to consider the possibilities of an outdoor lesson and give them the skills and the confidence to make that move.
It's important to embrace the outdoors and the idea of adventure, in fact it's vital. We ought to ensure that the benefits outweigh the difficulties when it comes to decision making and we give children the experiences that will enhance their futures.
---
Caroline Hoole is head of adventure and service at Lomond School