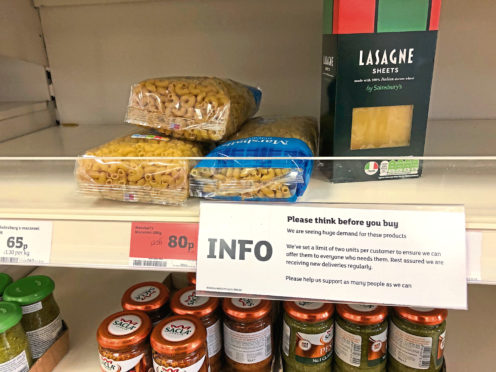 There are a lot of TV ads about at the moment.
When they're not trying to sell you a new sofa every five minutes or play on your "house-barrassment" to get you to fork out for a designer kitchen, they attempt to tempt the unsuspecting customer with "your dream bathroom".
Now, I can tell you without revealing too much that I dream of many things but a bathroom isn't one of them.
However, as things stand, it's not the bathroom that's the dream, it's the toilet paper, as I found myself beefing about last Friday. Except that it's becoming an increasing nightmare trying to find the stuff as it flies into the locked store cupboards of Hoarders 'r' Us. We've all become great softies all of a sudden.
When I was at school – and even, when I first started work back at the scrag-end of the 1970s – there wasn't a lot of comfiness going on at the sharp end (if I can put it like that). We didn't have cute koala bears and lovable puppies. We had bracing Izal germicide. It was what might tactfully be described as somewhat stiff and not that brilliant at the picking up of unconsidered trifles. And heaven help you if you got the fold in the wrong place. Bet it would be left on the shelf even in these trying times.
I blame Joseph Gayetty. He it was who, in 1857, spotted a gap in the market (oo, missus!). He began to sell packs of flat paper sheets with added soothing aloe, under the catchy name Gayetty's Medicated Paper, and thus became the first acknowledged inventor of what eventually became loo roll. Ironically, the use of treated paper as a method of hygiene was actually first recorded in China in the 6th Century but, in true Trumpian style, it took an American to contribute so basically to the greater Gayetty of nations. Oh, please yourselves…
Any road up, on a normal shopping trip to Tesco in recent days (buying a single pack of toilet roll because we had one roll left in the house and the need was becoming somewhat pressing, one pack of coffee because we finished the previous one that very morning, and one bottle of Cillit Bang because we prodigally used the previous one to clean the lavs), the Significant Other came back chortling. And not altogether in a good way. He's been like a human Roman candle ever since the Westminster health secretary intimated that he (the Significant Other, not the marginally less significant Matt Hancock) may be confined to barracks for the foreseeable because he has attained his allotted span.
Not impressed is putting it mildly. If it wasn't for the current strictures on socially isolating, I'd have sold tickets to see a clipboard-wielding government functionary instructing him to stay out of the pub for four months. I suspect inviting said functionary to quarantine himself might not quite be the telling phrase the Husband was most likely to use in response…
Given the fact he was, as of last week, still allowed out by himself, however, he returned from his shop in possession of a couple of packets of pasta.
As our planned spring trip to Rome was obviously cancelled and a good chum had come to visit to cheer us up, we had decided to eat Italian at home, our admittedly somewhat cursory nod to self-isolating.
Not dried pasta because all of that had disappeared like sna' aff a dyke. No, this was the fresh stuff which obviously did not rise to the challenges of stockpiling. But, as he found himself exiting the premises with a couple of bags of linguine, Himself noted with some glee that, although the plain dried pasta was no more, the shelves beneath were still happily festooned with the wholemeal variety.
Taking your health seriously only goes so far and no further, obviously…
PS – In these days of cleansing bars and handwash becoming the new "must-haves", I found myself giggling like a Smash Martian (apt, considering the European Space Agency has apparently cancelled 2020's mission to the Red Planet because of Covid-19) over a story that could only happen here.
A hapless American tourist staying at a well-appointed guest house in Portree gave the place a rave review. Apart, that is, from being singularly uninspired by the gritty, non-lathering "brown tablet of soap" left on the perfectly made bed by the thoughtful landlady.
You're miles ahead of me. This, after all, is Scotland. It wasn't a tablet of soap. It was just tablet. Now, trying to explain tablet to anyone who isn't Scottish is a challenge at the best of times. In this situation? It definitely won't wash.
Now, I believe there is such a substance as sugar soap but this was not it. One can only muse that it was a good thing said naïve traveller was not also introduced to the concept of Lorne sausage…