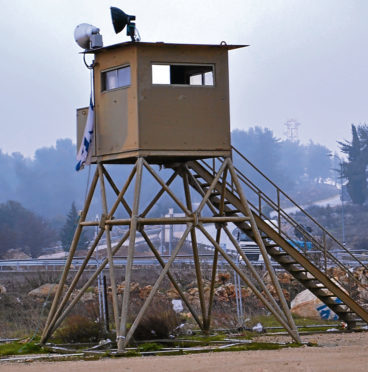 As mentioned last week, it's the Israeli settlements that seem to inflame Palestinians most in the West Bank. Combine these settlements with armed-to-the teeth IDF soldiers, put there to protect said settlers, it's a powder keg, just waiting to go off.
One such hotspot is Gush Etzion junction. A notorious area that is frequently used by Palestinians to attack Israeli settlers and soldiers – by shooting, stabbing or car ramming.
Located in the Judean hills, a 20-minute drive from Palestinian-controlled Bethlehem, the junction is basically an entry area for access to the Gush Etzion block of settlements. A large roundabout is located in the middle of the highway. Numerous bus stops are dotted around and, looking very out of place in the Palestinian countryside, a western-style shopping mall stands just off the road.
After the usual warnings from my friends in Bethlehem, I walked to where buses depart for destinations all over the West Bank. I found the Hebron bus and asked the driver if he would drop me off at Gush Etzion junction. He predictably said no, as Palestinian buses are only allowed to drive past on route to Hebron, they are not allowed to stop. I asked a second bus driver, but got the same answer. Two taxi drivers also said no, but one finally agreed.
Soon out of crowded Bethlehem, we were speeding along the highway and I spotted numerous Israeli settlements out of my window. They stand out like a sore thumb. Brand new housing estates, western in style, they are surrounded by fences and CCTV.
In general, Palestinians don't live well, whilst Israeli settlers live like they are in wealthy, middle-class, suburban America.
We passed a sign that told me we were nearing my destination. As we pulled up to the lights at the infamous junction, I spied a look-out tower and armed troops strategically placed near bus shelters where Israeli settlers stood waiting. I told my driver to drop me off anywhere along the junction, but he suddenly got scared and said no.
There was no way I was going all the way to Hebron, so I stood my ground and told him I would not pay him unless he let me off now.
"Ok, quick, quick," he said, as he drove slowly into a bus stop area that is for Israelis only, no Palestinians allowed.
We hadn't even come to a stop when two IDF soldiers with guns at the ready came right over to our car. As soon as I opened the door and stepped on to the roadside, I was confronted by them. They were alert yet anxious. Understandable, as I could be an attacker. I held up my Israeli press card that was hanging on a lanyard round my neck and let him see it.
"Ok," he said, lowering his gun. He then told the Palestinian taxi to leave, immediately.
After he realised I posed no threat to him, my solider was more than happy to chat, and we did so for 10 minutes. However, he never once took his eyes off the cars and buses that drove past.
"It seems quiet," I said.
"Yeah, but it can erupt here at any time." He looked at the stab vest I was wearing. "Good choice," he said, with a nod of the head.
I was looking around, not sure where to go, so he pointed across the highway and up to a forest: "You should go over there, up and into the forest. It's like a nature reserve, and a memorial for three Jewish guys who were killed by Hamas in 2014. Have a walk around."
I thanked him for his time and crossed the road. The IDF soldiers dotted around the highway did watch me, but they were relaxed after having seen me standing and chatting with one of their comrades. I walked up a steep path towards the forest, Israeli flags fluttering everywhere.
It's not exactly what I'd call a nature reserve, but they seem to be building and planting, so it's a work in progress I guess. That said, it's all geared towards politics and religion rather than nature. Numerous wooden signs, the writing on them both in Hebrew and English, very pro-Zionist, were placed beside the paths. I walked around reading them all and taking photos.
Suddenly an Alsatian dog came through the trees, followed closely behind by his master, an armed IDF soldier. The dog didn't run at me, but came up close and sniffed around as the soldier asked me something in Hebrew. I stood frozen like a statue and said: "Is your dog cool?"
He gave an order to the dog and it sat down directly in front of me. He walked over, hand on gun, then in English, asked me what I was doing.
I went through the whole press card thing again, which was studied in detail. Although he was initially very wary, he came round. His dog, called Sam, was friendly enough, never barked and actually let me clap him, but he would attack on command I was told.
"Is it safe for me to walk to a settlement?" I asked.
He didn't recommend it as he pointed out one in the distance: "You never know what will happen here. You're not a Palestinian, so you could easily be mistaken for an Israeli settler. You don't know who is driving around, so if anyone stops, do not get into their car for any reason. Take care." And off he headed back into the trees.
I walked for maybe 20 minutes along a roadside in the direction of a settlement. On arrival at the entrance it was obvious that there was no way I was getting in. It was surrounded by razor wire fences and CCTV. I took some photos and didn't even attempt to get in. Fifty feet away, a sign in Hebrew, Arabic and English, warned any Israeli not to venture further down the road as it led to a Palestinian town and was dangerous for them.
I headed back in the direction of the same forest. It was just me walking along the road; I'd been spotted, by cameras, from where I do not know. As I entered the forest again, two solders appeared out of the trees.
Thankfully it was my guy and his dog from earlier, so all was ok. He said to me: "Oh, it's you, sorry, but we just got a radio call saying some lone guy was walking towards us, so we had to check it out."
It started to rain, so I decided to head back down to the highway junction. "How do I get a bus back to Bethlehem?" I asked.
"Hmmm, no Palestinian bus will stop down there, not allowed. You need to go this side, then walk say one hundred metres away in that direction along the highway, away from any settlers and soldiers, then, maybe a Palestinian bus will stop."
I did just that, and standing on a highway all on my own with the rain turning torrential, I stuck out my thumb as a yellow Palestinian minibus came along. Thankfully he stopped and picked me up. As I took my seat, the other passengers looked warily at the obviously not Palestinian man getting on their bus beside the Gush Etzion junction.
Jerusalem has been a bone of contention between Israel and the Palestinians for decades. Israel claims it as the capital of Israel, and as we all know, only recently, President Trump stepped up and said he recognised it as such. This, of course, inflamed the Palestinians who want East Jerusalem to become the capital of a future Palestinian state.
Time to dig deep…
To contact George directly about any of his columns, email nadmgrm@gmail.com