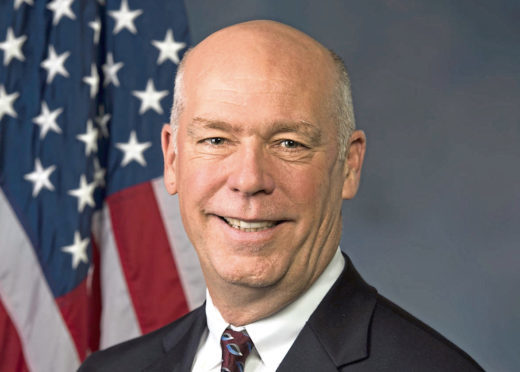 Now here's a question: do you know what a "body-slam" is? Neither did I. It seems that to body-slam someone, you have to hurl them to the ground in the way a wrestler might deal with an aggressive opponent. It's an explosive word with violence at its heart.
So why is it suddenly at the centre of debate in the tea rooms and pubs in the United States of America? To understand this phenomenon, I must take you to the state of Montana on May 24 2017.
A special congressional election is going on. Ben Jacobs, a politics reporter for the Guardian newspaper, asks the Republican candidate, Greg Gianforte, a question about healthcare.
For daring to do such a heinous thing, Jacobs is manhandled by Gianforte and thrown to the ground. Ah, the rough and tumble of American politics! Gianforte verbally abuses Jacobs whose spectacles are broken in the exchange.
Jacobs reports Gianforte to the police. Brought to court, the candidate admits criminal assault and is fined.
All this is bad enough, but it is made worse by a man who knows how to make things worse. His name is Donald J Trump. His day job is president of the United States of America.
Fast forward to Montana on Thursday of last week. President Trump is on stage, addressing hundreds of adoring supporters.
The president's brain is clearly not functioning well; in fact, it is not functioning at all. The evidence? Drunk on adoration, the president decides to call to mind the event in Montana several months previously.
Does he deplore Gianforte's criminal behaviour? No, he does not. He has come to Montana not to bury Greg Gianforte but to praise him to the skies.
Trump says that anyone who could perform a body-slam, as Gianforte did on Jacobs, was "my guy", and that news of the attack, which occurred the night before the special election, probably helped Gianforte win.
After revelling in the assault on a journalist, Trump goes on to describe Gianforte as "a great guy. Tough cookie".
Now this is utterly repellent stuff. Here we have the alleged Leader of the Free World lauding a machine politician for physically assaulting a journalist.
What is just as repellent is that the audience clapped and cheered.
Next day, the president was asked if he regretted the comments. He said: "No, no, no, not at all." He described the rally as a "tremendous success" and Gianforte as a "tremendous person".
The White House Correspondents' Association president, Olivier Knox, took a different view. "All Americans should recoil from the president's praise for a violent assault on a reporter doing his constitutionally protected job.
"This amounts to the celebration of a crime by someone sworn to uphold our laws and an attack on the first amendment by someone who has solemnly pledged to defend it."
Nailed it.
President Trump was making his remarks at a time when investigations into the death of journalist Jamal Khashoggi were pointing to the probability that Mr Khashoggi was brutally murdered in the Saudi embassy in Istanbul.
Some people regard Donald Trump as a joke. He isn't. He is a dangerous, blundering narcissist who should not be allowed anywhere near a nuclear button.
Trump has already denounced journalists as "the enemy of the people". This is fascistic language. In a country awash with guns, he might as well pin targets on reporters' chests.
Watching this vain, manipulative demagogue's public rallies is a salutary and chilling experience; his mean mocking of Dr Blasey Ford's testimony in the Kavanaugh case – and his demeaning comments about women generally – mark him out as a misogynist bully who has had an empathy bypass.
Notoriously thin-skinned, the serial liar in the White House cannot tolerate criticism by the media. He takes it personally and vows vengeance. When he is riled, his language has a violent edge to it.
Now I've been writing newspaper columns or essays since I was 16 years old. Now and again, when I've written a particularly controversial piece, readers have suggested that I was "brave" to do so. I've always been a bit embarrassed about that. Being a columnist in Britain, with its free press, does not require bravery. Writing a column in Mugabe's Zimbabwe required bravery.
If things continue on this downward trajectory, maybe being a journalist in the "Land of the Free" will need courage and/or body armour. SAD!!
Tyrants hate the media. They cannot stand satire. Donald Trump acts more like an easily-offended Mafia boss than a world statesman.
Am I suggesting that the Democrats are entitled to a free pass simply because of Trump's hateful rhetoric? Far from it. Part of the reason for Trump's election victory was that the elitist and complacent Dems had lost touch with blue collar workers and poor people who felt that the American Dream had become something of a con trick.
Back to the main theme: Loose and hateful words have consequences. In this year of Our Lord 2018, 44 journalists in various parts of the world have been killed in their quest for truth. God help us all.