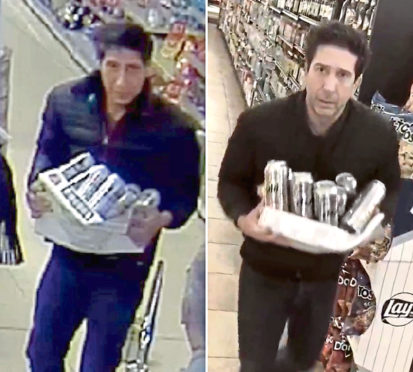 View from the midden; rural affairs with Jock Alexander from MTV (Meikle Wartle Television)
It's been a ferroequinological wik in the village. There wis embarrassment a'roon for reed-faced ScotRail bosses, fan a brand new Inter7City train broke doon in the fabled tattie-fields of Fife, files rammed tae the gunnels wi' dignitaries and VIPs on a jolly doon tae Edinburgh in advance o' these new-fangled high-speed trains being introduced tae the East Coast line.
Then the tin stationmaster's hat wiz pit on the reed faces by the revelation that the train had broken doon due tae an air leak, caused by the driver over-enthusiastically honking his horn.
This story did gi'e me a richt good laugh, but it also has got locals here keen tae hear if ony o' the new-fangled funcy high speed trains will be seen onywye near Meikle Wartle. To which the answer is sadly in the negative.
The new service is intended tae link Scotland's siven cities. I'll gi'e ye a mintie tae work oot fit they are. Six is easy, we can a' think o' six. Ye chapping? Stirling.
But here in the Meikle Wartle we lack een or twa o' the criteria fit gi'e a settlement 'City' status, like a cathedral, or fowk. We hinna hid a sniff o' a railway here for mony a year, nae since Moira nicked that lengths of track fae the siding at Inverurie station, so she could fashion a pair of hame-made skis.
But there his been renewed cries for the introduction of a line here, iver since the bus service reduced fae eence weekly tae niver at a'; and taking inspiration fae the Deeside Railway fit taks fowk on a one-mile trip alang the river near Bunk'ry, as weel as the Underground system of Glasgow, the so called 'Chocolate Orange', we've planned fit wir ain version o' the new inter7city service fit we're crying the 'Inter3village', a vast loop connecting us wi' the exotic locales o' Durno and Mains o' Glack.
Moira, with her background in civil engineering (weel, demolition, ony road) has offered tae lay the track. This is good news for us, representing a massive saving on plant and machinery; but bad news for the fowk unfortunately affected by her activities sourcing the track for the development. As the hale o' Eastern Scotland found oot the ither wik efter yon derailment, fit I promised I'd keep quiet aboot. Ach.
Still, the excitement aroon the railway his been a distraction fae the ither big news 'is wik, that Inverurie is in the running for Scotland's "Maist Beautiful High Street".
Needless tae say, fan we heard that oor near neighbour might be aboot tae clinch this prestigious award the good people o' Meikle Wartle pit their heids thegither tae work oot foo we could knacker their chances.
Ultimately, we decided the best plan wis simply for the hale village simply to turn up on judging day and wander aboot outside the Toon Ha' lowering the tone and makin' the place look a midden. Noo, foo will we transport ab'dy tae Inverurie? We'll mebe need tae get Moira tae lay a pucklie mair track.
Cheerio!
Shelley Shingles, showbiz correspondent and Miss Fetteresso 1983
(Imagine me putting on my best 'Janice from Friends' impression for this bit!) Oh! My! Gawd! (it's good isn't it?)
Ross Geller, aka totes adorbs actor David Schwimmer has won the internet this week for his hilarious spoof of some police CCTV footage from Blackpool that went viral.
The alleged thief carrying a case of beer in the video looked totally like Ross, as 130,000 people took time out of their busy schedules to point out to Lancashire police on social media. Once the story crossed the Atlantic, Dishy Dave posted a video of him doing exactly the same thing in a New York store, to prove he had an alibi.
I always thought The Schwimminator was funny because of the way he said those lines that a massive team of writers told him to say in what is still the most totes hilarious programme there's been on Channel 4 since Hollyoaks; but this video proves he was more than just the fourth-best looking guy in the show. (1. Joey, 2. Chandler 3. Günther. Don't judge me.)
Of course, me and Dave go way back. I first met him in 2007, when he was at the Dorchester to do a press junket to promote that film he directed, Run Fatboy, Run, with Simon Pegg and Thandie Newton-John. I was there working as a spokesmodel for Tunnocks, who wanted to reposition the Caramel Wafer as a luxury brand.
From my stand in the foyer I saw him nipping away from the interview circus and coming back a little later. As he walked past I asked, "Were you on a break?"
I'll never forget what he said to me, through those famously white teeth: 'Yes.'
Wise words from a true gent.