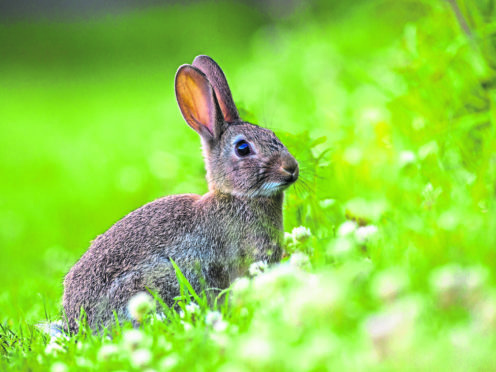 View from the midden – rural affairs with MTV (Meikle Wartle Television) presenter Jock Alexander
It has been a lagomorphic week in the village. Those wi' a fondness for wee fluffy animals were saddened this wik tae read aboot the consequences of a plague o' rubbits in the 'Shire – so widely reported that even The Times had a bittie aboot it. These lang-eared pests hiv caused sae much damage in an Inverurie cemetery, fit wi' knocking ower heedstones and munching a' the flooers, that the cooncil hiv hid tae tak action.
Meanwhile, Aberdeen Cooncil is ha'eing its ain stramash ower Union Terrace Gardens, wi nae contractor appointed for the latest plans o' transformation, and the cooncil nae sure if work will end up delayed or not (I'm sure we could a' gie em a prediction on that front). Perhaps we could arrange for the transplanting of that colony of buck-toothed vermin fae Inverurie tae the toon, far could certainly
dae a lot of the preliminary ground work for free.
Instead, tae address the rubbit problem, Aiberdeenshire Cooncil hiv sent for fit is ominously described as "A Specialist". Noo, having seen the filum o' the same name wi' Sylvester Stallone, I thocht at meant that an ex-CIA mannie in a bleck suit wid be ridding the area o' the fite-tailed menaces with a series of unnecessarily elaborate booby-traps, afore getting a lumber wi' Sharon Stone. But no, apparently the wee carrot-munching vandals are tae be dispatched by the less dramatic but nae less alarming method of pumping alumunium phosphide gas doon their burrows and then sealing aff the holes.
Easily the "specialist" person in oor village, Feel Moira, has surprisingly come oot in opposition tae this plan, and wints tae rescue the doomed rubbits afore the fateful day by leading them awa fae Inverurie like some sort of massively built, female Pied Piper. I think she may succeed, given her natural affinity for wild animals, plus the fact that efter a day's work she dis give off a distinctive aroma fit might appeal tae the lolloping little radges (I ayewis think o' it as "weet straw wi' a hint o' neep").
But nae a'bdy has been keen tae support her efforts. Some hiv speculated that the village might end up wi' an unwanted explosion in the rubbit population.
There's been some dark mutterings in the square aboot "inabootcomer rubbits", and describing Moira's "Caravan of Hop" as an "invasion". But this is jist scare-mongering. We dinna hiv tae be feart o' a pucklie rubbits. Besides, I dinna think they'll be here for lang given oor inhospitable climate, the lack of suitable burrowing ground ameen wir affa boggy fields, and the fact that Moira's a'ready pit oot the menu for the WRI Christmas do – and it isnae turkey.
Cheerio!
Cava Kenny Cordiner, the football pundit who bites back
Oh, flour of Scotland! What a week it has been for the boys in blue! My old mucker and ex-teammate Alex McLeish has dragged his ragtag bunch of misfits to the top of the group in the Nations League after they turned over the Israels and Abbamania last week. I took in the Israel match down at Hampden with Dunter Duncan and Basher Greig, and when we hut the pub after the game, I asked the lads what winning our group means.
Well, I wish I had never done that. Basher and Dunter was banging on about co-
deficients, rankings and nullifiers that much that Old Kenny couldn't tell sun-up from sun-burn. It is the most complicated thing I've ever listened to, even worse than that time Melody dragged me to the Music Hall to see that Professor Brian Fox doing a physio lecture.
Short story long, we get to stick Finland in 2020 unless either of us qualifies before that, in which case we'll face somebody worser or better than them. It's still all a bit foggy, to be honest.
Speaking of foggy, I got a right laugh when I heard about an unpleasant atmosphere at the darts last weekend! Both the spearsmen was saying that the other lad had been guffing away making a right old stink at the hockey.
It reminded me of a time in my career when I played with a lad we cried "Cheezo" at Hall Russell's.
Cheezo was rotten, and he'd spend half the game dropping his guts all over the pitch. We got a last minute free-kick on the edge of the D against Sunnybank, so Cheezo walks up to their wall, left his calling card then ran away. I don't know what he'd been eating, but the Sunnybank lads copped it full in the face and couldn't contain their repulsion. They made such a palaver the ref booked the lot of them for time wasting, blew his whistle and Dunter curled it into the top C. So it was a pity that in his celebrations he ran right through to the mushroom cloud with his mouth open, and boaked in the goalies glove bag. Ah, the beautiful game!