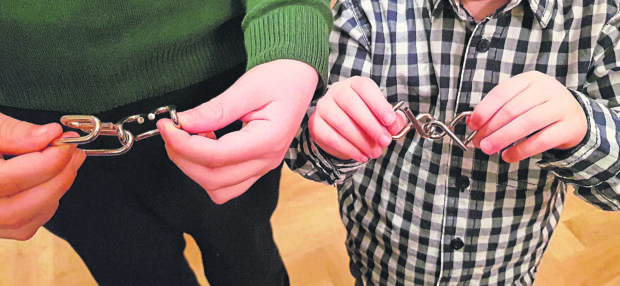 I know it's wrong to blame Santa, but I had just bumped into him on a train and now I was stressed out over a children's puzzle of all things.
I was going to say demented, but maybe that's the wrong term to use these days.
Two hours had gone by since hopping off the Santa Special steam train at Milton of Crathes in Aberdeenshire. We had a great sing-song with the grandkids and Father Christmas was on board, too.
We were in a nearby restaurant having lunch, with me trying to impress my grandson Jacob, 7.
In my hands was one of those little "magic" puzzles – slim strips of metal in various strange shapes hooked and knotted together fiendishly.
You have to figure how to disentangle them by swivelling, rolling, tugging and pulling in all directions. It's ingenious and great fun (or so the packet said).
---
"Puzzles such as crosswords have been held up as the perfect antidote to dementia – until now."
---
The pack Santa had given him on the train had 10 varieties of these little metal brain-teasers, but I was still stuck on the first.
There is obviously a knack to it because during  a short break to regain my composure and rest my aching fingers, his smaller brother Dylan, 3, took it apart in about 10 seconds.
We stared at him in awe. Was he a child genius or a master safe-cracker in the making?
I moved onto number two in the puzzle pack.
I laboured on without success. The others had lost interest ages ago and were doing something else.  It was only when I looked away to talk to a waiter about something far more important – my main course,  as it happens – that it suddenly came apart in my hands like magic.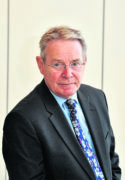 It was a victory, but a slightly unsatisfactory and hollow one as I could not fathom out how I had done it  or put it back together.
My hands glowed and felt much fitter and dexterous after this intensive workout,  but I wondered if the laborious exercise had done anything for my brain cells. It would have been very useful had I been a trainee surgeon because one of their professors was recently bemoaning the fact that they were losing finger dexterity due to laziness.
Puzzles of all kinds including Sudoku and crosswords have been held up as the perfect antidote to dementia – until now.
Medical researchers in Aberdeen have cast doubt on their effectiveness for some people.
It seems that years of failing to exercise your brain cells on a regular basis is not going to be helped by picking up a puzzle book when your are old because someone notices your memory is not what it was.
According to them, people have to nurture there brain cells over years and build up "battery power" over a prolonged period to keep dementia and other forms of memory loss at bay for longer.
That is the key to it: the more effort you put into to preparing your brain for old age the better it will be at delaying decline, but not necessarily forever.
We see people doing word and number puzzles all the time and no doubt a fair few have been bought as Christmas gifts.
The repetition of having to think of things to write in empty blank spaces is supposed to stimulate and stop you going a bit dotty or senile. I have filled in endless blank boxes for tedious online applications, flight bookings and questionnaires, but I never feel any brighter or alert for it.
Starting to lose your memory or other cognitive functions has often been written off as unavoidable senility, but that is not strictly accurate. There are lots of different territories of the brain which act like independent states, which means they can do their own thing and be a little out of step. Other localised factors can be at work apart from  possible symptoms of dementia.
I am terrible at names, but never forget a face. What does that tell me? More important, what would it tell a brain expert?
It probably means a territory in my brain had some kind of internal insurrection and closed its borders years ago, while others are very much open for business.
I once got myself locked out of my car and was arranging for a lock company to help me  break in when it dawned on me that it was the wrong car.
Surely these things happen to everyone, don't they? Perhaps the key is that I am actually thinking logically and analysing  it and if my brain cells were packing up I wouldn't actually notice, but others would.
Down the ages older people have always become a bit slower, forgetful or eccentric. Now it is far more noticeable because we live longer and many easily outpace the Biblical benchmark of three-score-and-ten.
There is nothing wrong in continuing with  puzzles and trying to keeping your brain active, but it has to be part of a daily lifestyle package.
Scientists believe memory decline and other cognitive malfunctions are also linked to poor diet, weight issues, lack of exercise, smoking and social interaction with other people – and it is not simply a hereditary or genetic burden as many think.
So, be warned: reaching for Sudoku when you are getting on a bit, overweight, unfit, with a fag in your hand and glued to a sofa watching soaps or horse racing all day won't tick the box on its own.
---
According to research, people have to nurture their brain cells over the course of a life if they are hoping to keep dementia and other forms of memory loss at bay for longer. And then there is still no guarantee, although David's three-year-old grandson seems to be on the right path