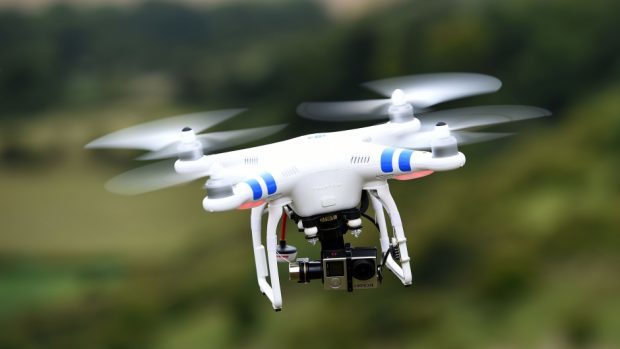 Prof Hector Schlenk, Senior Researcher at the Bogton Institute for Public Engagement with Science:
As a scientist, I have found myself increasingly assailed by impossible questions about future events, like "Will this year be a white Christmas?"
"Will next year be economically chaotic due to Brexit?" and "In what year will they open that last bit of the AWPR?"
This week, however, has been all about hi-tech problems and hi-tech solutions. I was concerned to see Gatwick Airport thrown into drone-related chaos, with more than 150 flights cancelled, thousands of people stranded, and the army called in.
Now, I have complained about the problem of drones before, although in my case it's generally in relation to Mrs Schlenk's family members going on and on about football, Love Island and the price of bananas. I have learned not to do this, as banishment from the dinner table and the withholding of pudding is the inevitable result.
However, Gatwick's irritating drones are very different. They are relatively unsophisticated aerial quad-copters equipped with little cameras.
Think of them as a hi-tech kite, albeit one which can be controlled remotely, get great aerial footage and, at a pinch, deliver a parcel with at least as much accuracy as the bloke from Yodel who considers my food-waste recycling bin to be a "safe place".
As with so many hi-tech devices, drones are prone to misuse by the unscrupulous. The local constabulary was unable to locate the Gatwick culprit, who could be far from the chaos, or up a tree by the airport, or in any one of the number of overpriced retail outlets within the airport itself.
If they have any sense, they'd start the search in Dixons. All we know is that the person responsible is adept with high-tech devices and is happy to cause chaos and consternation.
And while you might think what is ultimately a toy helicopter poses little threat to a jumbo jet, in rather the way that articulated lorry did not so much as swerve to avoid my Dinky Morris Minor Clubman when I dropped it outside the Fife Arms in Turriff, computer modeling suggests that if sucked into an air craft engine such a device (a drone, that is, as opposed to a Dinky Morris Minor Clubman) could cause significant damage and loss of control.
Imagine, if you will the effect if one inadvertently inhaled a wasp.
But while technology can cause chaos and confusion, it can just as easily assist in solving problems. Take the case of the former Nasa engineer Mark Rober, who went viral this week having designed a booby-trap to catch parcel thieves.
This tremendous boffin spent six months combining GPS tracking, camera phones, a method for distributing multicoloured glitter with centrifugal force, and, of course, fart spray, all in a bid to catch those who had been stealing his Amazon packages.
His long hours of work were successful, and subsequent felons ended up with egg on their faces, and glitter in their hair. Guilty, but fabulous.
Mr Rober has been celebrated for his mischievous attitude and technological savvy.
Will you notify Gatwick, or shall I?
Cava Kenny Cordiner, the football pundit who calls a spade a shovel
He's gone.
The one they cry "the special one" is now the one they cry "the jobless one". After two and a bit years in the Old Trafford hot tub, Jose Mourinho has gone and got his jotters.
Oh how the mighty have felled.
Still, it can't have come as a big surprise to the lad. Man Utd was having another shocker of a season, and José was a pale limitation of what he was in his gory days at Chelsea, and Madrid.
He always seemed to be gurning about how rotten his players was – even though they was the players he forked out shedloads of cash for!
When Jose complained about his squad like that, he reminded me of my Melody when she looks in her massive wardrobe of designer outfits and she says to me, she says: "I've got nothing to wear".
Of course, Old Kenny can emphasise with Drones may be small but they have the potential to damage a huge airliner – unlike Prof Schlenk's Dinky Morris Minor Clubman encountering an articulated lorry José.
I too have tasted the butter taste of getting the dunt, back when I was gaffer at Inverurie Locos.
Some people says to me, they says: "Kenny, you should have seen the writing on the wall", but I never, because in my case the writing was on the ground. The first sniff I got that everything in the garden was not Quality Street was when I seen our groundsman, Sandy Hamilton, painting out the initials on my parking space.
So I marches in and finds the chairman waiting in my office. That's when I hears it straight from the gift horse's mouth – I was being sacked after a string of results described by the Inverurie Herald as "bowff".
I stands up, collects my things and says to the chairman, I says: "I suppose lamping you didn't help, either?"
The chairman looks at me and says, he says: "When did you do that?" So I says: "Now", then I lamped him and left with my head held high. I wonder if José managed to exit with as much dignity as that?