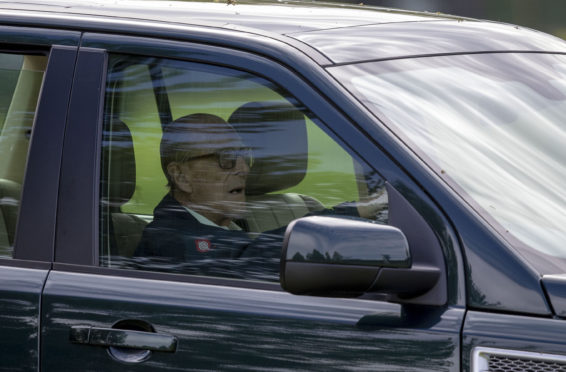 It all began with a cheery wave from my hairdresser on the other side of the road as I set off for work one Monday morning.
I waved back instinctively with a smile. It was a nice start to the day.
The whole process took no more than three or four seconds as I turned my head towards him. It was going to be a great day, I thought.
But at a closing speed of 60mph that's all it took for me to collide with an oncoming vehicle.
Nobody was hurt thankfully. The only damage was to our vehicles – and my pride, which suffered a huge dent as I knew I could have easily avoided the crash had I been paying more attention.
It was my first road-traffic accident since an incident nearly 40 years ago, so I was upset as this huge stain began seeping across my unblemished record in the four decades which followed.
Surely I could not be past it at 64? Had I lost my marbles? Was this Prince Philip syndrome?
Commonsense soon kicked in. I had simply done what many drivers of all ages do every day of the week – I had temporarily lost concentration. Bang. It can happen to anyone.
I started going back over it all in my head as the controversy raged about the Duke of Edinburgh after his spectacular and dangerous crash, which could have been fatal for him and others involved.
Are you the last to know when you are too old to drive safely anymore? Should older people have their licences taken off them routinely when they pass 75?
In my mind, it was down to sheer daftness on my part rather than age-related.
As I began telling an insurance-claims person on the phone about my hairdresser's wave (nothing to do with my style preferences), I wished I could see his face. But far from expressing stunned disbelief, he actually confided in me that he'd had a very similar previous case.
The journalist in me wanted to ask if that case also involved a hairdresser who waved (we are a bit OCD about that sort of thing), but I let it go. I smiled as I thought about the tv ad where a driver swears to an interviewer that a horse chased by a knight in armour ran across a dual carriageway in front of him. They must hear it all.
Anyway, back to taking the cars keys away from the Duke of Edinburgh and other oldies.
I think crash statistics (and anecdotal day-to-day evidence) proves that boy racers and young drivers are the most dangerous people on our roads. It's down to a potent mix of inexperience and testosterone. I sometimes watch boy racers and come to the conclusion they think they are acting out a video film or game they have just been watching.
Surely it's time for the law to take control by imposing limits on the type of cars they own and even logging their hours behind the wheel, just like lorry drivers. In theory, they should become better drivers with experience, Sadly, we know many drivers never grow up. Many should not be behind a wheel in the fist place because of personality defects which make them potentially dangerous.
But how do we prove the difference between age-related crashes and those where age is not a factor?
Medical advice certainly helps pinpoint obvious disabilities, but not necessarily a sudden lapse of concentration.
I don't know Prince Philip personally, but I don't see how we can allow anyone just three years short of their 100th birthday to drive. It's mandatory that people of that age have medical issues, and we certainly know he does.
How do you explain this to someone who is the Queen's husband, has a short fuse and spent his life having his chosen route cleared of annoying traffic by police?
I heard a government doctor telling us the other day – in direct relation to the duke's frightening accident – that people's faculties for driving start to wane at 75. It seems likely that in future people at that age will have to prove by law that they are fit to drive by having medical and driving-related assessments.
However, there must be a balance between this and the fact that for many older people driving is an essential aid to getting around – and their only link with the outside world, This should be a basic right and all effort made to ensure this essential luxury is maintained if their bodies allow. We know that there are many drivers on the roads in their 70s and 80s who are rightly proud of their driving skills and a lot safer than young people.
Be careful that we don't start picking on older motorists in general because they are easy targets when boy racers seem able to stick two fingers up to authority with impunity.
I am on the brink of retirement and purchasing a flat cap, which is an item of clothing I fear might decrease my driving speed by at least 15mph. At least that is what I find when older drivers in flat caps get in my way.