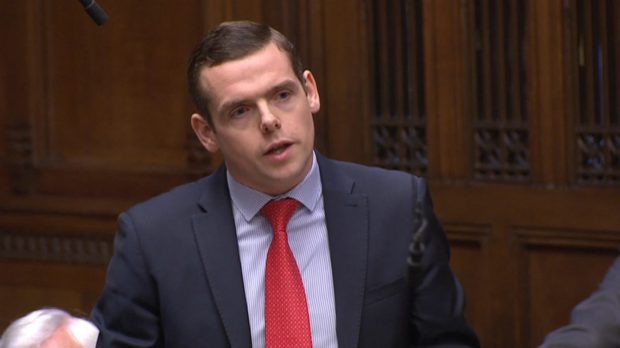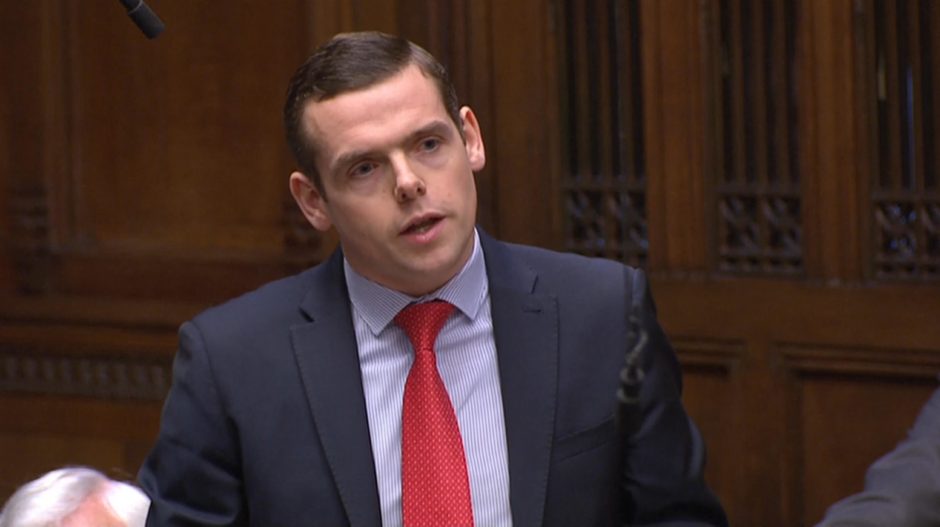 Douglas Ross, the MP for Moray, is already the first MP to mention haggis ice-cream in the House of Commons.
But a more significant spot in the history books seemed to await when he told a debate on fatherhood a few weeks ago that he would be the first male MP to take advantage of new rules on proxy voting when his wife gives birth next month.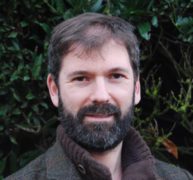 The House of Commons recently introduced a system allowing those on maternity or paternity leave to get another MP to vote in their place while they are away.
A sensible move apparently driven by a reaction to the sight of Labour MP Tulip Siddiq brought to the Commons in a wheelchair for a big Brexit vote on the day her baby was due to be delivered.
More cynical observers might put the sudden scramble to introduce proxy voting down to the parliamentary arithmetic.
There are crucial and extremely close votes coming on Brexit, and conceivably on whether the Tory administration stands or falls. The numbers have been complicated further by last week's defections of Labour and Conservative MPs to join The Independent Group. (Given it's effectively led by Chuka Umunna they really ought to have named it Chuka's Independents Group, or Chukip).
Without proxy voting Douglas Ross would have had to face the prospect of dashing from the delivery room to somehow get to London. Baby Ross's first act upon being born could've been to bring down the government if they'd kept their father from taking part in a confidence vote.
With the introduction of proxy voting Theresa May knows that particular scenario is off the table. She's only the other 1,001 threats to her time in Number 10 to contend with now.
However Douglas Ross has been taught a tough lesson in modern politics.
For if you google 'MP paternity leave' today it's not the Moray Tory's name that comes up. It's his colleague Bim Afolami, the MP for Hitchin and Harpenden.
While Ross made his claim in a poorly attended Westminster debate, Afolami put a video on social media announcing he'd be the first male MP to use proxy voting. And he got the plaudits and the profile because of it.
That's a sad indictment of the Westminster press pack who spend far more time at their desks on Twitter than they do in the actual chamber. But it's also simply the way of the world – social media is the way to get noticed, not well crafted speeches in parliament. Given that truth it's hardly surprising the green benches sometimes look so empty.
Ross and Afolami are now in a race to see who can do a proxy vote first. No doubt Mrs Ross is being taken for long walks up the hills in her husband's constituency, Mrs Afolami being fed a diet of extremely spicy curries. Both Tories are hoping for a labour win.
But there is a more serious point to this episode and it's not the obvious one that proxy voting is a good thing because it makes it easier for parents to be MPs.
It shows that the Tories have hope.
For now the Conservatives are being driven by a particular cadre of hard right Brextremists, but history shows their agenda is not popular with the public. And we know Theresa May can't win an election because she was good enough to demonstrate that in 2017. Her rank ineptitude in the two years since is unlikely to have endeared her to the electorate any further.
But MPs like Douglas Ross and Bim Afolami are modern Tories as evidenced by the fact they are not just taking paternity leave they are proud of it and keen to shout about it, to be role models for all the other men who want to be more involved with their children and to be more engaged fathers. Contrast that with Jacob Rees Mogg, father of six and proud to say he's never changed a nappy.
And it's worth looking at the proxies they've nominated to vote for them.
Inevitably the whips office were keen to be the proxies so they could be sure the votes went the right way. Both men have proved independent enough to resist that.
Ross has nominated Tracey Crouch, the highly effective ex-sports minister who resigned on a point of principle after the government initially backed off from introducing controls on fixed odds betting terminals.
Afolami has picked Gillian Keegan to vote in his stead. The MP for Chichester grew up on Merseyside and started her career as an apprentice in a car factory aged 16 before working her way up to a successful business career. Her combination of old-fashioned Tory pragmatism and self-made success looks like electoral catnip should it be deployed properly. Sensible Labour figures fear her.
It's hard to say which will be more chaotic in the next few weeks – the Ross household welcoming its first child or the House of Commons going hammer and tongs on Brexit.
The Brexit debates, like childbirth, won't be a pretty sight.
But following labour there is hope and responsibility and new life.
Brexit is going to be messy but the activities and outlook of the likes of Douglas Ross, Gillian Keegan and Bim Afolami show the Conservatives too may come out the other side with a positive view of their political future.
---
James Millar is a political commentator and author and a former Westminster correspondent for The Sunday Post