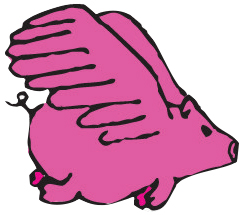 View from The Midden – Rural Affairs with Jock Alexander
It's been a gelatinous wik in the village.
We've been fairly reeling at the news of the wik; nivver mind Brexit or climate protests – Percy Pigs hiv hid their gelatin removed! "The 1%" of the village (the inabootcomers fa bide in the auld manse and shop at the Markies in Inverurie) is outraged. Weel, folk are saying that wi'oot that magical substance, they jist dinna taste the same. And they're richt. The flavour's the same, but there is an indefinable quality, fit I like tae cry "choochness" fit plant-based binding agents simply can not replicate.
Sad tae say, it's a sign o' the times. Gelatin is jist anither een o' that lovely auld traditional foodstuffs that some fowk hiv unjustly taen against; like beef dripping, tripe and faggots. Veggies and vegans decry it jist cos it's made fae the dissolved bones, skin and tendons of ferm aminals. Fit is precisely fit wye we o' the ferming community are big fans o' it, as it diz get rid o' a lot o' stuff that wid otherwise jist be lying aboot cluttering up the place.
The ither big news of the wik, producers of the new James Bond film are planning filming in "the Highlands", for sequences involving 007's childhood. These scenes will no doubt dae wonders in filling in his backstory and explain fit wye he wiz Scottish for 10 years in the '60s. It will also be a considerable boost tae the local economy of fariver they come tae. Which is fit wye feel Moira is even now planning tae shift aroon the road signs on the A9 in the hopes of diverting the film crew tae Meikle wartle. We hiv a'thing ony Bond film could need. The village square is ideal for an Aston Martin V8 tae ging wheeching roond and roond, the sewage works fit wid mak an excellent villain's lair, and we even hae wir ain submersible car efter Moira drove her Fiat Panda intae the burn. But best of a', if the hale village gets blawn tae smithereens in a tense climactic battle, naeb'dy'll be able tae tell the difference! Cheerio!
Dr Henck Schlenk, Senior Research Fellow at The Bogton Institute
As a scientist, people are always asking me questions. Big questions. Like "Is belief in the existence of God inconsistent with scientific method?" "Is mankind truly facing extinction as a result of climate change?" And – perhaps most pressingly, "How, exactly, does one pronounce Huawei?" Recently, however, people have been asking me if a beluga whale could be a spy? To which I have been answering, "Yes", but not a very good one – they have been known to chatter! I then fill the embarrassed silence that follows by Googling "whale chatter" on my mobile and showing the results to my baffled questioner.
The question has arisen because a beluga whale caught off the coast of Norway was found to have a camera harness on it that was identified as having come from St Petersburg. Although I would have thought that one of the first rules of espionage is that you don't sew your name, age and address into your clothing, this has given rise to suspicions that the whale was a Russian agent. So, is it possible? Why, certainly, and it should not surprise us. If we are all perfectly happy to believe that an alcoholic sex maniac can be an effective spy, why not one of the most intelligent creatures on the planet? But should it worry us? I would say, "No". I would have thought that at most the cetacean interloper would be able to provide generic information about shipping movements that are readily available elsewhere. The time to be concerned is when two of them turn up with a box of perfume in their flippers asking for information on Salisbury's famous cathedral.
J Fergus Lamont, arts critic and author of "A String Of Hits – The Unofficial Biography Of Guitar Wifie"
Regular readers will be aware that I rarely pay attention to the televisual gogglebox, but I must relate that I was both spellbound and captivated by something I stumbled across on the late on Monday night. You won't have heard of it, it has received little, if any, publicity, but "Game Of Thrones" is a Neo-Brechtian extravaganza of epic proportions.
There was bloodshed, flames, death, dragons, fire and brimstone – in a coruscating satire of this government's failure to properly implement Universal Credit. The whole thing was so atmospherically lit that it was difficult to tell who was who and what was what! Breathless at the climax of the broadcast, I wondered if there had been any previous episodes in which I might indulge. And I was not disappointed.
Readers will be amazed to hear that here are literally hours of this stuff. I emerged, emaciated, queasy and bleary-eyed from catching up on all eight series of this wonderful piece – it was like reading The Hobbit in Private Eyes.
I wept.