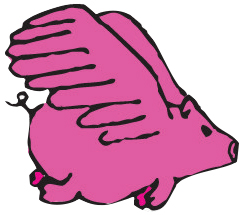 Ron Cluny, Official Council Spokesman
It's happy days for your elected representatives, thanks to Holyrood finding a spare 1.3 million quid down the back of one of those uncomfy-looking seats with the pointy bits on them.
As a result of this generous portion of the £50 million "Town Centre Fund", Marischal College is awash with creativity mixed with the usual mild panic, as the finest minds we have attempt to work out what to spend this unexpected windfall on before one of the less fine ones comes up with something daft.
Now, all those naysayers and gloom-mongers who thought the Art Gallery's new rooftop extension was the limit of our vision (I did hear someone say that it "put the tin lid on it") can feast their eyes on our latest splendid ideas!
Creative lighting for Union Bridge is on the cards for a start. We're calling this a "feature for the nightscape panorama", and there are few panoramas more distinct than this area after midnight. Wending one's solitary way across Union Bridge with an unsteady gait and a macaroni pie is a tricky enough ask, so extra lighting here would certainly be appreciated to assist in avoiding any puddles of regurgitation.
We're also keen on filling the city centre with "Parklets" (Barney got very excited at this, though it turned out it was because he thought we'd said "pikelets"), which is another way of saying "wee parks" modelled on those that now adorn San Francisco. Just think of it – all those spare grassy verges and flower beds utterly transformed by the addition of a bench; where the weary shopper, peched-oot from wandering the city centre in search of a shop, can rest and recharge – truly Aberdeen will be just like San Francisco, apart, of course, from the size, climate and history of progressive thinking.
The Big Idea among all these, of course, is our suggestion to close council car parks, thus discouraging people from driving in the city centre. Now, the usual moaning Minnies will no doubt complain about this, and say that it'll mean folk will avoid the city centre entirely, turning it into a ghost town.
Well, yes. But is this necessarily a bad thing? Benefits to the environment and council budgets abound – with cars removed and city centre roads largely unused, except for the occasional infrequent bus, that obviates the need to fix all those pesky potholes, saving us a "whole bunch o' money" as Barney recently put it (I think all those trips to Houston have changed him). Also, if folk aren't actually visiting the city centre, we wouldn't need to finish off any of those slightly overrunning city centre building projects. It's win-win!
Forward planning is, of course, the watchword of this authority – and your council is now looking ahead to ensure our heritage is "fit for purpose for the next 150 years". In or around the year 2159, we are confidently projecting a beautiful vista of greenery occupying the space where Union Street used to be.
Shelley Shingles, showbiz correspondent and Miss Fetteresso 1983
There's nothing I love more than celebrity product endorsements.
They can be glamorous like Keira Knightley's "Miss Dior" advert; practical, like Dame Thora Hird's famous campaign for the Stenna stair lift; or totally mad, like Johnny Rotten's butter ads.
Sometimes, though, they come straight out of left field, like carrot-headed troubadour Ed Sheeran's forthcoming brand crossover match-made-in-heaven team up with… Heinz Tomato Ketchup. Oh, my days!
Apparently, Ed totes adores ketchup (well, who doesn't?) and he's going to help Heinz celebrate their 150th anniversary by releasing special bottles of their famous red sauce cried "Heinz Tomato Edchup".
It's good, but it's not great, is it? You get the feeling Ed might not have been Heinz's absolute first choice for this promotion. Presumably, Tom Daly, Tom Hardy and Tommy Robinson's people all turned them down.
So, good luck to Ed, I say. After the multimillion sales of his albums Plus, Multiply and Divide (I wonder what he'll call the next one? Square root? Log to the base 10?) I'm sure this sort of deal is just what he needs to make ends meet. I guess some folk just can't have enough money, can they?!
Of course, me and Ed go way back. I first met him at the Brit Awards when he was collecting the gong for most promising newcomer, chatting with Adele, and I was there doing some promotional work for McVities biscuits.
My silver salver wasn't very popular among all the music moguls, they preferred the canapes and mimosas that some of the other girls were dishing out, so I decided to be proactive.
I marched right up to Adele and thrust my biscuits under her nose. "Oooh, look," she said, "ginger nuts!" Ed suddenly went beetroot red, turned his back and checked his spaver.
I'll never forget what he said to me when he turned round again.
"Not for me thanks, love. Have you got any hobnobs?"
Wise words from a true gent.