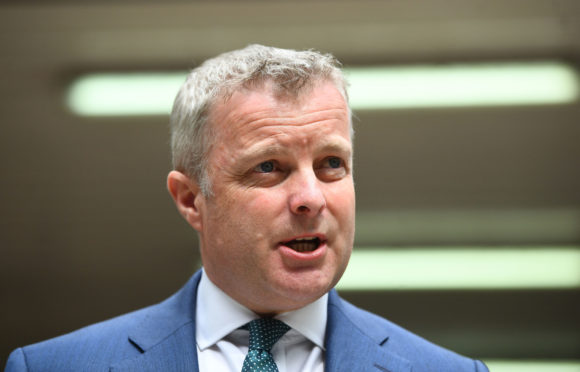 'Democracy dies in darkness' runs the strapline for US newspaper The Washington Post, the one that toppled President Nixon over Watergate.
A noble sentiment most UK journalists would agree with.
And yet those same correspondents are remarkably quiet about an affront to democracy taking place in Wales right now.
A turn of events that makes a mockery of the last 10 rollercoaster years of politics. Over here a more appropriate slogan would be 'Dai's democracy in darkness'.
It's a decade since the expenses scandal. An apparently fundamental fault line in the history of Westminster. Our current crisis can be traced back to the news that some MPs were troughing it. The financial crash and the expenses scandal begat Brexit.
The Daily Telegraph broke the story and marked the anniversary last month by blowing their own trumpet in print and with a podcast series about how it all played out back in 2009. The Tory party is marking that anniversary by standing a convicted expenses cheat at the Brecon and Radnorshire by-election.
Sitting MP Chris Davies was nicked for making up receipts in March. Evidence that the expense scandal is a thing of the past, that cheats can no longer prosper.
His conviction triggered a recall ballot – a process whereby if 10 percent of eligible voters sign a recall petition the MP gets the boot and a by-election ensues. Again, another welcome by-product of the outrage of a decade ago. It's only remarkable that it took something as shocking as the revelations about moat-cleaning, duck houses and freebie mortgages to give the voting public a mechanism to express their view about a dodgy parliamentarian without having to wait up to five years till the next general election.
And yet.
Despite the fact he's been convicted in court and recalled by the people the Conservative Party sees fit to trample on both common decency and common sense and field the same candidate at the August 1 vote.
Remember all the thousands of words of condemnation written and broadcast as the expenses scandal wore on in 2009? Remember all the words of contrition from Westminster as the institution promised to clean up its act?  Turns out they were for nothing if this horrible decision is allowed to stand.
Perhaps all the heat and noise back then was just a performance. Where are the front page stories unequivocally condemning the Tory approach in Brecon and Radnorshire? Why aren't MPs from all parties who profess to care for democracy taking the time to bombard Theresa May at Prime Minister's Questions with enquires as to what she and her party is thinking?
The PM's been flailing around for legacy projects in the last week, from expanding paternity leave to a last minute splurge on schools. In fact she will leave The Conservative party asking her members to go out campaigning for an expenses cheat.
That rather sums up the rapid decline that has overcome her party during her three years in charge. Now, this isn't a party political point. Any sensible student of politics knows the Conservative Party is a noble institution (that's not to say all its representatives have always been, ahem, squeaky clean) and that it has done great things for this country. Commentators and historians can debate which was the party's golden age – Thatcher's unleashing of the market, the one-nation ideology of Disraeli and Macmillan, Pitt the Younger defeating Napoleon? – without detracting from an overall admiration. And given they've been in power longer than anyone else the Tories have clearly been doing something right down the ages.
But the lack of care behind the decision to allow Davies to stand again is surely a low. And it speaks to a wider malaise in the party.
See also Jeremy Hunt's leadership campaign schtick which includes arguing against holding a general election because he'd lose. Of course all politicians want to pick the timing for an election to suit themselves but rarely if ever have they been so naked in saying 'The electorate want the other guy so I'm not going to give voters what they want'. This while the nation's politics is contorted by Brexit in the name of giving the electorate exactly what they want. Or at least what they wanted three years ago.
And then there's Boris Johnson, a man with little or no ideology beyond the promotion of Boris Johnson and a charge sheet as long as your arm when it comes to character flaws and misdemeanours. One popular parlour game in parliament just now is to rank what's wrong with Boris Johnson into a top 10.
However there is a difference between the Conservatives' problems and the decision to field an expenses fiddler in Brecon and Radnorshire.
The Tories are like a sad camel in a zoo, currently sporting bald patches and walking in circles. With some care and attention it can be restored to health and nobly bestriding the desert again. But allowing the by-election to be sullied by such a tainted candidate damages democracy – it threatens the foundations of the Westminster zoo itself. If the whole edifice collapses, the political animals are damaged by the debris with no-one left to tend to them and it's vermin and parasites that thrive in the ruins.
Why worry about the Conservatives selection for a by-election they are bound to lose?
Because it represents another tiny light going out on our public sphere, and democracy dies in darkness.
James Millar is a political commentator and author and a former Westminster correspondent for The Sunday Post