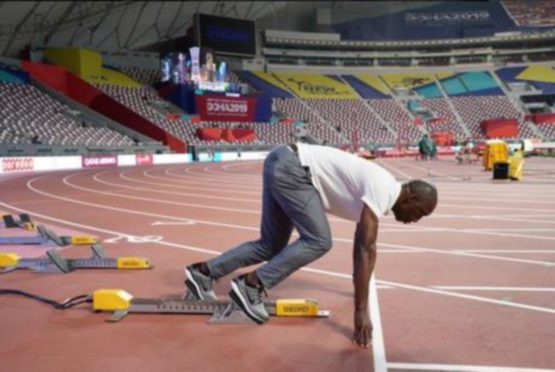 "Look mama! Men jumping in the sandpit," my toddler shouts.
I chuckle. Because she's right. That's exactly what they're doing…
Or – in adult speak – the long jump.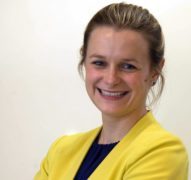 Later, she points out the female competitors' "belly buttons" as they wait at the 100 metre start line, before showing me hers. She's even begun to mimic my "go on" cries as I get carried away supporting Team GB.
If you hadn't already guessed, we've been watching the IAAF World Athletics Championships, taking place in Doha, Qatar.
We don't usually have the television on, but when it comes to international sport, I'm willing to make an exception.
I grew up following athletics with my mum and now get to do the same with my daughter, which is an utter treat. Unfortunately, despite being the happiest of participants, it was brutally evident early on that my talents lay elsewhere, although I was quite fast over 60 metres and – when no-one else put themselves forward – I did once represent my school house at shot put, albeit spectacularly unsuccessfully.
But I'm glad to say my lack of prowess didn't dull my passion as a spectator, which remains strong to this day, notwithstanding the increasingly regular drugs scandals engulfing the sport. I still get excited in the run-up to a big tournament and hope Maya will share my enthusiasm as she gets older.
Conspicuously absent on this occasion is Usain Bolt, who – after thrilling us for a decade – bowed out at the London 2017 worlds, where I had the privilege of watching his penultimate race on the global stage. Athletics – a sport which needs big personalities – is undeniably the poorer for his departure. His extraordinary skill – as well as his swagger – won't be easily matched.
Much to my delight, however, another face I wasn't sure we'd see is back and looking great.
Despite suffering a stroke a year ago, sprint legend Michael Johnson – who won four Olympic gold medals among a host of other titles – is commentating for the BBC as usual and remains as straight-talking as ever.
One of my heroes growing up, I'd probably still be a little starstruck if I bumped into him in the street. A bit flashy – his golden spikes are my abiding memory of the 1996 Atlanta games – but only a bit, it was his attention to detail, his discipline and his unwavering focus that I so admired. His ability to go out and deliver what he knew he was capable of, to get the job done, his eyes fixed firmly on the prize.
Of course, it goes without saying that we can't all be champion sportsmen and women.
This philosophy is an inspiring approach to life, however, regardless of the field in which you aim to succeed or what you are facing – as Johnson, now 52, has shown through his impressive recovery over the past 12 months, a feat he has attributed to his "Olympic mindset".
Obviously, his achievements as a runner speak for themselves, but the way he's come back from his stroke – which left the former 200 metre and 400 metre world record-holder unable to walk and struggling to balance – is for me the true measure of the man.
At his best, he finished the 200m in 19.32 seconds. In contrast, on his first day of rehabilitation, the same distance – with help – took him more than 10 minutes.
And yet one year on, in a powerful illustration of his progress, he tweeted a photo of himself pushing out of the starting blocks in the Khalifa International Stadium.
Given his efficient return to fitness, it'd be easy to assume that Johnson's motivation was forthcoming from the off because of his experience. He agreed in a recent interview that recovery might be harder for someone not used to tracking improvement by such small margins. Moreover, strokes vary in severity and not everyone has access to such good rehabilitation facilities.
But this kind of journey must be tough no matter who you are.
Ultimately, as he left hospital, Johnson was just like the next man, staring down the long, daunting tunnel back to his former self.
In fact, for athletes, soldiers – people accustomed to being in peak condition, being unstoppable – there's perhaps the added challenge of having to accept your humanity.
Earlier, I referred to Johnson as one of my childhood heroes and surely his latest victory – this time over his own body in a battle he never expected to have to fight – shows 11-year-old Lindsay was spot on. And while he will rightly be remembered for the glory years, it's through this that I've realised what he's really made of.
More importantly, there's also a wider valuable lesson to be learned here: we don't always get a second chance, but when we do – indeed before we do – let's make the most of every opportunity on offer.
In 2006, Johnson made the headlines when he claimed the system British sprinters were coming through rewarded "mediocrity". I'm ill qualified to judge whether or not he was right, and times have no doubt moved on since then. But I wholeheartedly agree that we should invariably strive to be our very best, as good as we can be.
We won't necessarily win, but if we know we've left it all on the track – as the athletes say – we can hold our heads up high.
---
Lindsay Razaq is a journalist and former P&J Westminster political correspondent who now combines freelance writing with being a first-time mum