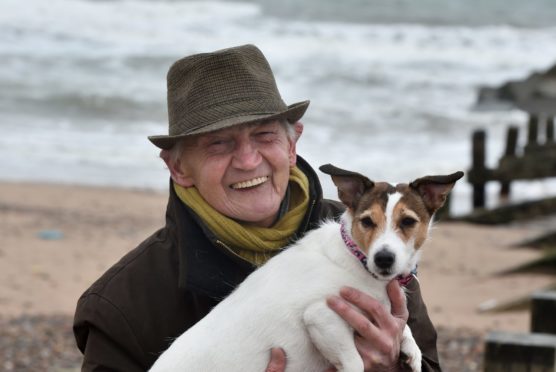 Ever since the news spread through the football community about the death of Joe McGunnigle on January 3, messages of condolence have arrived in sackloads at his Aberdeen family home.
A minute's applause was arranged at every north-east amateur football fixture at the weekend. Joe would have loved that. But then, people loved Joe.
This twinkly-eyed little coiled spring of energy with a zest for life never relinquished his passion for the Dons or Scotland and he made friends wherever he travelled on his magical mystery tour with the Tartan Army to five World Cups in the days when his compatriots used to qualify regularly for the finals of major tournaments.
Joe wasn't just a football aficionado, but a global traveller and ambassador for the north east. As his daughter, Karen Sedgwick, told me: "He enjoyed every overseas trip he went on, beginning with Germany in 1974, accompanied by my mum (his late wife Cath).
"This was the only overseas football trip she went on, but she always watched the games on television and we would try to 'spot Dad' in the stadium.
"He primarily travelled to watch his beloved Scotland, but he always came home with stories of his experiences with the local people from every trip.
"He was invited into family homes for meals in Mexico and Japan amongst other places. It was the hospitality he shared with so many, that made his trips memorable.
"He befriended so many people in every country he visited and his personality and love for his team left a lasting impact on every person he met."
Karen revealed that the tributes haven't been confined to people in Scotland, but have flooded in from all over the globe.
She added: "We recently received a message from a gentleman from Germany, who told us: 'I met Joe 15 years ago on a bus from Lithuania to Belarus, which he had organised to see the Scotland game in Minsk.
"It was always good to meet him or hear from him, it was a pleasure to know him and we always had a good laugh together. He was a great guy, who will be sadly missed."
It should be remembered that Joe wasn't simply a supporter, but a whole-hearted administrator in the north east. He organised buses to take fans to Hampden Park, was renowned for wearing his tartan jacket at every game he attended, and this has now been donated to the Scottish Football Museum in Glasgow, where it will be displayed in a Euro 2020 tournament exhibition, which will focus on the fans.
As Karen said: "It's important not to forget the role my Dad played in local football. He stepped down from his managerial role at Woodside in recent years, but he continued to support them on the sidelines.
"He was also a member of a number of Scottish Amateur FA committees including the Scottish Amateur FA council and the North of Scotland District executive committee.
"He was not a boastful man in any way, but was incredibly proud to receive a lifetime membership award from SAFA in 2016.
"He also received the Football Association medal from AAFA in 2018, having been nominated by the current co-manager of Woodside, Dougie Gibb."
Joe was as unstintingly resilient in his battle with cancer as everything else he did and was one of the stars of the Brave catwalk show for Friends of Anchor in 2018.
When I met him at his home with Karen, his granddaughter Cassie and his little dog, Misty, he might have recently undergone gruelling treatment for his illness, but he refused to let it define him or restrict his activities and carried out his modelling assignments at the Beach Ballroom with a buckle in his swash and a flashy sashay.
His funeral takes place today and it's anticipated there will be a massive turn-out at St Mary's Cathedral in Aberdeen. Of course, there will be tears, but most of us will recall the sheer joie de vivre of this larger-than-life individual.
As Karen said: "We his family, are truly comforted by the amount of messages and reporting, which highlight the regard with which he was held in the football fraternity.
"But, first and foremost, he was the most loved and loving dad, grandpa and great-grandpa. We miss him immensely."