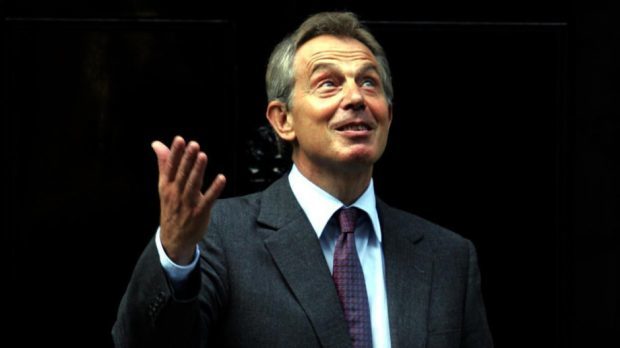 To UK eyes, this year's presidential election in America may look very foreign.
But US politics influences Westminster in many ways. For example, the worst thing to happen to UK politics in the last 20 years was not the financial crash or the rise of populism – it was The West Wing.
The US TV series set behind the scenes at the White House was slick and funny. It was tightly plotted and looked lush. So nothing like actual politics, which is always untidy, usually unfunny and never pretty.
Ever since The West Wing aired, too many politicians have fancied themselves as idealistic President Jed Bartlett.
Perhaps more insidiously, every Westminster staffer whose main task is to fetch tea for their MP thinks they are CJ or Toby or Sam Seaborn.
Too many in politics think they are playing a part in a drama, when the real drama is happening in the electorate's everyday lives as they deal with the impact of politicians' decisions.
That might be visiting a foodbank because changes to the welfare system have been botched. Or seeing a loved one worry whether they'll be able to stay in the UK after Brexit. Or most recently, having to abandon your house as flood waters flush through.
Boris Johnson's right-hand man Dominic Cummings loves to proclaim his faith in science and evidence.
But apparently not the sort of climate science that points to spending government money on shoring up flood defences to help voters. Instead, he hired into No 10 a chap whose interest in science runs to eugenics.
Perhaps the PM would pay a visit to the afflicted areas, show some compassion, look like a leader. Nope, Johnson holed up in a country pile in Kent for the half-term.
But hiring weirdos and hiding from scrutiny is straight out of the Donald Trump playbook, proving that these days the US influence on our politics is not confined to TV.
They elected a lazy, populist buffoon with a daft hairdo – and we followed suit. The president hired a nutty Svengali who blew up in short order in Steve Bannon.
Cummings' only comment on the recent reshuffle was to recommend kids' TV series PJ Masks.
The White House has apparently drawn up lists of friendly officials and those they want to bump.
Downing Street is stoking up a confrontation with the civil service and is allegedly seeking to oust some of the top mandarins in Whitehall.
Trump prefers his Florida mansion to Washington. Boris Johnson's been PM for two months and has already fitted in a break in the Caribbean, as well as going missing last week.
The parallels are striking. And it's because of that we ought to pay close attention to this US election for indications of what further influences we might import.
Worth pointing out the Americans clearly don't pay as close attention to our politics.
If they did they'd already know that standing an implausible magic grandad results in a ballot box battering. Yet still the Democrats seem keen to field socialist no-hoper Bernie Sanders in November.
It's another of the Democratic candidates that might provide a clue to the future.
Michael Bloomberg is the billionaire former Mayor of New York who thought he could buy the Democratic nomination with slick TV ads. Then he joined a TV debate and was exposed as being a bit rubbish.
But one of his most eye-catching attack lines might get picked up here.
The punchline to a video showing clips of Trump at his most vulgar – swearing, disrespecting women, etc – is "Let's bring presidential back".
The idea being that Americans might want a statesman in the White House who represents the best of them. If that line gets some traction it's easy to see Keir Starmer – lifelong public servant with knitwear catalogue good looks – using it against Johnson – grifter who can't operate a comb.
That assumes Starmer wins the Labour leadership. It'd be foolish to bet against Rebecca Long Bailey just yet.
Whoever wins the Labour leadership, they are going to lose the next election. So there might be another lesson for Labour – and the country – to learn from US politics.
Nearly all the Democrat candidates for president are mature, to the point of going off. Bloomberg and Sanders are 78, Joe Biden is 77.
But Biden is the example to look to. He's been about politics. He was Barack Obama's vice-president, sat out the high-level stuff for a few years and now here he is vying for the top job.
Americans don't have a problem with political careers ebbing and flowing. It's a peculiarly British condition that political comebacks went out of fashion with Gladstone.
Labour have a chap who history shows is a winner. Tony Blair is 66 now. Labour could lose two more elections and he'd still be younger than Biden, Bloomberg, Sanders or Trump.
Yes, he's been out of Westminster for 13 years now. But with every intervention in the Brexit debate or the current state of Labour he's proved he's got more political nous than a dozen John McDonnells.
The question is not whether a return makes sense, it's how many times must Labour lose before they make their peace with the only man alive to ever win them an election.
It'd be a truly dramatic twist to the political narrative to bring back a character who'd apparently been written out.
But when you're desperate for ratings, nothing is off the table. Blair could yet be the Bobby Ewing of British politics.
James Millar is a political commentator and author and a former Westminster correspondent for The Sunday Post