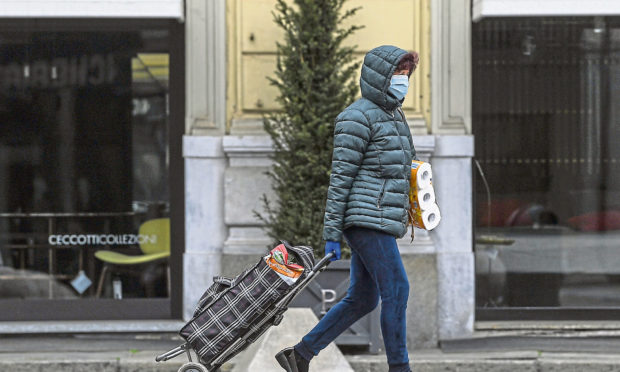 Tanya Souter, lifestyle correspondent
I da ken aboot youse, but I'm a'ready sick o' the coronavirus. Aye, sick o' it, nae sick wi' it. I thocht it wiz jist gan tae be a flash in the pan, like previous pandemics such as swine flu, or Gangnam Style.
But no, ivery day there's some mair serious news aboot it. So fit can we dae? Weel, I da wint tae add tae the non-stop mass media obsession aboot it, but I've nae seen ony advice specifically tailored for still very attractive single mums, so here we go.
It's panic stations a'ready, o' course – at the time o' writing, Trump has banned ab'dy fae continental Europe fae entering the US, and the UK Government his jist hid een o' that emergency meetings fan they sit aroon' in Downing Street drinking Cobra (weel, they winna be serving Corona for a whilie) and we are noo moving tae "social distancing measures".
My pal Big Sonya is weel ahead o' the game wi' that. She's nae allowed within twa metres o' her ex till she gets the tag aff her ankle.
I tell ye, though, it wiz a' fun and games fan een o' the Cabinet got it and ye could hae a sweeper on fa ye winted it tae be. But noo things is obviously 100% affa serious, cos Tom Hanks his got it an a'.
It proves fit they say, that a virus disnae mak moral judgments, because Tom is very much the ying tae Nadine Dorries's yang.
Onywye, as long as we keep washing wir hands and dinna touch wir faces, that'll stop it. It's stressful, though.
I da think I hiv iver winted tae touch ma face afore, but iver since the advice come oot that we're nae supposed til, I canna think aboot nithin else. I'm gan tae hae tae get masel a mask.
Aye, nae a surgical mask – they need tae be kept for healthcare professionals. My ex Darren his a welder's een he says I can get a shot o'.
The ither thing tae dae if ye think ye hiv the symptoms is "self-isolate" for twa weeks tae avoid spreading it. Luckily, this jist means sitting aboot at hame and nae speaking tae naeb'dy, and I am an auld hand at that kind of thing, especially fan I've just hid a break-up or the wifie fae the Provident comes chapping.
Mind noo, I dinna hae the symptoms. But I'm planning tae sit on my sofa in ma jammies and dae nithin for the next fortnight onywye. Just tae be on the safe side. Plus, it'll give me a chunce tae watch "The Irishman" on Netflix wi' oot nodding aff.
As a further precaution, I hiv removed my twa fae the school tae self-isolate at hame wi' me. Nae that there's been ony word of an outbreak there, but ye ken foo manky kids is.
A lot of folk are worried aboot fit they'll dae if the schools close and they hiv tae keep their kids in for wiks on end. Tae tae be honest, it isnae that different fae last term fan they wiz at hame after they got excluded. For skiving. But at least this time we winna get ony visits fae the education authority tae gi'e me a row – as if it wis my fault!
I mean, foo div they expect me tae be able tae force my twa wee free spirits intae a classroom for 9am? It's ridiculous, I'd miss the start o' "Murder She Wrote".
Cava Kenny Cordiner, the football pundit whose hands have never been cleaner
It has been another crazy week in the sporting world. On the one hand, we've got cancellations and games behind clothes doors, whilst on the other foot we've got Pittodrie going to a reduced capillary next season.
This codona virus has fairly left a mark, hasn't it? At first I thought folk was making a mountain out of a moleskin, but now Roger Daltry and the rest of The Who have declared it pandemonium.
Within just a few days the whole world has gone Covid-19 daft, with grands prix, basketball and even the new Fast and Furious film all postponed.
But it's not all good news – the football has been affected, too.
There's been a load of matches played without no one watching this week, including Man United's Europa league game in Australia.
A lot of people is saying, they says "what is football without the fans?"
Well, those folks obviously never played two seasons for Brechin City like what I did.
The sporting calendar has been put on hold for a few weeks until it all calms down a bit. Thank goodness I've got all my old Dons DVDs to watch!
Mind you, the club says that next season there won't be no watching the Dons from the top deck of the Dick Donald.
I think that's throwing the bath out with the water babies. Some of my best memories of Pittodrie have happened up there.
Seeing us stuff The Rangers, Celtic and even FC Copenhagen – thinking of them games sends me into a revelry.
But, alas, time and tide wait for Norman, and I guess Old Kenny will have to make do and mend with the South Stand next summer when we square up to East Stirling in the League Cup qualifiers.