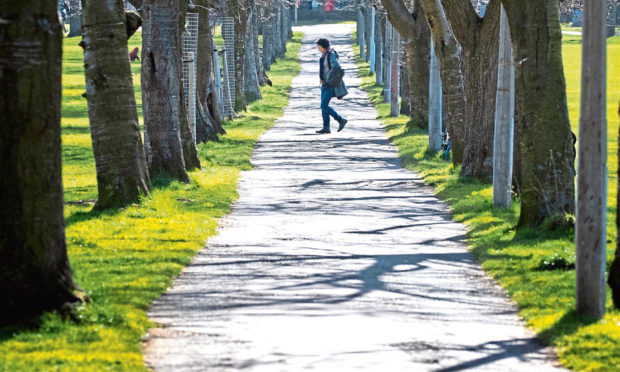 View From the Midden – rural affairs with Jock Alexander of MTV (Meiklewartle Television)
Weel it's been an unprecedented week in the village. Today I'm oot in the fields taking pleasure in the simple wonders of the natural world, the trees and the birds.
Largely because my inadequate broadband coverage means I canna get Netflix tae keep me occupied like ab'dy else. Mind you, on balance, I s'pose that fan the thin veneer o' civilisation begins tae crack, it's best tae be awa fae it a'. So perhaps it's for the best that here in Meiklewartle we are miles fae the seething metropolis o' Huntly.
Life is continuing oot here much as normal, as we were a'ready weel versed in the art of nae socialising wi' each other. In Skittery Willie of course we hiv the originator of social distancing, and he his daen his bit tae encourage fellow villagers tae follow his example by mucking in wi' his pigs for a day, so that noo naeb'dy wints tae get within 20ft o' onyb'dy else.
Feel Moira too has been in self-isolation for some time and is keeping busy attempting tae synthesise a cure, wi' nithing but an oxyacetylene welding torch, her Fisher Price chemistry set and some samples o' her ain belly button fluff (which also seems tae grow at an exponential rate). So we're either on the verge o' solving the problem entirely, or creating something far far worse.
Cheerio!
Kevin Cash, local money saving expert and King of the Grips
As we knuckle doon tae self-isolated hame living, it falls tae us all to dae wir bit for oor fellow man. With a' live sport and cultural activities being shut doon, there's nithing tae spend wir money on apart fae the essentials.
As long as folk dinna stockpile though. We've a' seen the disturbing pictures o' shelves emptied by selfish folk fa dinna think o' the impact on ithers.
I, for one, am gled tae see that supermarkets are noo stairting tae impose rations on certain items. Cos last wik, afore the restrictions, I went oot and bought up twa thousand rolls o' Andrex and am noo the lavvie roll king o' Kincorth.
But I'm nae hoarding it a' for myself. Oh no. I am offering customers my "doorstep delivery" service.
Aye, I dinna ging tae your door, you come tae mine (weel, ootside my door, I'm nae lettin ye in) but for jist £1 per sheet I will feed it oot tae ye through my letterbox.
Nae tae be outdone by Brewdog, I am also in the process o' making my ain moonshine bootleg hand sanitiser. I've found a bottle o' Bezique at the back o' my Ma's cupboard and poured it intae the sink wi' the last of my Fairy Liquid.
I da ken if it's anti-bacterial, but it's fairly dissolved my Tupperware. But nae worries – if it proves too volatile for public sale, I've got a back-up sanitiser recipe. I've got sand, and I've got Tizer. So trade descriptions canna touch me.
Jimmy Hollywood, Sandilands' most eligible bachelor
Jimmy hiz always been a hit with the ladies. Ab'dy kens that tae be true. It is an irrefutable fact. Like the fact that yer Big Mac never looks onything like it diz in the picter, or that in light o' the run on bog roll, there is, at last, a good reason tae buy The Sun.
But let me tell ye, these is trying times for yer genial lothario. Fair play, I am nae claiming my life is worse than a person o' an age susceptible to the worst effects o' the virus or somebody recently pit oot o' work because their employer hiz tae shut their doors.
However, social distancing is making Jimmy's search for love that bittie mair challenging.
Noo, as a postie, I am a key worker – een o' the folk it turns oot we really need – like NHS staff, delivery drivers and former Apprentice contestants on Twitter. So I hiv tae look efter mysel and nae catch the virus.
Tak the gym for instance. Normally, gyms is great places tae meet fit lassies wi' a fairly laissez fair approach tae the wearing o' claes fa might be impressed by the sight o' a specimen such as masel in his sweatband and Adidas Sambas.
But the the threat o' catching onything whilst working up a sweat in close proximity tae other fitness gypes currently maks it a no-no.
So fit I am daen is sitting in my car ootside in the gym car park. I've wired up a loud hailer system using a megaphone, my car stereo and a bluetooth headset and I'm playing my favourite romantic music ("Let's Get It On", "You're My Everything", "Baby Got Back") files I belt oot ma best chat up lines.
I'll be honest, I hinna got monny lassies asking for a date, but a surprisingly large number hiv come up tae the windae and asked me for a vanilla slider.