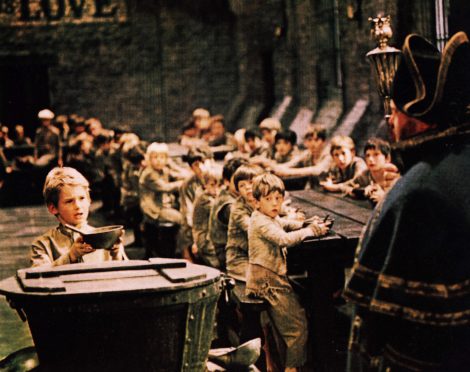 It may feel as if we're living in the middle of a disaster movie at the moment but away from visual images of chaos and carnage, the printed word still has the power to move and inform – even if it takes a lot of editing by those of us reading and/or hearing what's being written and said for it to make much sense.
Aptly, the Journalists' Charity has chosen this moment to launch a competition, in the name of its founder, Victorian novelist Charles Dickens, to encourage writers or would-be writers to come up with 300 well-chosen words to describe real contemporary characters who might have proved equally inspiring to Dickens himself.
Wetherspoon's Tim Martin? Sir Philip Green? Harvey Weinstein? Richard Branson? Or on the good side, the wonderful Captain Tom Moore, Malala Yusufzai, David Attenborough? Or even if you're not a fan, Greta Thunberg?
The great man, of course, created a motley selection of larger-than-life, often peculiarly but aptly-named individuals who sprang off the page to become household names across the centuries. You only have to look at the success of Armando Iannucci's recent filmic take on David Copperfield to see that many of his tales still have attraction and relevance for the modern day.
Hence this interesting competition. The problem is (and I'd love to have a go at this but I don't have an original enough turn of mind) that Dickens, with admirable foresight considering he was not psychic, seems already to have done this himself.
Interestingly, he actually began his career not as a writer of fiction but as a freelance parliamentary reporter and I feel that the current gallery of grotesques at the centre of public life are already present in his collected works.
The names may be different but underneath? Same old, same old.
Michael Gove was once actually described as "an oily little character who could come straight from the pages of a Dickensian novel". Uriah Heep? I rest my case.
Then take Donald Trump. If you must. He even sounds like an original Dickensian character and is a dead ringer for Hard Times' appalling Mr Bounderby – wealthy, self-obsessed, claiming to be completely self-made and in denial about his privileged upbringing. Or Wackford Squeers, the horror schoolmaster from Nicholas Nickleby who terrorised those in his power and treated his staff like dirt. Pair him with Nigel Farage as Podsnap from (appropriately) Our Mutual Friend, hugely self-satisfied, dismissing anything foreign or that has pretensions to culture.
Nicola Sturgeon could pass for Tiny Tim or the Artful Dodger although her opponents might characterise her as Oliver Twist, holding out the bowl and asking for more.
Jeremy Corbyn could double as Sydney Carton, declaiming, as he makes way for a new leader: "It is a far, far better thing I do now than I have ever done; it is a far, far better rest that I go to than I have ever known." While his successor, Sir Keir Starmer, seems currently to be giving us his turn as Jacob Marley, rattling his chains to no good effect.
Theresa May's hanging around after being jilted in the voting lobby might pass her off as Miss Havisham. Her inability to get her Brexit agreement through – remember that? – would certainly have qualified her to be named after Lady Dedlock, appropriately from Bleak House, although whether Bleak House of Commons or Lords may be a moot point.
Ian Duncan Smith could make it as Scrooge, or a perfect Fagin figure, whose actions end up sending children out to steal for a living, or maybe Gradgrind in Hard Times, dedicated only to the pursuit of profitable enterprise and interested only in cold facts and numbers.
Somehow, we have all now got used to Boris Johnson behaving like the love child of lovable but feckless Mr Micawber ("Something will turn up!") and Mr Bumble ("The law is a ass…a idiot!"). And Dominic Cummings? Let's face it, we've seen so little of him recently he could probably pass for the Ghosts of Christmas Past, Present and Yet to Come. Then there's Dominic Raab as a kind of rabbit-caught-in-the-headlights shifty sidekick from across the pages of several of Dickens' works. Or, having described British people as "the worst idlers in the world", another candidate for Scrooge?
David Copperfield's treacherous chum and heartless toff Steerforth would be ideal casting for Jacob Rees-Mogg. You mean he isn't a character out of Dickens? Who'd've thought it?
But, of course, the author's original words also capture the essence of what many people, great, small, brave and dedicated, are currently doing every day in exceptional circumstances and who have been doing it, unsung and under-rewarded, for a very long time. Take this quote from Our Mutual Friend.
"No one is useless in this world," retorted the Secretary, "who lightens the burden of it for anyone else."
I look forward to reading the entries for this interesting and telling competition. But somehow, something tells me that no-one will better, or better express, that great truth.