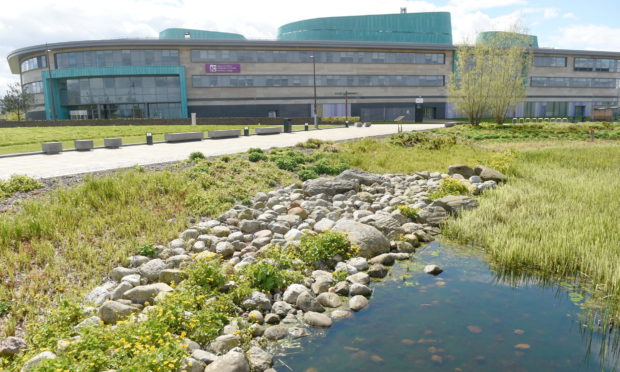 Kitchens as classrooms and living rooms as lecture halls; education has had to adapt quickly to make sure teaching keeps going through the lockdown.
When it comes to many academic subjects, the power of video conferencing and other technologies has made the switch to remote learning pretty seamless.
For some students, the hurdles are rather more "dramatic" – but still not insurmountable, as we have been finding out at the University of the Highlands and Islands.
The impact on drama courses has been considerable: a final year showcase event, third and fourth year group and solo performances that have taken a year to develop, a first and second year residency week – all cancelled.
And at all levels where students are working together on diverse modules relating to key skills, such as directing and production, there has been significant disruption.
While there was much intensive work going on reconfiguring assessments so students could complete them, we quickly realised the most important work was to engage students, to make them realise we are still there for them and that we are still working as an effective drama community.
This was overwhelmingly important as we realised many students were struggling with isolation, some had challenging circumstances at home and several were embarked on arduous journeys to get home to France, Germany or Finland via circuitous routes where borders were not yet closed.
Drama is not yet taught through video conferencing at the university, although aspects of it will be, but members of the team also teach on literature programmes which are, so we quickly jumped on to various video conferencing platforms to facilitate teaching.
At the end of the first week, one of our students jokingly suggested we should have a digital tea party, which coincided with lecturer Steph Smart's idea to create "Monday Moods" and "Friday Feel" spaces where all drama students were invited to meet, to chat and catch up with each other – and to have a collective moan if that was required.
The first of these did indeed feature cake and everyone was extremely pleased to see each other safe and well and indulge in some stress-busting banter.
The university's "DramFam" has been further bolstered by continuing use of our Twitter and Facebook accounts to connect with students, often offering reassurance and alerting them to useful industry opportunities.
As a drama team we have been thinking about digital performance a lot in recent years – in fact, we have students writing dissertations on the very subject and we deliver a module on it – so the lockdown silver lining is that we get to test out some of our hypotheses and approaches in real circumstances.
In a further effort to connect students with digital creativity, we launched a performance challenge on the university's drama YouTube channel and encouraged students to send in performances for us to upload.
Our lamented showcase event will take place eventually, but in the meantime we will host a digital event on the channel as well, alerting all the guests we would have invited by email, helping students to establish their own industry networks.
Fourth and third year students who are no longer able to perform live are compiling portfolios where they log aspects of the performance as it was intended to be and video extracts.
These are not a replacement for what was originally planned but will be used to demonstrate aspects of it. It could entail the delivery of a monologue, an interview-style piece where the student discusses the intentions behind the performance or, in one case, the performance itself reframed as a performance art-style video piece.
What we've achieved in drama is being replicated across the university's creative and cultural department, where we've seen similar examples of how teams have come together to embrace and adapt to the challenges posed by remote working.
In art and visual design and communication, students are now working on online exhibitions, while in music, staff and students have set up a weekly "chat and choon" to share music and conversation.
While there have been challenges, Covid-19 has forced us to embrace wholeheartedly the digital creativity that we had been experimenting with and really exploit the opportunities that exist online to develop new skills, open up our art to new audiences and identify new experiences for our learners, which will undoubtedly stand them in good stead.
You only have to look at the success of the National Theatre's streaming of One Man Two Guvnors starring James Cordon on April 2 to see the impact digital creativity can make, with 900,000 viewers and social media proving it had been a theatre event for many.
While "liveness" will always remain a cherished principle of much theatre-making, recent events prove it is also compatible with digital performance trends. For a drama programme designed to be networked across multiple sites, that can only be good news.
Lesley Mickel of Inverness College UHI is programme leader for the UHI's drama and performance and drama and production degrees