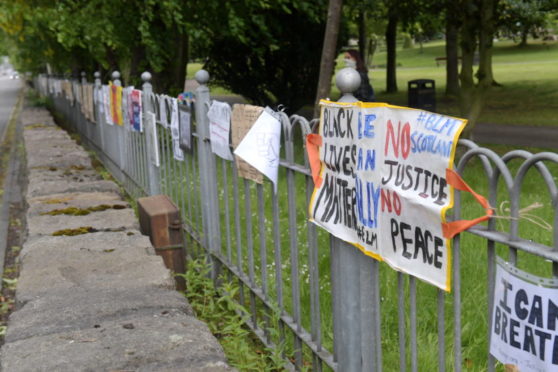 After months of nothing but coronavirus news, another topic has dominated the headlines this month – racism.
And I'm happy to admit it has left me totally confused. The Oxford Dictionary defines racism as "the inability or refusal to recognise the rights, needs, dignity or value of people of particular races or geographical origins. More widely, the devaluation of various traits of character or intelligence as 'typical' of particular peoples".
Now, that appears to me to be pretty straightforward and self-explanatory and I suspect that 99% of civilised human beings would sign up to that without thinking twice.
The events which have unfolded since the horrendous killing of George Floyd have left me, and I suspect many others, wondering whether we have actually been racist all our lives without realising it.
Much of the confusion surrounds the Black Lives Matter movement, a group founded in America in 2016 committed to using civil disobedience to root out racial inequality. Its UK offshoot has been at the forefront of the protests in this country which erupted after Mr Floyd's death and, as so often happens, a well-intentioned and apparently genuine group of people seems to have been hijacked by people who have used the cover of a peaceful movement to spread anarchy and violence.
I say "seems to have been hijacked" because the UK organisation's structure is secret, ostensibly to protect them from violence from far-right groups, making it impossible to see who pulls the strings.
Now, nobody can argue that Black Lives Matter. Of course they do. But it is at this point that my confusion starts. Many people took to social media to make the point that ALL lives matter, a sentiment which would appear to be equally valid.
Except that it isn't.
All Lives Matter is racist, apparently. A group of people claiming to be football supporters paid to have an aeroplane fly over the Etihad Stadium in Manchester towing a banner bearing the words "White Lives Matter Burnley", provoking a furious reaction.
Burnley Football Club expressed its outrage and embarrassment, players from the club and rivals Manchester City were appalled and Blackpool Airport, from where the offending flight had originated, banned all banner flights, regardless of the message.
The unseemly act inevitably begged the question of whether Black Lives Matter is helping or harming race relations? It is proof, if proof were needed, that every action creates an equal and opposite reaction.
But is a simple statement that all lives matter, not just black lives, inherently racist?
Why should a seemingly innocuous assertion that we are all equally important provoke such outrage? I am pretty certain in my own mind that the vast majority of people who took to social media to express and support that sentiment did so without any intention to diminish the validity of the fight for racial equality.
Is it right or fair that they now find themselves on the naughty step? Various people have attempted to explain just why All Lives Matter is racist, but none has done so in a way I have found convincing, because I keep coming back to the innocent motives of those who propose it.
I have witnessed, unfortunately, many, many examples of racial discrimination over the years. Thinking back to my days as a wet-behind-the-ears junior reporter trying to make my way in the media world, I was undoubtedly guilty, albeit without realising it at the time, of reinforcing racial stereotyping.
I remember vividly, many years later, having reached the rank of deputy editor, being invited to a meeting of the Afro-Caribbean Association in Wolverhampton and being presented with a dossier irrefutably demonstrating a long history of racial bias by the newspaper.
I resolved from that moment to be more aware of the implications of what I was writing and honestly thought I had made a pretty decent job of it until the events of the last five weeks.
I pride myself on treating everyone the same, regardless of ethnicity, sexual orientation, employment status or religion and have always assumed I was doing my bit to promote equality, but it seems that was never enough.
The problem I now have is that it appears I will be forever condemned in some people's eyes until I sign up to the view that Winston Churchill was a thoroughly bad person, that capitalism should be replaced with something as yet undefined, that the police and prisons should be abolished, that the suffragette movement was racist and that we should rewrite the history of this country to remove all mention of those who expressed views which, with the benefit of decades of hindsight, now appear abhorrent.
That, I'm afraid, is a bridge too far for me. If failing to subscribe to those demands means that I am, after all, a racist then so be it. I may be taking an ultra-simplistic standpoint, but I just fail to see how demonising decent people is going to help the battle against inequality.
---
Derek Tucker is a former editor of The Press and Journal