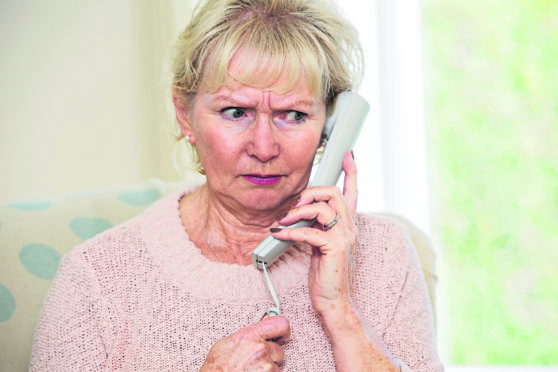 After my musings last week on the pros and cons of lockdown, another element to ponder upon struck me this week with some unwelcome force.
This was after I had been got out of bed (I've taken to having a lot of long lies lately – sue me) for the third or fourth time one weekend morning to answer the ringing house phone.
Now, as with many households these days, even those with inhabitants of a certain age, for which description we certainly qualify, the ringing of the landline is a somewhat rare occurrence. I can't remember the last time somebody I actually knew called me or The Husband on it.
It's got to the stage that any time it rings I either look around in a bewildered fashion, trying to work out what that strange noise is and where it's coming from, or instantly assume someone's deid.
Any road up, all had been relatively quiet on that particular telephonic front in recent weeks. Noticeably so.
It was even discussed in some detail over the breakfast table, which only shows you the depths to which conversational levels of interest have plummeted in this neck of the woods since the end of March.
We remarked, pointedly, that scarcely any instances had occurred of cold or nuisance calls.
There were no offers of legal services or suggestions that we might, due to the many injuries that had seemingly befallen us in a remarkably short period of time and which had otherwise passed unnoticed in our jet-set, fun-packed lifestyle, be entitled to more compo than the cast of Last Of The Summer Wine.
Suddenly, no one was trying to help me out after my recent road accident. According to these jape jockeys in the past I have had more accidents than I have had cars, and even I am not that bad a driver.
I tell you, I almost missed it for the sheer fun to be had in letting them drone on then hitting them with the lofty suggestion: "Get your legal department to write to me."
It's amazing how quickly the receiver at the other end hits the cradle after that. Or whatever technical chicanery is currently involved in terminating a phone call.
Since many of these shadowy figures obviously have great difficulty in putting two comprehensible words together in direct speech, I surmise that the posties of this great nation will not be finding themselves seriously overloaded with legal documentation any time soon.
Lockdown, of course, has provided the criminal classes with a fresh array of ways to scare the bejaysus out of the already jittery population which is now emerging, blinking, into the sunlit availability of beer gardens and haircuts.
Scammers got to work pretty quickly on the "test and trace" bandwagon, so I suppose it's no surprise that the blessed silence of the bams, which has taken place over the past few weeks, has shape-shifted into new and highly imaginative forms of villainy.
But for the most part, and certainly round our house, this had virtually stopped while we were all confined to barracks.
I can only surmise that even organisations with a less-than-kosher framework and field of activity had to resort to firing or furloughing what passed for their staff.
"Aha!" I thought, brightly. "The Telephone Preference Service which asserts that it can reduce (reduce, mark you, not stop) the instances of such infuriating communications, must have swung into action as an essential service. Key workers are on the case!"
Which makes it particularly irritating to realise that the Great Unsolicited Phone Call is re-emerging from the primeval soup of lockdown and is raising its ugly head even more frequently than it did before.
Yes, dear reader, the unwanted call is back with a vengeance and I am here to tell you so in no uncertain terms. Three in one morning, mark you.
I'm not at my best then, you can tell.
My hatches may still be battened down but my so-called unlocking life is once again being infiltrated in increasingly sinister fashion by computerised voices threatening me with fraud charges, bankruptcy, police actions, fines and the lash or whatever.
This is usually perpetrated in the name of some government department or institution which has mysteriously begun to employ only people who talk like Robbie the Robot or Marvin the Paranoid Android and who make Daleks sound like John Gielgud at his most Shakespearean and mellifluous.
And now that that nice Chancellor Sunak (am I the only one who thinks he sounds like a character from Star Wars?) is planning to lavish us with vouchers spendable (Monday to Wednesday only when there's an "r" in the month) in newly opened and suitably socially distanced eating establishments, I can foresee a whole new realm of possibilities for crank calls asking us to claim and redeem our meal tickets.
If I said I thought such a plan was merely a token gesture, you might call me a naive, sentimental fool.
But better still, don't call me at all.