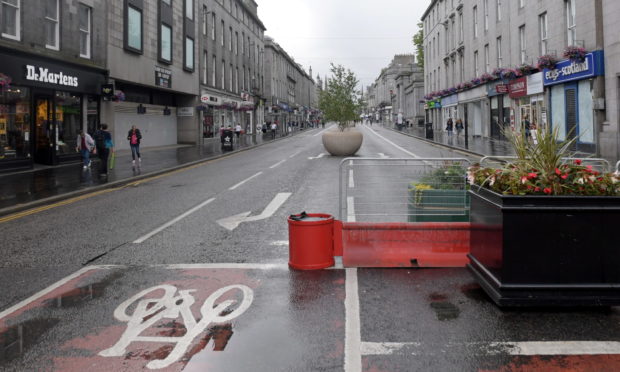 For as long as I can remember, Union Street pedestrianisation has been a huge issue in Aberdeen.
Heavy goods vehicles trundling through the main city streets have represented an obstacle to clean-air policies, and the fact that no one adheres to the 20mph signs also makes it difficult for shoppers.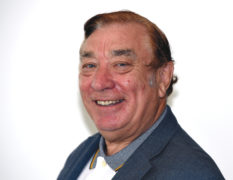 But with the Scottish Government's coronavirus mitigation money, Aberdeen City has seized the opportunity to introduce full pedestrianisation between Market Street and Bridge Street as well as other vehicle outlets on to Union Street. The pavements have been widened to provide greater safety for those on foot and a safer route provided for cyclists.
This was tried in the early 1990s during the five weeks before the Christmas period. It allowed more public activities and street stalls. Apart from local traders complaining they were losing business, and buses having to alter their routes, most people accepted it.
In 1998 I introduced a bike-pool scheme for council staff to enable them to make short work trips around the city, on the basis that using a bike could be quicker to get from A to B than using a car, as well as being a healthier and less polluting option.
This was long before the Boris Bikes in London, which was actually Ken Livingstone's initiative.
It is unlikely we will be able to attract the quality and variety of shopping experiences people enjoy in the shopping centres. It is therefore vital we use the area of Union Street to best effect in attracting visitors.
The additional seating areas and street furniture are good but we also need more public toilets. It is time shops open up some of their toilet facilities to the people spending hard-earned cash with them. After all, you cannot expect people to spend their pounds if they cannot spend a penny. Parents with young children, older people and those with disabilities would appreciate this.
The speed the council has moved at has left little room for the usual widespread consultation and many traders were caught out by the changes brought in to protect the public due to Covid-19 social distancing requirements.
However, every new scheme will have teething difficulties. It is therefore important that shoppers and business outlets contact their councillors if they have ideas to enhance the revitalisation of Union Street.
One of the biggest problems has been the rise of the uninformed cyclist. These are not the genuine cycle enthusiasts who are aware of the rules of the road; I am referring to the rogue cyclists who illegally cycle on pavements and ignore traffic lights.
I can appreciate the aggressive driving in the north-east makes some cyclists wary of using the road networks. Here I am referring to adult cyclists, not young children (though I have witnessed whole families using bikes on the pavements during the lockdown, which is clearly ridiculous). Cyclists deserve better protection than simply a white line painted on a road.
But the answer is not for them to use the pavements, which are for people on foot. Older people, the disabled community and parents with buggies are being threatened by rogue cyclists using the footways. These cyclists have never seen a copy of the Highway Code, or been taught by their parents how to use the roads.
If we are to improve and make safe their cycling experience, people need to reciprocate by behaving responsibly and acknowledging pavements are for pedestrians and not made for cycling. To be fair, Aberdeen City Council have large yellow signs erected warning just that. Remember, cycling on a footway in Scotland is committing an offence under section 129(5) of the Roads (Scotland) Act 1984.
It is heartening to see Police Scotland are to take action to protect cyclists by challenging drivers who do not allow appropriate road room when overtaking cyclists. Quite right. These will be the same drivers who fail to use their indicators, use the wrong lanes on roundabouts ,and constantly ignore yellow box junctions.
However, I hope the police enforcement will also be applied to rogue cyclists illegally riding on our pavements, except where the council has suitably marked space sharing.
Of course, in any walk of life, there is always a small minority who spoil it for others.
But cycling is good for the environment. In an age when we need to take positive measures to prevent global warming, cycling and walking needs to be encouraged. I hope those who took up the lockdown concession to exercise regularly continue to do so.
More than ever, people need to respect each other's right to coexist.
Walking and cycling are both good examples of keeping fit and healthy
I think we should give the pedestrianisation of Union Street a chance to see how things work out. Public input will be vital. Councillors need to respond.
Let's not waste the opportunity that this pandemic has afforded us. Who knows, it may turn out to be an enlightened decision.
---
Len Ironside is a former champion wrestler who served as an Aberdeen councillor for 35 years, four of them as council leader