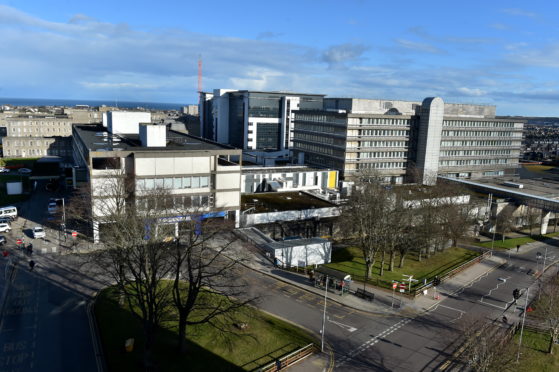 If you've heard about the Disasters Emergency Committee's (DEC) work here in Scotland since we launched our global coronavirus appeal two weeks ago you may also have heard the incredible story of Syrian refugee doctor Ahmed Subeh.
Along with many other skilled and compassionate NHS staff, he has been on the frontline against Covid-19, treating the sickest patients in the intensive care unit at Aberdeen's Royal Infirmary.
Ahmed fled his home in Damascus at the end of his medical studies at the height of the civil war five years ago. He took the unbelievably difficult decision to leave his wife and parents behind and take his chance as a refugee. He joined hundreds of thousands of others across Syria who were desperate to find somewhere safer, somewhere more secure, somewhere where there might be hope for a new life.
A journey lasting more than a month took him overland to Lebanon, by ship to Turkey, then on to the Greek island of Samos on a perilous overnight rubber dinghy passage with 45 other refugees.
Using false papers he flew to Paris and travelled by train to Italy where he managed to board a flight to Edinburgh. There he sought and was offered asylum.
His circumstances prompted him to risk this extremely hazardous and uncertain journey in the hope of refuge and safety.
In the strange and unsettling times we still find ourselves in during this pandemic I suspect many of us have had time to wonder about and be grateful for the comfort and safety of our homes. As well as all the creature comforts we take for granted, crucially, we and our immediate families were able to shut the virus out – to stay home and stay safe.
That is what is missing for millions of people who the DEC is now urgently trying to support through our latest humanitarian appeal.
Driven from their homes, their communities and often their countries by conflict or by climate-related droughts or floods they now face coronavirus. Imagine having to leave everything behind to keep your family safe, only to be faced with this new, silent killer.
In Yemen, Syria, South Sudan, Somalia, the Democratic Republic of Congo, Afghanistan and the world's largest refugee camp on the Bangladesh border, an estimated 24 million people urgently need humanitarian assistance.
Many of the displaced are in tents or makeshift shelters without access to running water, enough food or basic medical care. Exposure to a range of other infectious diseases, chronic malnutrition and long-term stress from their experiences makes them so much more vulnerable to this new disease.
A shortage of hospital beds and medication to treat those who fall ill makes their situation all the more precarious.
That is why your help is so badly needed. As in the UK, simple measures can make a huge difference. Your donations can provide families with clean water, soap and information on how to stay safe. Your support can help supply frontline medical and aid workers with equipment to care more safely for the vulnerable and sick. In addition, your gift can make sure families, particularly children, get enough food to prevent malnutrition.
That is why the 14 member charities of the DEC have come together once again to ask for your support. Working together ensures money is raised quickly and can rapidly bring hope to so many. I'm proud to say we have already raised £1.75 million across Scotland, but we need so much more to meet the need. Knowing we will make a difference is inspiring to us all.
One of the most uplifting moments in the past few days came from meeting Dr Ahmed, now reunited with wife Dana, and their Scottish-born baby son Nabeel, whose birthday they celebrated earlier this week. He has now successfully completed his work at Aberdeen Royal Infirmary providing first-class intensive care treatment for the sickest of patients alongside his colleagues.
His hard work has been rewarded with a new posting at Crosshouse Hospital near Kilmarnock. He hopes to become an ENT surgeon in the years to come, building a life here with his family as a new Scot.
It was poignant as he sat patiently for photographs in the front room of his new home in Glasgow just a day after they had moved in. They were feeling all the urgency, excitement and logistical chaos of a house move.
I wondered what it must have been like to take that almost impossible decision five years earlier, leaving his family home in Damascus with only the remotest chance of securing a future for them all.
After all he has been through he is now blessed with that comfort and security of a new family home, something that nearly all of us seek through our common human nature and our shared humanity.
And it is hard not to remember those far less fortunate than us – millions of families who have taken the hugely difficult decision to leave their homes in a desperate search for safety and some comfort. Those who are still trapped in places of extreme discomfort and danger and now face the silent spread of another deadly threat.
With your help we can prevent the spread of this unpredictably cruel virus. We can save lives. We can give hope to millions who still dream of a better life and a place they can again call home.
Please donate to the DEC Coronavirus Appeal at dec.org.uk or pick up your phone right now and text SUPPORT to 70150.
Thank you.
Sally Foster Fulton is the head of Christian Aid Scotland and chairwoman of DEC Scotland Coronavirus Appeal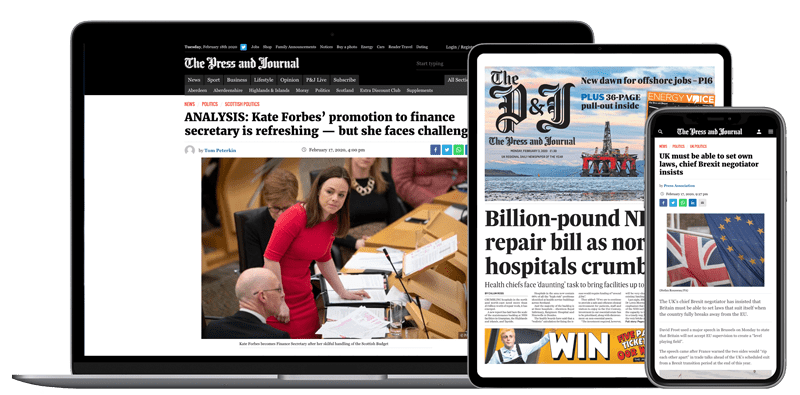 Help support quality local journalism … become a digital subscriber to The Press and Journal
For as little as £5.99 a month you can access all of our content, including Premium articles.
Subscribe