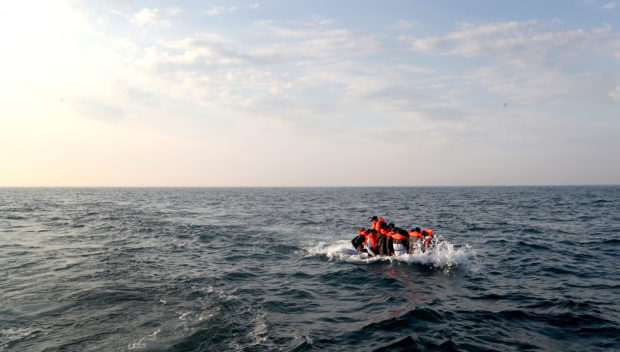 It is coming to something when the most profound political statement on the refugee crisis in the English Channel comes from an American ice cream company best known for cookie dough and chocolate fish.
"People cannot be illegal," read an elegantly simple challenge from Ben and Jerry's social media team to British Home Secretary Priti Patel.
Not that the competition is high in the political eloquence stakes these days, what with Nigel Farage bleating about "invasions" as he patrols south coast beaches in shorts looking for migrants instead of shells, and the prime minister pronouncing the crossings "very bad and stupid and dangerous and criminal".
"Very bad and stupid and dangerous and criminal"? Is that the level of political discourse you graduate to after an Oxford education? Or just repercussions from his self-confessed coke intake (not the fizzy kind) and too much Bolly in the Bullingdon?
People risking their lives clinging to the sides of dinghies to cross the Channel for a new start, a new life – any life – are neither bad nor criminals. They are desperate.
Many are fleeing war, violence and state-sanctioned torture. What does Boris want them to do? Make an appointment? As even American ice cream companies know, the 1951 Refugee Convention stipulates that crossing borders illegally should be no impediment to an asylum claim.
This week, we heard a 16-year-old Sudanese boy died trying to cross the Channel, while children who make it are being held in detention centres. The developing drama over Channel migrants is exactly the kind that the prime minister, home secretary and the rest of the Conservative Party's political cavalry adore.
An issue that makes their devotees froth at the mouth but causes complete amnesia about all the really important questions they should be seeking answers to. Like why has Britain's death rate from Covid been proportionately worse than everyone else's in the world? Why is its recession deeper?
The language being used on immigration is not only a smokescreen, it is manipulative and misleading. Our societal discourse on matters like drink-driving, sexual assault, gender issues and racism has changed over the years, with a carefully-chosen vocabulary to educate the public and positively influence attitudes.
But seeing the same techniques used to opposite effect, to demonise a group of scared people who have nothing, is offensive.
The verbal seeds are being planted. Bad. Stupid. Criminal. Then there's Priti Patel describing the refugee crossings as "appalling" and worse, "shameful".
"France and other EU states are safe countries," she tweeted. "Genuine refugees should claim asylum there, not risk their lives and break the law by coming to the UK."
One would assume from this that Britain is doing more than its share, while lazy old Johnny Foreigner states are doing nothing.
The truth? Germany had 165,615 asylum applications last year. France had 151,070. Spain had 117,800. And Britain? A mere 36,000. If Patel is talking shame, let's pause for a moment there.
At the heart of this is the Ben and Jerry assertion that people should not be dehumanised by being called "illegal". Whatever the problems of border controls, this is one world and none of us own it. We pass through it. We might need to organise it but each one of us deserves our space. It is our right, not our privilege.
It is baffling to me that those who have benefited from migration are often so ruthless to other would-be migrants. My father had a Scottish mother and Irish father.
My mother was Manx. On the records of my forebears, there is an "x" on the birth certificates of my illiterate Irish ancestors. Then there's the documentation showing one in and out of prison for sheep stealing.
Trying to feed his family, no doubt. And I wonder, now, what they would have been with money and an education, if they had been afforded the rights that the rich took for granted. If they'd had what I had. Forget where I came from? Not a chance. I know who I am.
But Priti Patel, whose parents were Ugandan Asian, dismisses refugees as an inconvenient affliction on our country. Her colleague, James Cleverly, who has a British father and a mother from Sierra Leone, charges in to defend her with a sideways swipe at Ben and Jerry's for being an overpriced junk food.
Nothing like sticking to the issue. What is Mr Cleverly's current political role? Minister of State for the Middle East and North Africa, with responsibilities for "conflict, humanitarian issues and human security". Humanitarian issues? Now that is shameful.
Boris Johnson has been invited by Safe Passage International to meet young refugees and as of last week, had not yet agreed. He doesn't, it seems, want to know, perhaps because the status quo is quite comfortable for him, thank you very much.
It reminds me of a story Mahatma Gandhi wrote, about walking along the road in South Africa with another Indian. As two white men approached, his companion stepped off the pavement to accommodate the white men. "I am always amazed," Gandhi remarked, "that men should find themselves honoured by the humiliation of their fellow human beings."